Zoe Bonnell
Zoe Bonnell (International Development 2018) is a Research Analyst working for Itad, an International Development consultancy firm specialising in monitoring and evaluation services.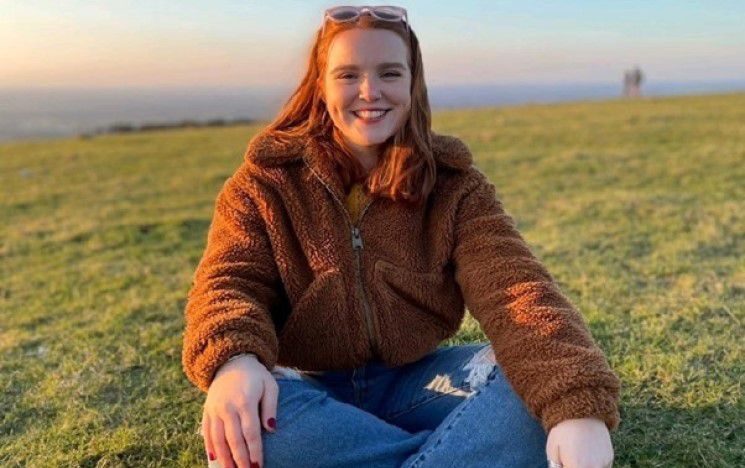 Zoe's story
Zoe graduated in 2021 with a First in International Development. Before coming to Sussex, Zoe took some time to travel and gain on- the-ground development experience, living and working in Ghana as a trainee business consultant. This laid the foundation for her interest in African development. While studying at Sussex, Zoe worked as an Alumni Relations Connector and values the professional skills this gave her for transition into her current role at Itad.
You worked as a trainee business consultant in Ghana before coming to Sussex. How did your experience prepare you for your time at Sussex and your current role?
It taught me to take myself out of my comfort zone, which helped in making the transition to university. The experience also contributed to my current role through equipping me with skills such as intercultural communication, which helps me to work efficiently and respectfully with the wide range of clients and stakeholders in my day to day work.
What are some of your favourite memories of your time in Ghana?
Spending time with my host family, eating lots of plantain and beans (red red) and spending lots of time dancing! It was also an invaluable professional experience and sparked my interest in African development, which I took through to my studies.
What attracted you to studying International Development at Sussex?
I was initially drawn to Sussex due to its #1 position for Development Studies. When I explored the intricacies of the course outline, I was also extremely interested in the breadth of thematic areas the degree offered. The opportunity to take an elective was an option I hadn't seen at any other universities, or considered, and in my first year I had the chance to study Arabic, which I am sure I wouldn't have done otherwise. Brighton was also an extremely attractive feature as I love to live by the sea!
Your current role at Itad requires working on a number of projects with many different clients; from governments and public sector bodies to private companies. Is there a particular project you have enjoyed working on and why?
I currently work within the Human Development practice at Itad, with most of my projects falling under our Health theme. My favourite project is the Women's' Integrated Sexual Health (WISH) program, funded by the FCDO. The project has pushed me in my technical evaluation skills, and involved speaking to and hearing from local stakeholders to understand varying needs and contexts within the sexual and reproductive health rights (SRHR) field.
I also got the opportunity to work with one of the projects' partners, Humanity and Inclusion, to help them organise and run a 2-day online event, focused on disability inclusion in SRHR. My main highlight from the event was hearing from grassroots organisations for persons with disabilities (OPDs) about what they believe needs to be done for the future of inclusive SRHR.
Did you meet any challenges when starting your role, and if so how did you overcome them?
I have just finished my first six months in my current role and I have encountered lots of challenges! They include time management, admin failures (sending out meeting invites to the wrong people!), excel difficulties and lots more.
I am in regular contact with my line manager for tips and tricks; always make sure I have asked for clarification on any task I am given; and I also request feedback so that I can continue to learn how to improve. A key thing I've learnt is that you will always encounter challenges at any stage of your career and that people are always willing to help.
A key thing I've learnt is that you will always encounter challenges at any stage of your career and that people are always willing to help."
ZOE BONNELL
How do you see Itad and the international development consulting field evolving in the future?
I hope to see the development field in general, including consultancy, moving towards truly decolonising the sector. Itad is contributing to this change by ensuring that we use local consultants to work with whenever possible, utilising their skills and contextual knowledge.
What are your five top tips for students trying to get involved in your line of work?
Volunteer in your own community
Attend conferences
Join Facebook groups (ie London International Development Network)
Follow organisations you are interested in on Linkedin
Read lots of blogs
What advice would you give to yourself if you were starting at Sussex again?
Read more!
Join more societies
Seek out help/ services sooner.
In my first year I was nervous and never spoke to lecturers or asked their opinion on my ideas for assignments. By my third year I was in frequent contact with my lecturers, attended office hours and send them draft outlines of essays for feedback. This made my grades go up by an exponential amount.
Zoe kindly appeared as a guest speaker at our Careers in Development, Charities and Not-for-profit event, which was part of the Make it Happen...Careers with Sussex Alumni 2022 series.
She is among thousands of inspiring alumni on Sussex Connect. Join now to seek mentoring and industry advice and get a head start on your career.
---
You might also be interested in: