Lena Erdil
Lena Erdil (Politics and Philosophy 2008) came to Sussex after being awarded an athlete grant for her sporting discipline windsurfing slalom.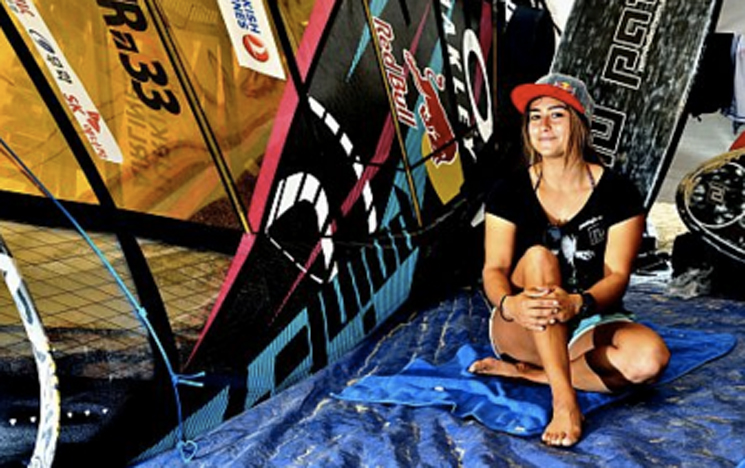 Lena's story
As well as academic success, 2008 saw Lena come fourth place in the PWA World Championship in Çeşme. She won her first race during the Aruba leg of the PWA Championship in 2011, the same year that she joined Red Bull. Lena has since earned top 10 finishes in the PWA Championship in Women's Slalom, with her ultimate goal to become World Champion sometime in the near future. Between her training and performance success, Lena has run the Lena Erdil Windsurf Center in Turkey since 2007, hosting events such as the Pro-X-Train training camp for professional athletes.
What initially attracted you to study at Sussex?
As a windsurfer, I had already started to follow the world tour. I was looking for somewhere that would support me as an athlete and, of course, that was near the ocean. I applied for a sports bursary at Sussex and was happy to get it for the full three years of my degree. I got some financial support but, more crucially, I worked with the sports scientists at Sussex to design a training program using the gym facilities on campus. Importantly, I was allowed some lenience when it came to scheduling exams to suit my competition and training calendar!
What are your fondest memories of student life?
My first night on campus, when I met the people that were going to be my best friends for the next three years.
What part of the Sussex experience has helped you the most?
Definitely the sports bursary and the support from the University to follow my career as a professional athlete, as well as being able to complete my studies.
When did you first get into windsurfing?
I started when I was ten years old and got more into it during my late teens. By the time I finished high school, I decided to apply for a deferred entry to Sussex so that I could take a gap year and focus on windsurfing. It went really well - following a year of training I placed 4th overall at the world tour finish, which was a big step up for me!
What do you consider your biggest sporting achievement?
I had my first event win on the Professional Windsurf Association (PWA) this year and have already finished second overall twice and third overall twice. I also won the IFCA World Championship title two years in a row and won the Indoor World Championships in 2014, in Poland. All World Cup podiums are really awesome feelings too! For sure, winning my first PWA in Korea this year was super special, especially as I've been close a lot of times before but never managed the result in the end. Now it's time for the overall title!
---
If you believe and work for something, you will get there in the end; hard work pays off."

Lena Erdil
---
You are Owner and Manager of Lena Erdil Windsurf Center in Turkey; what is the most rewarding aspect of your involvement?
Seeing the kids learn to windsurf, especially when watching the progress of those who stay with us over some years. It's so awesome when I get to share the enthusiasm that I have for the sport. I really hope that I can help some of the kids in our club follow my path and continue to windsurf on a professional level!
What is the most important lesson life has taught you?
If you believe and work for something, you will get there in the end; hard work pays off.
Do you have a favourite quote or motto?
"When you want something, all the universe conspires in helping you to achieve it." - Paulo Coelho, The Alchemist. I like this quote as sometimes your goals seem hard to reach but, if you keep working and believing even in the most unlikely circumstances, things happen and will go your way, somehow…
Favourite book
I enjoy reading different things and don't have an all-time favourite book but authors of novels that I like a lot include fellow Sussex alumnus Ian McEwan and Isabelle Allende.
Favourite holiday destination?
I'm very lucky as my 'work' takes me to some of the best holiday locations around the globe without it actually being a holiday. I went to BoraBora and some other French Polynesian islands last year, which I think would be my favourite holiday destination as they are beautiful and isolated from the rest of the world. Right now I am in Maui which is not less epic. I will be spending the rest of the winter in South Africa which is almost my second home now; I love Cape Town and would recommend this destination to anyone!
Name one person you'd like to have dinner with and why?
My Mum. I lost her to cancer this year and miss her a lot! Dinner with her would be amazing!
Describe your perfect day…
Surfing glassy perfect waves in the morning and windsurfing in the afternoon with nice swell and wind, followed by a little BBQ in the evening hanging out with friends. That sounds pretty perfect to me.
---
You might also be interested in: