News
Discover the latest news and features about our research, our people and our University.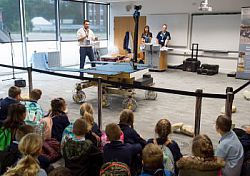 Out of this world
Sussex teams inspire local school children with astronomical display
Majority of manufacturers want continued regulatory alignment with EU
Shoppers could be left in the dark about hazardous hormone-treated beef
The Prodigal Tongue
Lynne Murphy, Professor of Linguistics at Sussex, explains why she wrote The Prodigal Tongue, a wry examination of the welcome and unwelcome influences and exchanges in language between American and British English...
Our University
---

The University of Sussex has signed the Magna Charta Universitatum, a statement of the principles and values shared by more than 900 universities.
The University of Sussex and the National Centre for Social Research (NatCen) were founded in the 1960s and have renowned traditions for impactful...
Our people
---

Brighton's Digital Festival kicks off this week with a wealth of events from University of Sussex staff and students.

Michael Eraut, educator and longstanding Professor of Education at the University of Sussex, died peacefully, at the age of 77, on 7 September.
Our research
---

Scientists, students and trainee teachers helped 750 schoolchildren learn about the wonders of space and technology.

A weakened UK under pressure to make new trade deals could be forced into significantly reducing food standards on beef imports, a new report warns.



Explore our blogs and podcasts
From Brexit to student life - see what we're blogging about and listen to our podcasts.
Follow us on Twitter