Guide to PhD study
A PhD is a research degree where you spend a significant amount of time investigating and analysing your chosen topic. Find out who will supervise you and the typical structure of a PhD at Sussex.
PhD or MPhil?
A PhD usually takes four years full time and up to six years part time. You conduct a piece of research that makes a substantial original contribution to knowledge or understanding in your chosen field. You graduate with the degree title Doctor of Philosophy.
An MPhil typically takes three years full time and four years part time. You still conduct an independent piece of research but in less depth than with a PhD. You graduate with the degree title Master of Philosophy.
If you choose an MPhil, you might be able to change to a PhD during your studies.
Who supervises me during my PhD?
You are matched with two supervisors or a supervisory team experienced in the field of your research interests.
They help you to refine your research project and produce a realistic research plan.
You need to work well independently to complete a PhD, as your supervisors will not tell you exactly what to read or how to design and carry out work on your thesis.
Search for faculty members on our PhD prospectus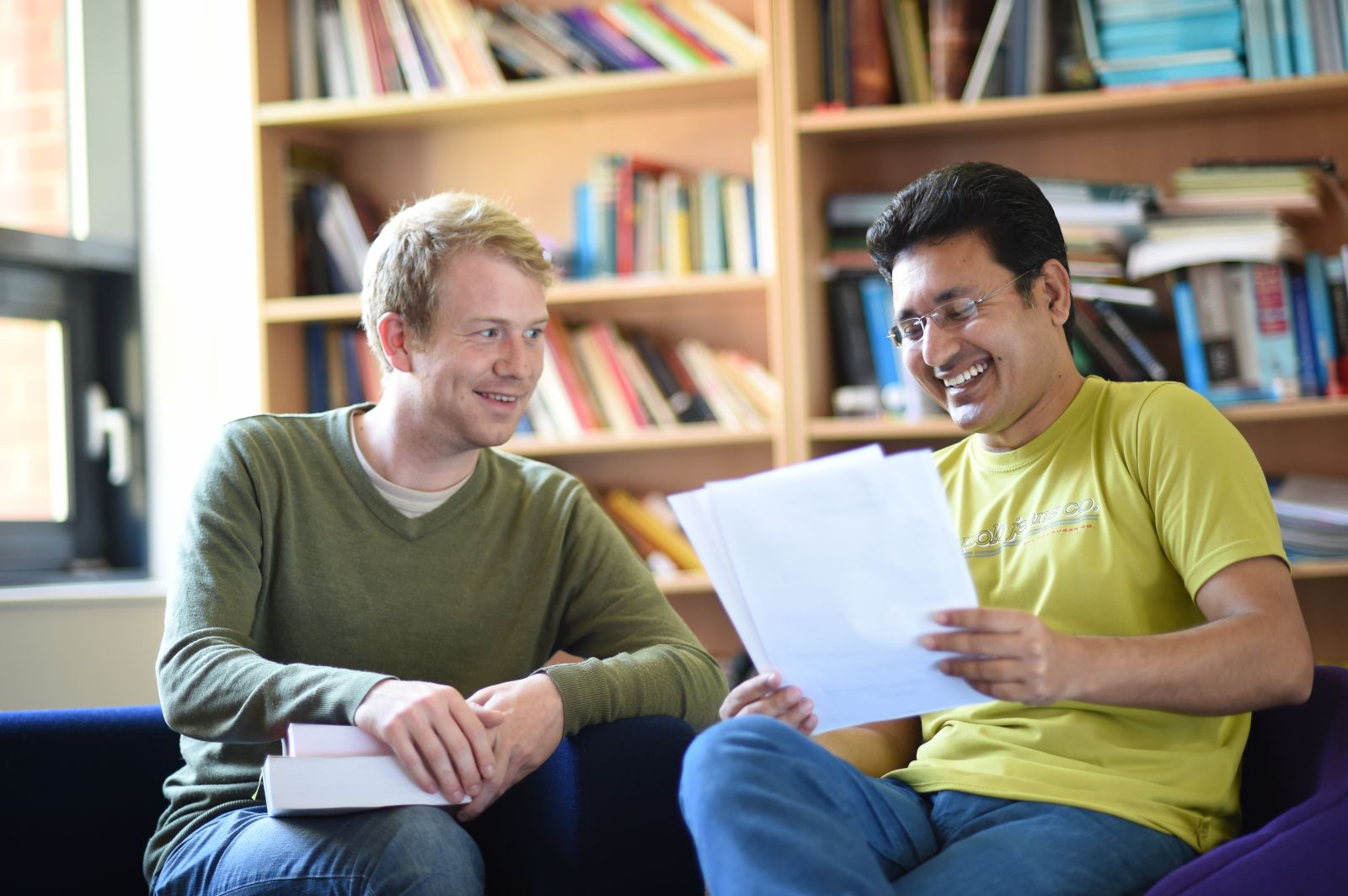 PhD Open Evening
Monday 30 October, 4pm to 8pm, on-campus
Book a place at our PhD Open Evening and see our campus in person. The Open Evening will give you the opportunity to:
hear from the Doctoral staff in panel discussions
find out how to apply for and fund a PhD
meet current PhD students and hear their experiences
get advice on student support, and career development.
What is the typical structure of a PhD?
Plan your research

In your first year, after your induction and meetings with your supervisors, you write a detailed research plan.

For some research projects, you may need to gain ethical approval before any fieldwork or data collection can start.

Your supervisor will advise you on this.

Complete your annual review and progress reports

Each year you submit a report outlining your progess to your supervisors. This is called the annual review.

In your report, you need to show a suitable amount of progression in order to continue with your PhD.

Your supervisors also write a report on your progress.

Write your thesis

You need to write up your research in a thesis. After your third year (if you are doing a full-time PhD), you may be able to apply for a writing-up year.

You can only apply for a writing-up year if you have finished conducting your formal research and your supervisors agree to this.

This is called pre-submission status and you need to pay a reduced fee. If you have pre-submission status, you can spend an extra year writing up your research.

Submit your thesis

You submit the thesis to be reviewed by two examiners with expertise in your area of research.

Usually, your work is reviewed by one University of Sussex examiner and one external examiner.

Complete your viva

After the examiners have reviewed your written thesis, you have a viva (oral exam).

During the viva, the examiners ask you questions about your research.

Make corrections

After the viva, the examiners may ask you to make some changes to your thesis (known as corrections).

You must make these corrections before you can graduate.

Graduate

When you've passed your viva and made any corrections to your PhD thesis, you are awarded with the degree title Doctor of Philosophy.
Doctorate Extension Scheme
If you are an international student, you can apply for an extension to your Tier 4 visa to allow you to look for and start work in the UK for a further 12 months after completing your studies.
Part-time PhD study
The majority of our PhD degrees can be studied part time. See our PhD prospectus to find out if we offer your PhD part-time
You have full access to campus facilities, although we don't offer University-managed accommodation to part-time students.
Find out more about fees for PhD students
Distance learning
If you're a PhD candidate with a job in your own country and you can't attend full time in the UK for the whole period of study, you may be able to register as an independent distant student.
---
You might also be interested in: