Expertise, consulting and commission research for public and third sector
Find out how we can help you grow your public or third sector organisation by connecting you with our cutting edge expertise.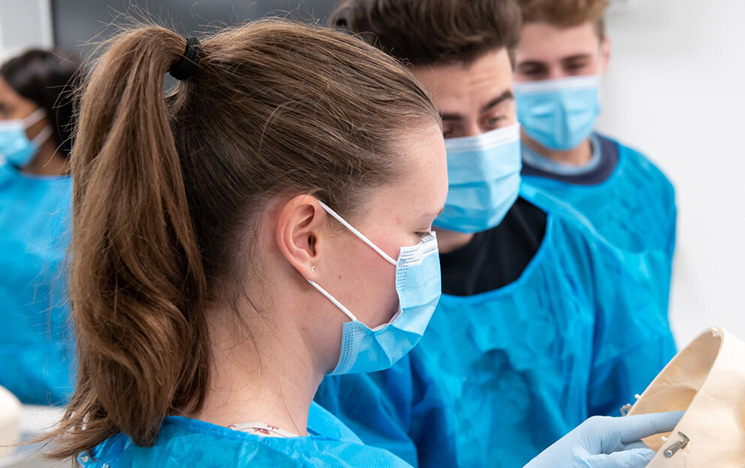 How we can help you
From businesses to charities and local authorities to government departments, we have a strong track record of working with a range of partners.
Our experts can help you:
research and generate new ideas to overcome a complex challenge
support you implement knowledge that is new to your organisation
evolve your practice in new ways that achieve the best results.
---
---
The Connected Lewes Project
The Connected Lewes project is a partnership between the University of Sussex, Lewes volunteer groups that work in partnership with Lewes Town Council, the NHS GP practice – The Foundry, and local charities.
The research team involved Jessica van Thiel, George Han (both postgraduate students at SPRU) and was led by Dr Ralitsa Hiteva, a Senior Research Fellow at SPRU.
The aim of the project was to identify the social and communication needs of older people in Lewes during the Covid-19 lockdown, to inform appropriate solutions and actions at the local level (The office of the Mayor of Lewes, East Sussex County Council and local formal and informal stakeholders).
Video transcript

Dr Ralitsa Hiteva: The aims and objectives of the Connecting Lewes project was to do a survey with as many of the residents in Lewes over the age of 55 as possible. And we wanted to find out specifically how they using digital technologies in order to stay in touch during one of the longer lockdowns in 2021, to help them develop their digital inclusion work in Lewes.

[Pictures are displayed showing shots of Lewes including the High Street, and Lewes Castle]

Eric Kihlstrom (UK Ambassador Ageing 2.0 and resident of Lewes): I had a neighbour who is a GP has lots of patients who are frail, elderly and when lockdown happened, they were quite worried about how those patients were going to receive care during lockdown and isolation.

[Picture shows a man and a woman using a computer, another picture of a woman using a mobiile phone and another picture of a person sitting in a dining room using a desktop computer]

Eric Kihlstrom: Their digital skills, their access to digital technology was a real question, and so I connected with the mayor of Lewes, also Sussex University who were extremely helpful in putting together a project that had academic rigour, but also delivered results for the community.

[Picture shows a man using a tablet and a woman using a laptop computer sitting next to each other on the sofa in front of a wood burning stove]

Dr Ralitsa Hiteva: We all realised that the advance of digital technologies that was forced during the pandemic was not something that was going to be rolled back, and this is also the point at which we started seeing that it's not enough to give people smart tablets, and smartphones and expect them to be able to have the same level of access to services as before.

[Displays pictures of people accessing services to help them with digital technology and getting help from volunteers]

Dr Ralitsa Hiteva: One of the things we didn't set out to study and to learn is the big role that voluntary organisations and local level organisations can actually play to support any kind of either national level or local level programs, they were essential in how we reached out to people, how we actually managed to collect the data. And they were also the people that managed to bring in a lot of the stakeholders to the table.

[Picture shows a copy of Lewes News with the two page spread about the project]

George Han (Researcher in Sustainable Development at Sussex): With a piece of research on digital exclusion in the elderly, we wanted to choose a method that they'd be able to respond. So we had a two page spread in Lewes News then did a slightly smaller follow up with the same questions online. And I think one of the interviews really highlighted the fact of closing down public facilities such as libraries during COVID make it much harder for people to access these technologies that they need for benefits claims and things like that.

Jessica Hadjis Van Thiel (PhD Researcher at Sussex): The specific findings were related to age, health and gender. When we talk about gender, I think the difference was really in terms of perception. And in terms of confidence men felt or the perception was that they felt pretty confident in using the technology.

[Picture shows two men looking at a laptop computer. Another picture shows a woman using a mobile phone]

Jessica Hadjis Van Thiel: And women generally, were under confident or were less confident but then when when we actually broke it down into questions afterwards, we found that actually women were the ones that were doing most of the communicating that were using most of the devices or that were using it for longer periods of time, or that were doing, you know, most of the household technological chores, if you will. So that was quite interesting.

[Picture shows woman sat on a sofa using a laptop]

Dr Ralitsa Hiteva: It means that if you get working with this, you know, supporting this group, right, it's likely it's going to have a very positive effect on everyone in the household. We found out a lot of things that we were very genuinely surprised to find out.

[Picture shows a man in a warehouse wearing high vis clothing and using a desktop computer. Followed by another picture of a woman smiling as she stands in her kitchen. Followed by another picture of an elderly man using a laptop]

Dr Ralitsa Hiteva: So apart from the importance of radio sets and the importance of smartphones, we also see that obviously as people grow older, and we're dealing with older age groups, the extent to which their health actually deteriorates, plays a very big role on the extent to which they will be able to use the digital technologies in a particular way.

[Picture shows a man sitting in a cafe at a table using a mobile phone. Followed by another picture of two men sat at a table with mugs of tea using a laptop together]

Eric Kihlstrom: There are five million people in the UK who have never used the internet. Two thirds of them are over 65. Some of it is skills, a lot of it is motivation, some of it is affordability. One thing that I think for me is really important is the leveraging of the social infrastructure that we've got, the trusted social networks. For as much as we talk about technology, it's about people and people should be at the centre of all of our work, and we can address digital inclusion as result of community and community building.

With thanks to Lewes Town Council, The Foundry NHS GP Practice, Lewes Community Volunteers, Lewes News, University of Sussex and local charities. Lewes footage courtesy of www.youtube.com/@Living walks. Photos courtesy of Centre for Aging Better.
Digital inclusion in health and care
A recent collaboration has addressed digital inclusion in health and care.
Digital inclusion framework
---
The University of Sussex in collaboration with NHS Sussex and the Kent, Surrey and Sussex Academic Health and Science Network has developed a digital inclusion framework for health and care.
This person-centred guide supports the design of digital services, taking into account lived-experiences and people's needs. It considers the barriers and enablers that people face in their daily lives that affect their ability to engage with digital health and care services. This is important because research into digital exclusion shows that there are correlations between the populations more likely to be digitally excluded and those more at risk of health inequalities.
The overall aim of the framework is to enable everyone that can benefit from digital health and care to do so, when they need to, and to ensure that inaccessible pathways and technologies are not creating barriers and causing disengagement in digital health and care.
The work is continuing and the team are developing tools and resources to help NHS partners use the framework, working with innovators to embed the principals of the framework in the process of designing digital services and building up awareness with the public. 
Find our more by contacting: University of Sussex: esrc-iaa@sussex.ac.uk or NHS Sussex: sxicb.comms@nhs.net.
Digital inclusion in health and care framework
The diagram below suggests that the likelihood and the nature of exclusion will differ in accordance with the individual's journey with digital health and care.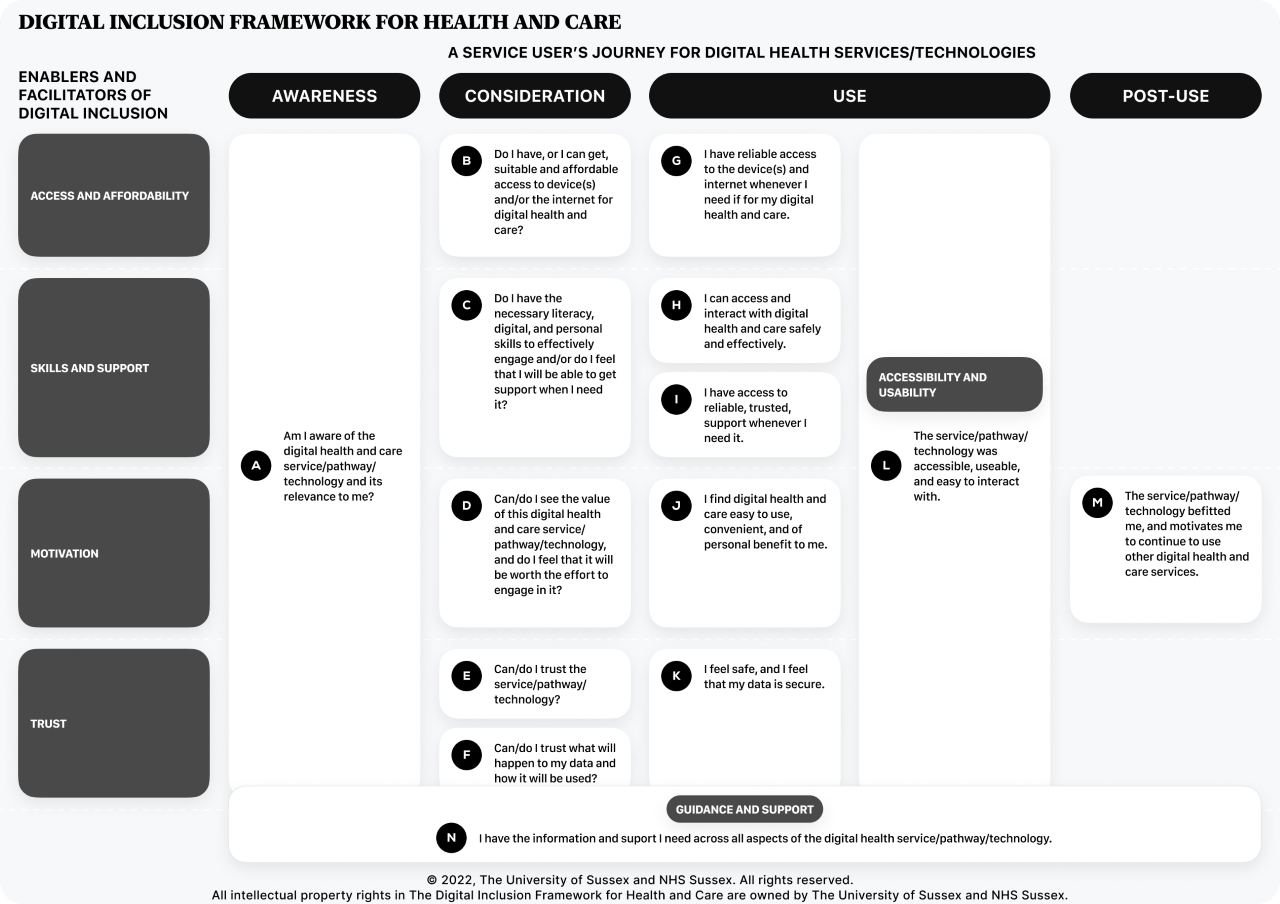 Download the digital inclusion in health and care framework table as a PDF [3.31MB]. You can see an accessible version of the PDF and the table above, below.
The diagram below shows the interconnected enablers that we need to consider when designing and evaluating digitally inclusive health and care pathways, services and technologies.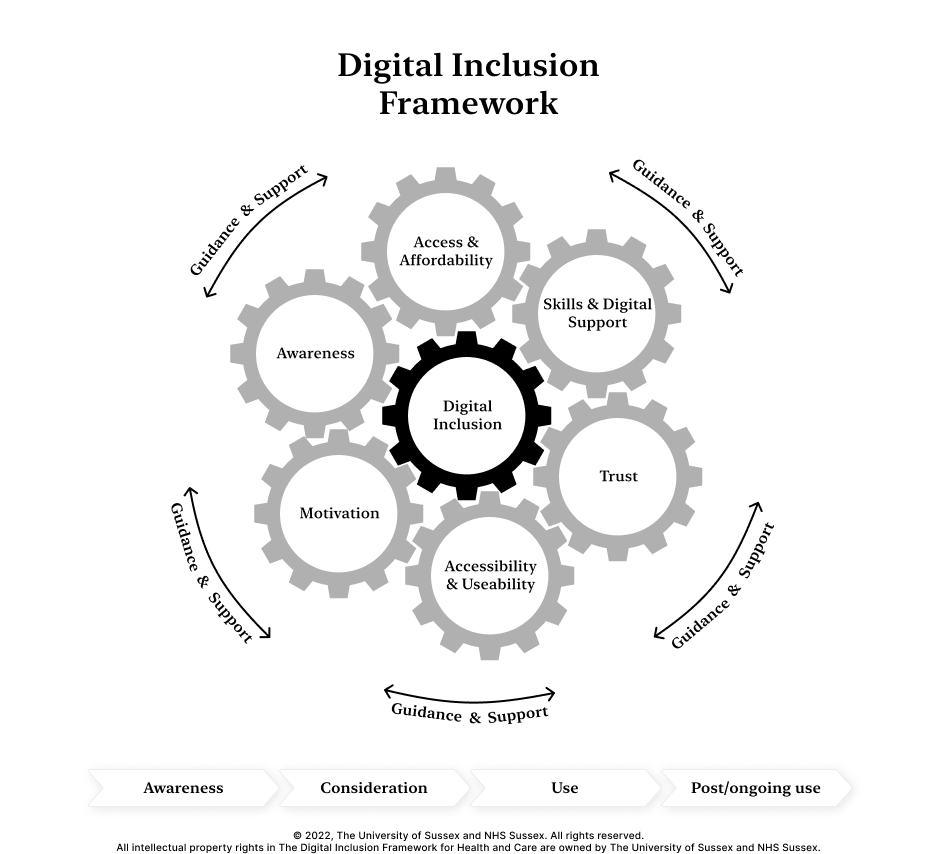 Download the digital inclusion in health and care framework diagram as a PDF [260KB].
---
You might also be interested in: