School and college visits
Help your students make informed decisions about university through our higher education talks, workshops, tours and masterclasses – either at our campus or as part of a visit to your school or college.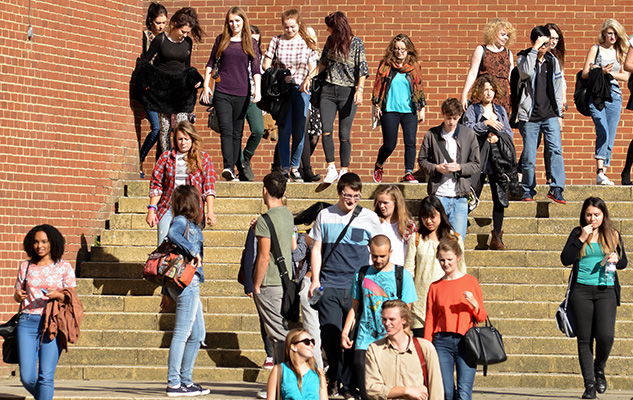 What to expect from your visit
Delivered by Sussex graduates, student ambassadors and our recruitment team, our activities are aimed at Year 10, 11, 12 and 13 students.
Depending on the activities you choose as part of the visit, your students will get practical advice and information on the admissions process, student life and university courses.
How to plan your visit
Look through our activities and decide if you want your school group to come to our campus or if you want our team to visit your school.
We'll then design a programme for your visit (this can be a mix of talks and masterclasses, or just one event).
Talks and workshops
Choose from one or more higher education talks and workshops as part of your school or college visit, including:
| Talk | Duration | Year group | Talk description |
| --- | --- | --- | --- |
| Why university? | 45 minutes | Year 10-12 | An introduction to higher education, focusing on personal and academic development. |
| Choosing a course | 45 minutes | Year 11-12 | A session on how to choose the right course by looking at factors like teaching methods, extra-curricular opportunities and qualifications. |
| The admissions process | 45 minutes | Year 12-13 | A look at the UCAS application process and how it works, including how to write a personal statement. |
| Study skills | 45 minutes | Year 10-13 | Give students an insight into how they learn best, revision techniques, and how to best manage their time around exam periods. |
| Student life | 45 minutes | Year 10-12 | A talk by a student ambassador or recent graduate on what it's like to be a university student. |
| Student finance explained | 45 minutes | Year 12-13 | A guide to student finance and budgeting. |
Masterclasses
Designed to complement what is being taught in schools and colleges, our engaging subject-specific masterclasses for Years 12 and 13 students are delivered by our faculty members.
You can arrange to book masterclasses in subjects such as psychology, international development, maths and history as part of your school or college visit.
To find out which masterclasses we are currently offering, select 'subject-specific masterclasses' on our school and college visits form and we will contact you with more information.
Campus visits
Led by Sussex students and graduates, our campus visits are a great way to find out what it's like to study at university.
We'll take your group round our campus, learning resources and facilities. The visit can also include higher education talks and masterclasses.
Most visits take place between 10am and 2pm. Your students can bring lunch, buy food from one of our cafés or you can pre-order lunch vouchers.
If you're a student and you're interested in studying at Sussex, you can also come to an Open Day or go on a campus tour.
---
You might also be interested in: