Access to public funds for business
Discover how we can work together on new and innovative ideas. We can develop joint bid proposals for public funds. These are offered by the Government through UK Research and Innovation (UKRI) – a non-departmental public body sponsored by the Department for Business, Energy and Industrial Strategy (BEIS).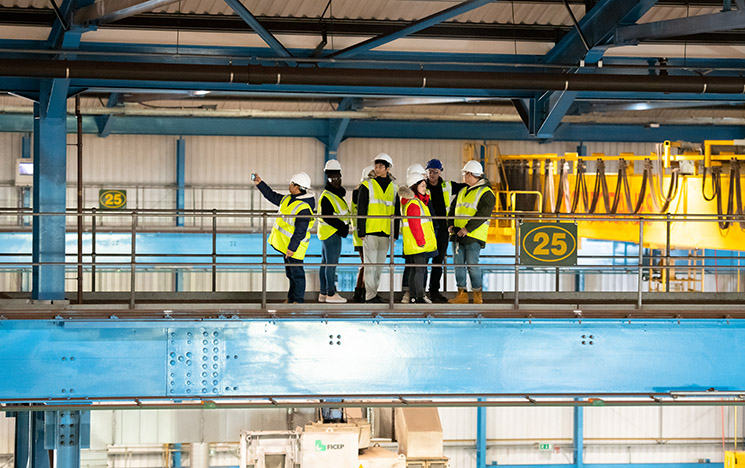 ---
How we can help you
---
---
About UKRI
UKRI works through nine councils to champion the creativity and vibrancy of disciplines, sector-specific priorities and communities. The councils shape and deliver both sectoral and domain-specific support.
Each council funds research and the exchange of knowledge from universities to companies, charities and other not-for-profit organisations and the public sector.
If your business is seeking funding for proof of concept or seed funding, you can contact us for up-to-date information on the public funds available to business.
---
Sprint Electric
Video transcript

[On-screen name caption: Kate Thorpe, Business Partnerships Team, University of Sussex]

Kate Thorpe: I'm Kate Thorpe from the Innovation and Business Partnerships team at the University of Sussex, and we're really proud to be working with Sprint Electric Limited on this Knowledge Transfer Partnership (KTP).

Knowledge Transfer Partnerships are a really great way to work together.

For businesses, you'll benefit from accessing innovation and expertise across the University.

From the KTP Associate's point of view they're benefiting from a really great career opportunity.

And for academics involved in these projects, it gives a long-term opportunity to work with a business that can spin off so many benefits.

[On-screen name caption: Dr Mark Gardiner, Director, Sprint Electric]

Dr Mark Gardiner: We chose a KTP as the mechanism for embedding new knowledge in the business because we recognise that Industry 4.0 is going to be vital to the company going forward, but it was an area of which we had very little knowledge.

We could recruit in that capability or use a consultancy, but we quickly realised when we tried to do that, that we didn't have the necessary knowledge in-house in order to do it effectively.

[On-screen name caption: George Parisis, School of Engineering and Informatics, University of Sussex]

George Parisis: For this particular KTP, I have been very lucky to be able to develop the project from scratch through a proof-of-concept project that we did last year with Sprint Electric, and I was very lucky to see my own student developing themselves to become the Knowledge Transfer Partnership Associate for this project.

[On-screen name caption: Nick Toomey, KTP Associate]

Nick Toomey: I'm developing an Industry 4.0 ready software suite to control industrial motor controllers so you'll be able to remotely change their settings and also view information from them live.

My day-to-day role involves a lot of programming, so there's a lot of... problem solving, a lot of creative thinking, a lot of developing code.

And since a big part of the KTP is to produce a competent project manager, I can also use the training budget to help me with my soft skills.

George: I do acquire knowledge myself through the project and through working with businesses that I can then take back and inform my own research, but at the same time take back in the classroom and disseminate this to my students.

Kate: wIf you're ready to start the conversation with us about how your business might benefit from accessing innovation at Sussex, get in touch with the Innovation and Business Partnerships team.
Knowledge transfer partnerships
One of UKRI councils, Innovate UK, operates Knowledge Transfer Partnerships (KTP) to bring academic knowledge to businesses, increasing their competitiveness and productivity and help them innovate for growth.
The schemes allow businesses to have a part-funded innovator in residence to help develop a service or product. Each KTP project is a three-way partnership between a business, an academic or team of academics, and a graduate.
Any UK-based business of any size is eligible. Across the country around 800 businesses, 100 knowledge bases and over 800 graduates (called KTP Associates) are involved in KTPs in unique and collaborative partnerships, creating positive impact and driving innovation.
At Sussex, we have a growing reputation to develop KTPs. You can contact us to find out more about how we can work with you.
---
Impact accelerator funds
From law to management studies, psychology to media studies and English to digital humanities – our social sciences, arts and humanities researchers have the knowledge and skills that can bring about social and economic benefit for businesses.
The ESRC and AHRC Impact Acceleration Accounts provide a quick turnaround for seed funding, which enables our researchers to work on collaborations with a range of business partners.
We support partnerships with micro-businesses through to large companies. We offer our researchers support to work on early stage projects, so they can:
scope out ideas for collaboration
co-create research to understand and inform business practice
test out new ways of working based on the latest ideas.
---
Innovate UK
Innovate UK supports business-led innovation in all sectors, technologies and UK regions. It helps businesses grow through the development and commercialisation of new products, processes, and services, supported by an innovation ecosystem that is agile, inclusive and easy to navigate.
At Sussex, we work with business to support their Innovate UK applications by:
finding the right partners
accessing the right expertise and equipment
securing financial loans and grants
connecting with investors.
These interventions support the development of new approaches, across a range of technologies, in all sectors and industries. These include:
advanced manufacturing
artificial intelligence
digital
electronics
bioscience
advanced computing.
Case study: Working with Tellmi
We collaborated with Tellmi to obtain funding from Innovate UK. Tellmi operates a safe, anonymous app for young people experiencing mental health difficulties. Tellmi's moderators check content and their in-house counsellors are on hand to offer support. Innovate UK has given a grant to fund Tellmi's collaboration with Sussex's Department of Informatics and Bristol University's Medical School to improve the functionality of the Tellmi app. Academics from Sussex are leading parts of the research on the application of advanced natural-language-processing (NLP) and machine-learning (ML) techniques.
---



---
Contact
From business solutions to recruiting our talented students, we can help you create a strategy to succeed.
Contact us at: collaborate@sussex.ac.uk.
You might also be interested in: