Student support
Whether you're concerned about your studies, need financial advice or have emotional or health concerns, our student support services are here to help.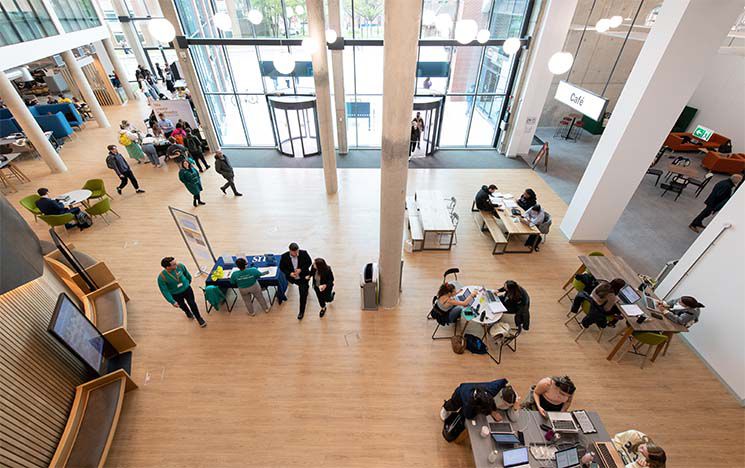 Guidance for all students
The Student Centre offers support on a range of welfare issues. We can help with:
concerns affecting study progress
health and wellbeing issues
money matters
improving your academic performance.
You can drop in to the Student Centre during the week and book appointments with experienced advisers.
See inside the Student Centre on the Sussex campus
Video transcript

Transcript starts:

Impressive aerial views of the Sussex campus, descending into the entrance way of the Student Centre.

Text on screen: The heart of your student experience. Have you been inside yet?

A barista hands over a coffee cup.

Text on screen: Grab a drink. See what's going on.

Walk-through views of tables, chairs, spaces, nooks and quiet corners.

Text on screen: Find a place to study or to take a break. Stay solo or invite your friends.

Text on screen: Bring your own lunch.

A student putting food in a microwave.

Text on screen: Facilities for everyone.

Glimpses of toilets and changing areas.

Text on screen: Spaces for events and workshops, and to take a breath.

Inside large, brightly-lit rooms with acoustically treated ceilings. Gliding out into an airy courtyard with a relaxing fountain.

Text on screen: Find confidential support, or any extra help you need.

A student advisor shows the way into a confidential room. Two welcome desk staff smiling and pointing towards a wide staircase.

Text on screen: More spaces upstairs, plus drop-ins and services.

Meandering through stylish corridors, students working quietly, towards an open door, where another advisor waits to help.

Text on screen: Your Student Centre.

Views of the foyer and the building from outside.

Transcript ends.
Residential Life team
If you live in University-managed accommodation you can also speak to our Residential Life team. They offer welfare support and run a drop-in service on campus during the week.
There is also an out-of-hours emergency support phone number to make sure you have all the help you need.
Specialist support
We offer a range of tailored support for all students.
Disability support
You can also get advice if you have disabilities, mental health conditions, autism spectrum conditions and specific learning difficulties through our specialist support services.
Our network of expert staff includes support workers, mental health mentors, note-takers and dyslexia tutors.
This is available for students who have support needs before they come to Sussex, or who develop a condition or become unwell during their studies.
Find out more about disability support for current students at Sussex.
International student advice
At Sussex, you'll join an international community of students and staff from more than 140 countries. Our support begins before you start at Sussex – we can help you apply for a visa and find out what to expect when you arrive.
Throughout your studies, you'll be invited to activities and events to help you make new friends and settle into life in the UK. We also provide careers support, including advice on visas and how to get a job in the UK.
Find out more about support for international students.
English language skills
Once you're here, our English Language for Academic Study service offers free workshops, one-to-one tutorials and writing sessions. Our aim is to help you develop your English and adapt to UK academic study.
Commitment to inclusion
All members of our community, including our students, will have equal access to opportunities and we will support them to achieve their potential.
Faith and spirituality
The Meeting House is the base for our on-campus chaplaincy, with services spanning a range of faiths and deonominations. The campus also has a Muslim Student Centre and prayer facility.
Students with families
We have a range of facilities for students who come to study at Sussex while caring for children or other dependants.
We have a nursery and pre-school on campus. Places can fill up quickly so it's best to apply as early as possible. Learn more about the campus nursery.
Find out more about our support for students with children.
Mature students
Mature students bring a wealth of experience to their University life and can offer unique perspectives that are highly valued by fellow students.
However, mature students can experience extra pressures, such as work commitments or challenges adjusting to academic life after a break from studying.
We can help you address any difficulties you encounter. Our advisors in the Student Centre can support you, making sure you have the information and help you need to progress through your studies.
Support through the Students' Union
If you want to make an academic complaint to the University, our Students' Union can provide confidential, independent advice to help you through the process.
The Students' Union also campaign about students rights, including issues surrounding housing, transport, equality and higher education policy.
Find out more about the Students' Union
Careers support
To ensure you get the best possible start to life after University, we offer specialist careers guidance and support.
Find out more about career development at Sussex.
---
You might also be interested in: