Parents and carers
Find out how to support a young person preparing for university, and how we support current students.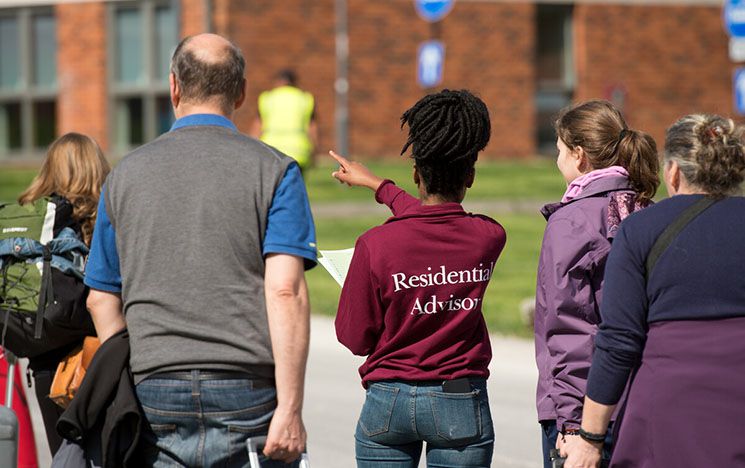 Contents
Helping someone prepare for university
Going to university is a big step for any young person.
If you are a parent or guardian looking for tips on how to support someone getting ready for university:
Also see tips for parents on A-Level results day.
Learn about the application process
Applying to university can be confusing, to help your child or the young person you are supporting get their head around it, why not also learn about the application process? Then you can support them if they do decide to apply.
See how to apply and how to write a personal statement.
Check fees and funding options
Understanding fees and how to fund studies can be confusing for both parents/carers and students.
See our information about fees, funding options and how to use the UCAS application system.
You can also see more information about fees and funding at Sussex.
Go to Open Days and virtual events
Visit as many universities as you can by attending Open Days. Many universities also have virtual events and online campus tours so you can see the facilities on offer and where your child could be living. Consider if they want to study at a campus or a city university.
Visit our Open Days webpage for dates and a virtual tour of our Falmer campus.
Look at accommodation options
Knowing a child or young person is safe at university is a big concern for parents and carers. Spend time researching and comparing housing options. Are they happy with living on campus or would they prefer to be off campus?
At Sussex, most first year students live on campus in self-catered accommodation. We have a campus security team which students can call upon 24/7. We also have a team of residential advisors for each residence, so students always have a point of contact if they have any concerns.
In some cases we also help students if they would prefer to live off campus and rent privately.
Find out more about accommodation at Sussex and residential support.
Disabled students
We encourage all students to register for disability support before starting their course.
Disclosing a disability will not negatively influence a student's application, grades or the qualification they receive. It means we can support them to succeed as much as anyone else studying at Sussex.
Anything a student tells us about a disability is classed as sensitive personal data and treated confidentially.
Most students at university are aged 18 or over, which means they are adults. We will only store and share information in accordance with the privacy policy of the Directorate for Student Experience.
Before students arrive
We encourage students to be as independent as possible.
Often, the most helpful thing to do as a parent is support a student to access University services independently.
We recommend that students disclose any disability or learning difference when they apply to university. They can also do this once they have arrived, but the sooner they tell us about their disability, the sooner we can help them.
If a student does not tell us about their disability, they may not receive the full range of support available.
---
Settling into university
There is a variety of support available to students as they settle into university and while they study, so you have peace of mind knowing their wellbeing is being looked after while they are away from home.
We offer:
We have a library and Skills Hub where students can access study support.
We also have a buddy scheme to help students make friends.

If you are a social worker, personal adviser or foster parent Sussex provides a package of support for students who are Care Leavers.

Our Students' Union offers support and represents student views.
Homesickness
Almost everyone experiences feelings of homesickness at some point after going to university. These feelings are completely natural and usually don't last for long.
Some people are better than others at dealing with feeling homesick. Some people never admit that they feel this way at all. But almost everyone will have these feelings when leaving home.
International students also have to adapt to a different culture and some experience culture shock.
You can support a student through homesickness by staying in touch with them and encouraging them to:
Finances at university
Students at the University can access a number of funding options and access support for finding work while they study. Find out more on our Money and funding page.
More information for current students
---
Supporting someone at university
The safety and privacy of all students at the University is our top priority – and always will be.
There may be times when you, as the parent or guardian of a person studying at Sussex, want to tell us about something that has happened.
You may also want to contact a family member or dependent, but be unable to reach them.
Sharing information about a child or young person with the University
Contact our Student Centre team using our Parent and Supporters Enquiry form.
Updating the University about a concern
If you are, or become concerned about a student, we would strongly encourage you to share the concern so this can be followed up.
You can express your concern to the student and direct them to the Student Centre for further support.
Or you can contact our Student Centre team directly who will ensure this is followed up by the right people.
They will not be able to report back to you unless your student has provided consent for the University to do so, but they can encourage your student to get in touch with you.
If your student lives in University-managed accommodation, you can contact Residential Support services.
In an emergency, where a student is on campus, University security can be contacted on 01273 873333.
In an emergency off-campus call 999.
We need consent to share information
We recognise our students as independent adults. This means we need their consent to talk to anyone outside the University about them, including parents and guardians.
By law, we cannot confirm to a third party, including parents or guardians:
if someone is a student at the University
where they are
any contact details or personal information of students.
If we have their consent to share information, then we can disclose details with named contacts.
---
You might also be interested in: