News
Discover the latest news and features about our research, our people and our University.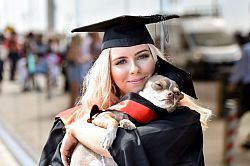 Record numbers of graduates
More than 3,800 finalists from 104 countries celebrate in style
Summer Graduation 2018: From opera singing to black holes
Climate change will only affect the economic growth of world's poorest nations
The Prodigal Tongue
Lynne Murphy, Professor of Linguistics at Sussex, explains why she wrote The Prodigal Tongue, a wry examination of the welcome and unwelcome influences and exchanges in language between American and British English...
Our University
---

By joining the LGBT charity's programme, Sussex hopes to create an inclusive and accepting campus environment for all students, staff and visitors.

More than 80 students, staff and alumni will be celebrating Brighton & Hove Pride on Saturday (4 August) by taking part in the Pride Community Parade.
Our people
---

Donald Trump is marching global politics back more than a century to the tinder-box tensions that ultimately led to two world wars, historian warns.

A human rights expert has criticised Boris Johnson claiming his comments on women who wear burqas "legitimise Islamophobic sentiment".
Our research
---

Professor Figalli is a winner of the prestigious prize and is a research co-author of Dr Filippo Cagnetti, Senior Lecturer in Mathematics at Sussex.

Bees living in suburban habitats are still exposed to significant levels of pesticides despite a EU ban on neonicotinoids on flowering crops.



Explore our blogs and podcasts
From Brexit to student life - see what we're blogging about and listen to our podcasts.
Follow us on Twitter