Stewart Dalby
Former foreign correspondent, war correspondent, travel writer and novelist Stewart Dalby (Economics 1964) spoke to us about his experiences at Sussex and beyond, as well as his newest endeavours focusing on promoting renewable/alternative energy through his platform Greenbarrel.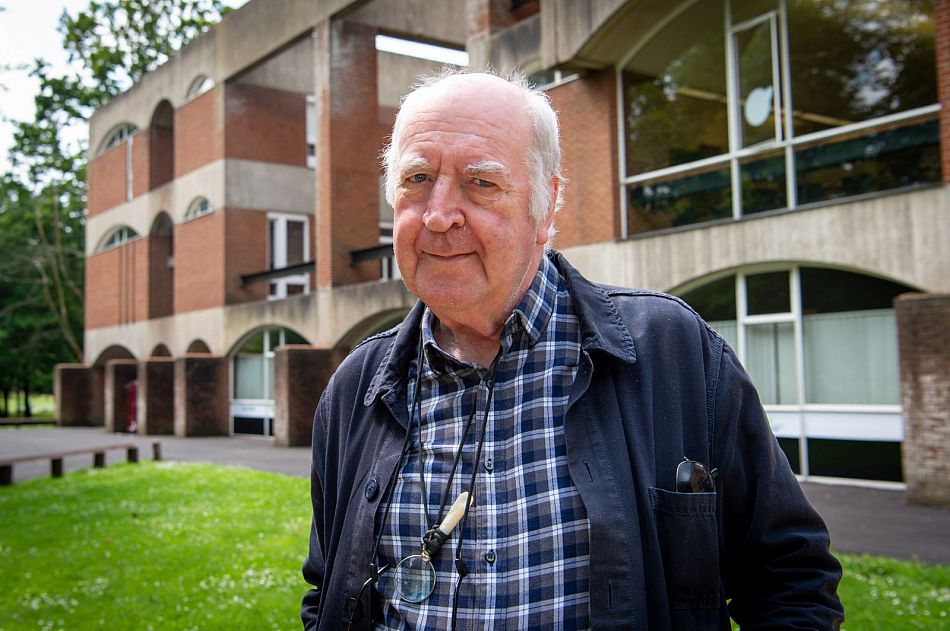 Why is Sussex special to you?
I hadn't really envisaged coming to university, but I arrived at Sussex in 1964, after being heavily encouraged by my Head Master to apply. It was, to begin with, a struggle due to my lack of confidence through coming from a working class background at a time when the class system was very much prevalent in higher education – but I soon found my way here at Sussex, it was an epicentre of the cultural revolution of the 60s in Great Britain. By my third and final year here, I was close to the Entertainment Committee responsible for putting on infamous Jimi Hendrix gig in the New Refectory. Sussex really gave me the confidence that I so very much lacked growing up, my time here was simply wonderful. I get a shudder every time I walk through Falmer House.
What made you want to pursue a career in journalism?
My path has been a series of 'flukes', beginning with my acceptance into Sussex. One of the most impactful of these flukes, was when I came across a copy of The Daily Telegraph – which I had never read, and have never picked up since – and I spotted a vacancy at The Financial Times Library for a position as 'Researcher' with editorial prospects. This step unravelled into an extremely interesting path for me, with me spending my professional career travelling and working around the world. I have visited over 80 countries, whilst having a a long and fruitful career in journalism, working for The Financial Times, where he was a financial writer, foreign correspondent and news editor. I've written for The Observer as a war correspondent, The Guardian, The Economist, The Spectator, The New Statesman, The Investors Chronicle, The Far Eastern Economic Review and The Boston Globe.
What was your inspiration behind your latest venture greenbarrel.com?
On leaving the staff of the Financial Times, I stayed on as a freelance travel writer. I then set up Oilbarrel.com, an internet publishing and conference business, for investors interested in small oil, renewable companies and miners. It developed into a successful business and I sold it to then subsequently become editor and publisher of Greenbarrel, with my prime aim to encourage and facilitate more informed investment in mostly quoted companies specialising in all aspects of renewable energy and clean technology.
There are more than 50 companies quoted on London's Alternative Investment Market (AIM), but they are not listed in a single alternative energy sector. Nor is it always easy to access or elicit information on individual companies. Greenbarrel aims to fill some of that information gap.
Sussex really gave me the confidence that I so very much lacked growing up, my time here was simply wonderful. I get a shudder every time I walk through Falmer House."

Stewart Dalby (Economics 1964)
The Greenbarrel website provides concise profiles of a number of AIM-listed companies as well as other companies quoted on global markets and some non-quoted companies in the alternative energy sector; giving a brief overview of the operations of the company and contact details. Underpinning this information are articles of analysis and informed comment and opinion by our team of writers with long experience of the sector.
The website also publishes general features across the whole spectrum of renewable and alternative energy matters including related subjects such as climate change, energy prices and other headings such as Bioenergy, Energy Storage, Hydro & Water, heating, Nuclear, Solar, Tidal & Wave, Transport, Wind and General which includes community projects.
And finally, with such an inspiring career in journalism, what advice would you give to an aspiring journalist?
Of course, things are very different today with the development of social media. But my advice is to be interested in everything. Be curious. Know what the story is. Being a journalist is not a structured thing, it unfolds. It's not like being in the army, you sort of fall into these things, somehow. There's no structure, it's more like an artistic career. And a wonderful one at that.