Tom Mumford
Following a change of career direction, Tom Mumford (PGCE Pedagogy and Practice 2016) is now a teacher specialising in secondary and A-Level Physics and working in schools in deprived areas.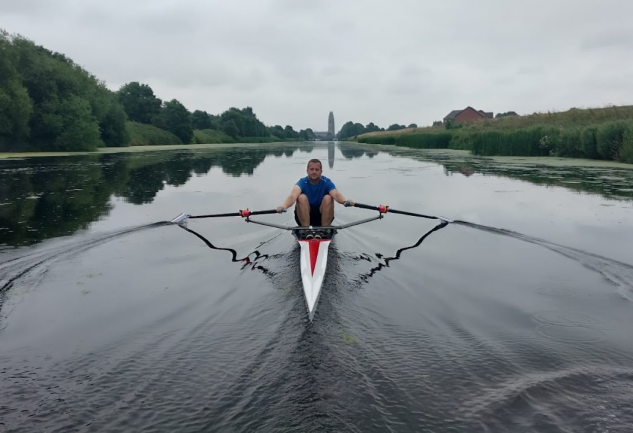 Tom's story
Tom's first career was in TV and film. He was an underwater camera operator for National Geographic, Discovery and the BBC; Head of Production (Asia) for a US film production company and also Project Manager for a TV news studio in London.
Looking for a new challenge in 2016, he retrained with PGCE from Sussex to become a physics teacher. Now, with the aim of inspiring the students he works with, he is preparing to row across the Atlantic in 2024.
What was your first role after graduating and what do you do now?
My first role after graduating from Sussex was as a physics teacher in a secondary school. My PGCE at Sussex was part of a SCITT (School-Centred Initial Teacher Training) programme. During my studies I was working full-time in a secondary school, where I was offered a permanent position.
What attracted you to studying at Sussex?
It was important that my SCITT course included a PGCE from a well-respected university. The campus is fantastic, the location is brilliant, and the general ethos of Sussex really stuck with me. When I found a course with the PGCE element delivered by Sussex, I knew it was the right one for me.
What is your favourite memory from your time at Sussex?
Being based in a secondary school, campus days were a treat. My favourite memory was exploring the campus as a 30-year-old 'fresher'.
Other favourite moments were in the physics labs. Students and lecturers were happy to chat about what they were studying/teaching/pondering. I plan to head back to Sussex one day to complete further studies in physics.
Life's biggest lesson so far?
Anyone can achieve anything with hard work, dedication and passion. If you go all in, you will learn a huge amount about yourself! Find something you're passionate about, give it 100% – don't be afraid to fail.
What is the best thing about your current role?
Working with children is by far the best and most challenging part of my role. I work in a deprived area, where there is very little academic drive. Encouraging them to link the science I've taught them to the real world is very rewarding. The kids I teach are amazing, and the more I can do to help them realise that, the better.
How had the pandemic affected you and the children you work with?
It was hard to push engagement in lessons during lockdown. A few children excelled, but most fell behind. Sadly there will be some children getting to GCSE exams in 2022 and 2023 having missed nearly an academic year of content.
Anyone can achieve anything with hard work, dedication and passion. If you go all in, you will learn a huge amount about yourself!"

tom mumford
Where did the idea to row across the Atlantic come from?
I sometimes work with children with low aspirations. Most can't imagine themselves having a career, going to university, or owning a house. I wanted to prove that with hard work and determination – anything is possible. The challenge had to mirror the barriers facing our children:
Mental and physical health: It's impossible to fully prepare either mentally or physically for this row and I expect to be pushed to my limits in this challenge.
Skills/knowledge: I have never rowed before. Like our children at school learning a new subject for the first time, I will have to learn, adapt, practice and train.
Money: I have to raise in the region of £150,000 to cover the costs. I will need to find sponsors, work with companies, host events and a range of other activities to raise the money.
What do you think the biggest challenge is going to be?
Raising the funds, signing up sponsors, buying the boat! Getting to the start line in La Gomera will be a huge achievement.

Managing my physical and mental health will be another challenge. I suffered a back injury and managing this at sea will be a whole new experience. During training we've seen images of rowers who have injuries from over exposure to salt water, friction, sun damage, etc. Knowing when to push-through and when to self-care will be vital.
What kind of charities are you hoping to raise money for and why are these charities important to you?
I'm partnering with charities that focus on education and the environment. Children can excel if they are given regular, reliable access to high quality education. Protecting the planet and making steps to reverse decades of damage is hugely important.

Once the costs of the challenge are covered, funds will be split evenly between my partner charities. Equipment will be sold after the race, and the money will be donated.
You can find out more about Tom's row across the Atlantic in 2024 by visiting his webpage.
---
You might also be interested in: