Chris Saraty
Chris Saraty (Computer Science 2018) is one of the founders of BoogieSearch, a nightlife platform that rewards students for going to their favourite events. Chris started BoogieSearch during his final year at Sussex, alongside his roles as tennis coach and President of the Sussex Tennis Club.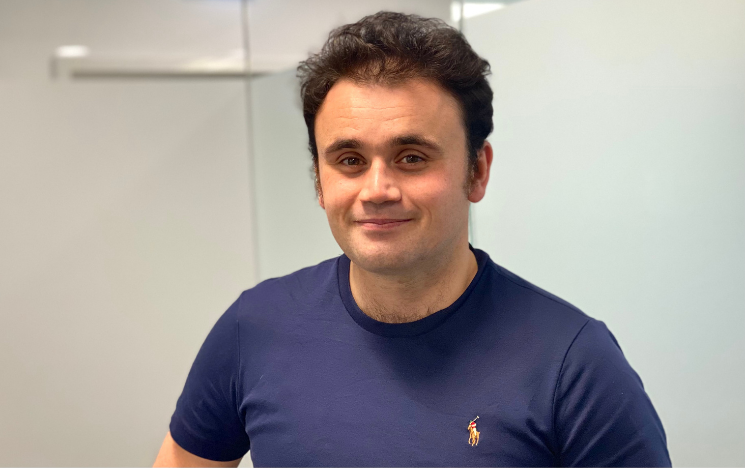 Chris's story
Since finishing his studies, Chris has taken on the role of CEO of BoogieSearch and launched the BoogieSearch mobile app. He talks to us about how he got there, and what it was like to balance being an entrepreneur with studying for his degree.
Why did you choose Sussex to study Computer Science?
I chose to study at Sussex due to its laid-back and relaxed atmosphere. I had a lot of friends already studying at Sussex, so I had a strong support network when I arrived. I can't think of anywhere else in the UK I would rather base my business than Brighton.
What did you enjoy most about your degree?
I enjoyed group projects the most because it involved meeting interesting people at one of the most international universities in the country. My favourite module was the Introduction to Machine Learning. It was extremely insightful, and I liked the competitive nature of the coursework.
How has your role as a tennis coach contributed to your professional life?
My first job was being an assistant tennis coach for my Duke of Edinburgh award. I applied to be a tennis professional with Virgin Active Brighton and started the job on the same day I moved down to Brighton.
I learned that networking, leadership, growing a brand, sales and communication all are so important in business and I use these skills in my role now as a CEO.
What is your post-graduation role and what else have you been up to?
After university I took on the role of BoogieSearch CEO and led it through the creation of our software products, an investment round where we managed to raise enough capital to hire our amazing team, and finally launching the BoogieSearch rewards mobile app.
I've given talks about entrepreneurship and launching a business straight out of university with my co-founder, Stefano, to students at Sheffield, Brighton and Sussex. I love the engagement we receive from the students and hope to inspire more student-generated businesses.
What sparked the creation of BoogieSearch?
BoogieSearch came out of the concept of Ticketlife, a separate affiliate ticketing platform created by my co-founder Stefano. We didn't know why it was so difficult to find the cheapest tickets online and why vendors charged crazy additional fees.
We followed the process of a lean start-up and built a prototype in just two days. I joined the weekly entrepreneur meet ups ran by Luke Mitchell and the entrepreneurship team at Sussex. He persuaded us to enter the start-up Sussex competition where we managed to win an award, funding, and most importantly, business support from my valued mentor and advisor, Simon Chuter.
How did your degree equip you with professional skills for your business career?
My degree gave me the opportunity to develop new skills in entrepreneurship workshops and the ability to write effective clean code – both essential when building a technology company!

It's allowed me to have an intimate understanding of all the technology processes occurring within the organisation and discuss technological solutions effectively. It also allowed me to read and analyse data effectively. That's extremely important, since we use data to guide every business decision we make in the organisation.
What was your experience with the Innovation Centre at Sussex?
We first interacted with the Innovation Centre in the start-up Sussex competition. The Sussex Innovation Centre helped us massively with introductions to other successful businesspeople as well as helping us to develop and grow our organisation.
Be passionate about what you're doing. That way you'll be more willing to make any sacrifices needed to make it a success."
CHRIS SARATY
What was it like creating a business in your final year of study?
It's one of the toughest yet most rewarding things I have ever done. Managing my studies, work as a tennis coach, and BoogieSearch meant I had very little time to do anything else. However, I've enjoyed every minute of it. I'm very thankful to the entrepreneurship team at Sussex and my friends for acting as my support network.

We created a business that I'm extremely proud of. My advice for any student wanting to do the same is to be passionate about what you're doing. That way you'll be more willing to make any sacrifices needed to make it a success!
What's been the biggest challenge to co-founding a business? How have you overcome that challenge?
It was tough to be told by one of our closest advisors after our Start-up Sussex success that whilst we'd built a cool product, we didn't yet have a business. This was a massive challenge for us, since up to this point, we had been so focused on the technology and idea that we hadn't considered the steps to this becoming a fully functioning business.
We overcame this challenge by reassessing our financial models and developing our company cultural values and overall mission to ensure we were more than just a product. This was a hard process, but we came out with something so much better for it.
Any exciting future plans for BoogieSearch?
We aim to take BoogieSearch nationwide to every university city in the country. In the next six months alone, we're expanding into Portsmouth, Southampton and Bristol, whilst also adding exciting new features!
Favourite spot-on campus?
Falmer bar after a hard day's work on campus
Soundtrack to your time at Sussex?
Chris is among thousands of inspiring alumni on Sussex Connect. Join now to seek mentoring and industry advice and get a head start on your career.
---
You might also be interested in: