Jordi M Carter
Jordi M Carter (Drama and Film Studies 2018) graduated from Sussex as a First Generation Scholar with a First Class degree in Drama and Film Studies, and a Gold Spirit of Sussex Award.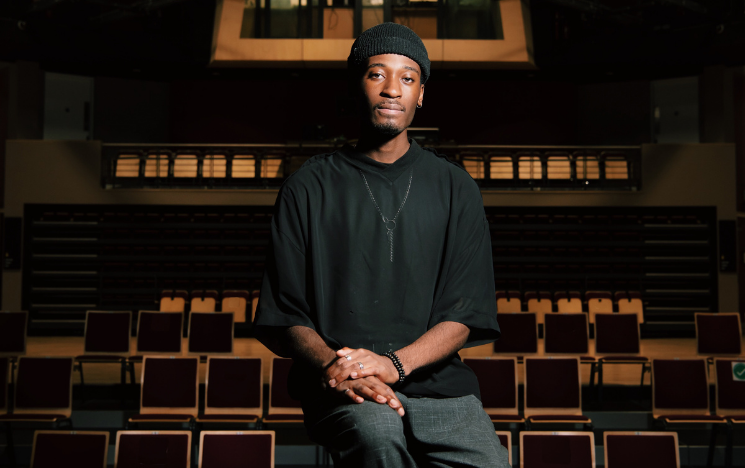 Jordi's story
Jordi works as the Taking Part and Creators Program Young Associate at the Young Vic, and is a Young Producer at Theatre Peckham. Here he discusses his experience of interdisciplinary study and how he found and developed his creative side in theatre at Sussex.
What inspired you to apply to Sussex?
Sussex is rated highly in university rankings for both Drama and Film Studies. The Joint Honours appealed to me because I wanted an equal balance of practical studio work and theoretical study for Drama, and to explore genres and styles of cinema that I had never been exposed to.
What did you enjoy most about your degree?
Sussex is renowned for its interdisciplinary practice. I found myself taking things I'd learned from one subject and using them in the other subject. It was interesting to have brand new module options being introduced as I progressed into my second year.
Tell us about how you got involved with the Young Vic and what you gained from that experience.
At the age of fifteen, I was in Macbeth, which was made up of a cast of young people in the local community and put on by Taking Part – the theatre's creative engagement strand. This was my first experience of professional theatre and working alongside a cast, and it kickstarted my trajectory into the creative industries.
I fell in love with the rehearsal process – goofing around with castmates, learning what happens during a production and learning from industry professionals. This was the first time I had allowed myself to tap into my creative side and not take myself seriously, and I've kept that with me since.


Set time aside every day to ask yourself questions about what you want to do with your life and career, and why"
JORDI M CARTER
Can you tell us a bit about your current role and how you got there?
I'm the Taking Part and Creators Program Young Associate at the Young Vic. I support the work of both teams in creative engagement and talent development, engaging a wide range of community members, young people, emerging arts, and professional creatives in the theatre's work. I also contribute to the creative delivery of the projects and productions in both teams.
I have also recently become a Young Producer at Theatre Peckham, where I am part of a collective of young Black creatives and artists who are learning how to put together events and productions and investigating the essential skills of creative producing.
Any experiences from your time at Sussex that have helped in your career so far?
Being brave enough to deviate from the syllabus when I came across areas of study across both my subjects that I knew I wanted to learn about and contribute to. Realising that I'm not solely at university to study what's on the course, that I'm also there to find my own way and specialise in topics that resonate with me on a human level, is a choice I'll be forever grateful to myself for making.
You achieved a gold Spirit of Sussex Award (SoSA)! What kind of activities did you do to achieve this?
I acted with the Drama Society, modelled with FABRIK Magazine in a project that was featured in Vogue Italia, and was the Creative Director of BAME Sussex in its first year as a society.
During the summer of 2020, I got involved in #BlackLivesMatter protests in Brighton. I was featured in Dazed alongside several Black people across the globe, where we voiced our thoughts and feelings about the movement at the time. In my final year, I was selected as one of the presenters for Brighton's first-ever youth-led breakfast radio show, The Rising, at Platform B, a next-generation radio station based in the city centre.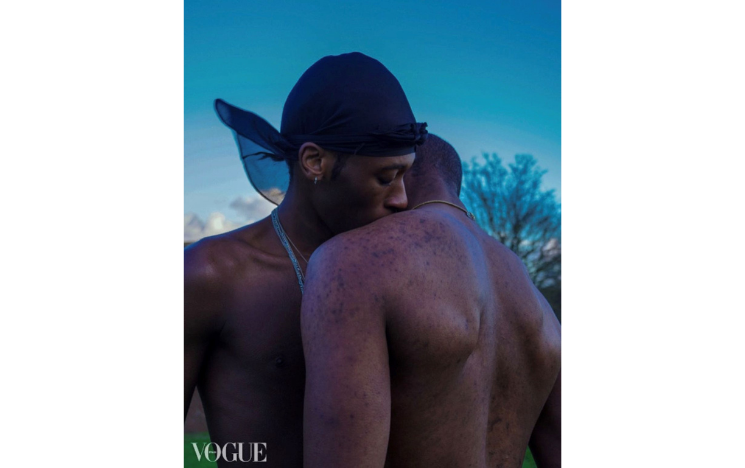 Jordi's modelling featured in Vogue Italia, photographed by Pablo Santana.
What skills have you aquired from participating in the Spirit of Sussex Award?
Taking part in the SoSA means I've left Sussex with more than just my degree. It allowed me to capitalise on what mattered the most to me in terms of my university experience and my broader personal development. It motivated me to have balance between working for my degree and doing other things.
Why do you think alumni career talks are important to students?
It's beneficial for students to see themselves reflected in graduates who are involved in the careers they want to have once they leave university. Alumni talks are important for students to speak with people who have been where they are, ask questions and be curious about where they want to be when they leave Sussex.

One piece of career advice for current Sussex students?

Set time aside every day to ask yourself questions about what you want to do with your life and career, and why. I remember reading Simon Sinek's Start With Why and one of the biggest lessons I learned is that when my why is precise, I gain more clarity in the what and how of everything that follows. It encourages you to investigate your own definition of 'success'.
Jordi is among thousands of alumni on Sussex Connect. Join now to seek mentoring and industry advice and get a head start on your career. Visit sussexconnect.org
---
You might also be interested in: