Benjy Kusi
Benjy (Philosophy and English 2013) is an inclusion and wellbeing consultant and online creator. He recently made his debut as a published author with Hope This Helps: How to be Kinder to Yourself and Others which offers guidance on how you can feel and do better, and how we can all have a positive impact on the world.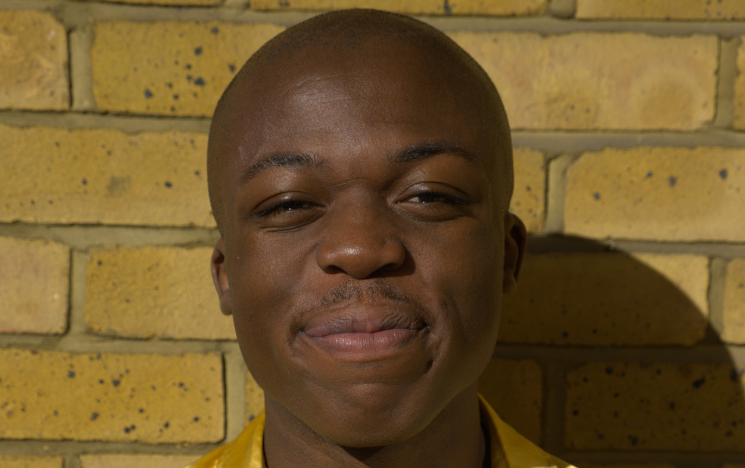 Benjy's story
Since graduating in 2016, Benjy has gained recognition on TikTok for sharing short, easy to digest videos on topics that can appear difficult to navigate. Known as Benjy Lookbook, he has gathered a following based on his educational inclusion and wellbeing tips. His commitment to addressing topics that a lot of content creators shy away from has led to him being named as one of TikTok's 'voices for change' of 2021 and a LGBTQIA+ trailblazer for Pride Month.
You've gained recognition for discussing important social issues. What is that drew you to TikTok as a platform?
I was keen to make helpful and accessible content that would reach those that needed it. The short-form video format of TikTok was therefore a perfect fit. The algorithm on TikTok also enables your content to reach far beyond your followers, which has helped me find and nurture a very specific audience. I have quite a diverse following, but the majority are young people who are tapped into social issues and looking to make a positive difference. Either within their communities or for others as supportive allies.
Who inspires you on TikTok?
My sister (@travellingtuesdays) started making content online long before me and is someone who has inspired me to put myself out there and use my voice. I am also inspired by anyone who is expressing themselves authentically and trying to make a positive difference in the world.
On your TikTok you promote kindness and provide a safe place for discussion, without fear or judgement. Why do you think this is important?
I have a strong belief that there is nothing wrong with being ignorant. To be ignorant is to simply not know something, so we're therefore all ignorant in some way, as no one knows everything. This means that if someone genuinely lacks knowledge or awareness, casting judgment is not only unkind but hypocritical. It's more productive to allow space for people to learn and grow if they desire – to essentially extend the grace that we would appreciate ourselves, to others.
Sussex attracts such a breadth of creative minds and making those connections not only completely changed my perspective on the world but has shaped the trajectory of my life and career."
BENJY KUSI
What made your choose Sussex?
I wanted to study an English Literature course and knew that Sussex has a great reputation for the subject. As a member of the LGBTQIA+ community who had only just come out, I also wanted to go to a university where most people would be accepting of my identity, and care about important social issues. I remember loving the vibrant energy of campus on my Open Day and being impressed by a student occupation of Bramber house occurring at the time, in support of workers' rights. Sussex immediately shot to the top of my list after my visit.
What part of the Sussex experience has helped you the most in later life?
My first year living on campus, in Park Village. I was blessed to live with an awesome group of people, many of whom I am still close friends with today. But beyond that, it was so close to all the other halls, and I made so many great friends and beneficial networks during that first year. Sussex attracts such a breadth of creative minds and making those connections not only completely changed my perspective on the world but has shaped the trajectory of my life and career.
Do you have any standout Sussex moments?
So many! I had the chance to study abroad for a semester at the University of Rochester in New York, which was a dream come true. I ran the Brighton Marathon and also had a blast working at Brighton Hove Albion FC for two seasons. There were also many caffeine-fuelled all-nighters in the Library, trying to get essays completed on time with my course mates. Being in the city for Pride each summer was also a highlight – the city truly comes alive. I've got to mention going to Lewes Bonfire night each year, such an incredible spectacle. I also was Head of News for University Radio Falmer in my final year, which was my first little taste of content creation which I loved.
Congratulations on the publication of your debut book, Hope this Helps: How to be Kinder to Yourself and Others. How was the writing process for you?
The book has been a dream of mine for a long time. I think that there's a significant need for helpful content about how to be kind and do the right thing, which is practical, non-judgemental, and doesn't assume knowledge. So, while the writing process was quite intense (lots of long nights and gigantic text files) it was honestly such a pleasure, I'm just so thankful for the opportunity to get this book out into the world.
What's the best advice you've had?
That shame only restricts you from living your best life and being your most authentic self. When you release yourself from the burden that is the pressure of other people's expectations, you become free to do whatever you want, and what is right for you. This is a principle I now live by and teach others too – true liberation is priceless.
What would be the soundtrack to your time at Sussex?
Wiggle by Jason Derulo, that song was huge in my first year at Sussex. But if I had to choose a song that symbolises my journey at Sussex, it'd be Freedom! '90 by George Michael. My time at university allowed me to fully unlock my true potential and become the person I wanted and always knew I was meant to be.
What advice would you give to students currently studying at Sussex?
Say yes to everything – within reason of course! Sussex and the city of Brighton have so much to offer you, so make the most of all of the opportunities presented. Every experience is either a blessing or a lesson, and the more experience you have, the better equipped you'll be to succeed after achieving your degree.
Benjy is among thousands of inspiring alumni on Sussex Connect. Join now to seek mentoring and industry advice and get a head start on your career.
---
You might also be interested in: