Dominic Bliss
Dominic Bliss is an author and football writer. He studied at Sussex between 2003 and 2006, earning a BA in English and International History.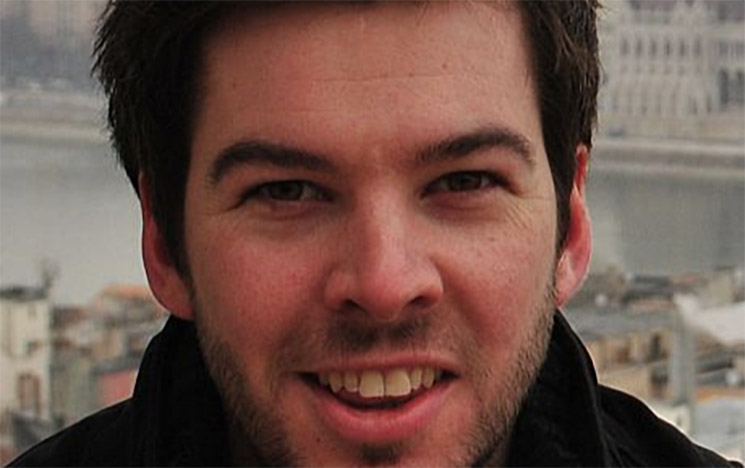 Dominic's story
Dominic's debut book, Erbstein: The Triumph and Tragedy of Football's Forgotten Pioneer was published in December 2014 by Blizzard Books. He is founder and editor of the cult online football journal The Inside Left
Follow him on Twitter at @theinsidelefty.
What was your first job?
I worked as a staff writer for a sports publications company in Blackfriars.
Who's influenced your life most (and why)?
Apart from my immediate family, who have influenced me more than anyone, I get my inspiration from reading, so I would say my favourite authors, in particular Leo Tolstoy, Emile Zola and Charles Dickens. All three helped to shape my understanding of human nature and the way I look at the world, while each of them strove for social change through their writing.
What's the best piece of advice you could give someone?
Speak to the oldest people in your life as much as possible. They have seen and experienced a world you can only access through them, but they won't always be able to tell you about it.
What's the skill you'd most like to have?
I wish I had any practical skills. I'm effectively useless at all forms of DIY and feel inadequate in the presence of anyone with a trade.
What's your favourite travel destination?
I regularly travel to Italy for short breaks with my fiancée and we try to visit a different city or region each time we go. My favourite destination so far has been Lucca in Tuscany, where I stood on the old city walls, looked around and felt envious of everyone who lived there. It's a portal to another time.
What are you passionate about?
I love uncovering untold stories. So much of journalism is finding another angle on the story of the week, rather than searching for a subject that really matters, which nobody else is looking at.
Who's your hero/heroine?
I've never thought it's particularly healthy to have heroes but the person I most admire is probably George Orwell. He went out and experienced the things he wanted to write about. He was writing documentaries before the age of television and he wasn't afraid to reassess his own beliefs and principles. All of those things require a great deal of bravery.
What attracted you to studying at Sussex and did you have a goal already in mind when you arrived on campus?
I wanted to live by the sea and I loved the idea of being so close to Brighton. When I arrived, I was adamant that I wouldn't become one of those people who reinvent themselves at 'uni'. I didn't, but I changed a lot – hopefully for the better – because I met so many people who were completely different to me.
What are your favourite memories of Sussex?
Relaxing on the grass bank out the back of Park Village after I had finished my exams at the end of the first year. That was probably the emptiest my mind has ever been. I also have an abiding memory of sitting out the back of the Dover Castle in Hanover with my best mates after we had closed the door of our house behind us for the last time at the end of our final year. It felt like one last beer but we still see each other all the time!
What part of the Sussex experience has helped you the most?
I studied English and History and, in every class discussion, somebody gave an opinion I would never have considered. Being at Sussex opened my mind to the many different ways each person views the world and showed me how sheltered my life had been until then. I remember going there thinking Winston Churchill was this unquestioned national hero and suddenly there were people angrily discussing his colonialist attitudes and prejudices. It made me realise I had never really tried to form my own opinions on anything, I'd just been remembering facts and regurgitating them. You can't do that after studying at Sussex.
What first attracted you to writing and journalism?
I always wanted to be a writer. I remember telling my teacher that I wanted to be an author when I was six. I love reading what other people think and that inspires me to want to publish my own ideas.
Given the wealth of free online content and the decline in print publications, do you think there is a sustainable future for journalism as a paid profession?
I hope so. If opportunities to land paid work in journalism continue to decline as they have been, something has to happen to prevent the profession disappearing. Unpaid and untrained bloggers will struggle to fill the void and the demand for good journalism will always be there. A number of independent publications are springing up in all fields and many of them are holding their own – they also pay their contributors, but it doesn't feel like the catalyst for widespread change for the better. Who knows what will be, but something has to happen.
Who is your favourite footballer and why?
Marcel Desailly. He completely changed the way I looked at defending because, aside from being as solid as any other centre-back I have seen, he was so composed on the ball. He was quick but he also knew how to cut off opposition forwards by angling his runs intelligently. He bossed the pitch every time he set foot on it.
What was the first match you saw live?
An absolute classic at Sutton United's legendary Recreation Ground in Gander Green Lane. I remember absolutely nothing about the match itself but Fulham beat Sutton 4-2 in a pre-season friendly and I spent most of the time running around the terraces with my brother and asking my dad the score.
What one thing (if anything) would you change about football to improve the sport?
Revert to the old offside rule. All this phases of play stuff is a bit much for everyone to try and get their heads around. It's surely simpler if you are either offside or not, rather than asking officials to interpret who is interfering with play at each given moment.
Favourite book? / film? / album?
A Tale of Two Cities by Charles Dickens; Fargo, in particular Frances McDormand's performance; OK Computer by Radiohead.
What do you consider to be your biggest achievement?
Definitely getting Erbstein over the line. I'd always wanted to write a book and when I finished the last chapter, I was literally shaking with the excitement. Even though I was sat alone in a largely charmless spare bedroom, lit by a desk lamp, at two in the morning, it was a magical feeling. I just started pacing around the flat with a big smile on my face because I had this adrenaline rush from the thrill of realising that I'd written a book. I must have looked like a weirdo, but nobody could see me so it didn't matter!
What is the most important lesson life has taught you?
You never think you have time, but you always do.
---
You might also be interested in: