Wilfrid Obeng
Wilfrid Obeng (Computer Science 2012) was recently listed in Forbes 30 under 30 for Media & Marketing for his achievements as Co-Founder and CTO of AudioMob, an innovative new audio advertising technology for mobile games.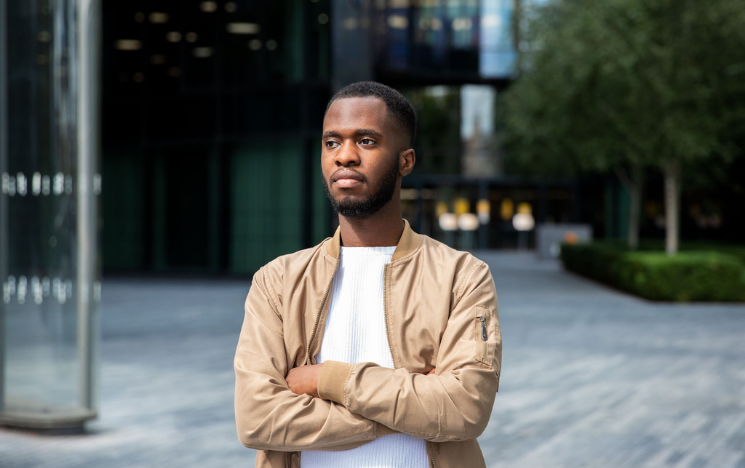 Wilfrid's story
Straight after graduating, Wilfrid achieved his first career goal when he landed his first job at Google. Now, he has moved on and become an entrepreneur and co-founder of AudioMob, which creates ads that run in the background of mobile games; allowing users to continue playing uninterrupted.
What inspired you to apply to Sussex and what did you enjoy most about your degree?
Sussex had one of the highest-rated Computer Science courses, so I decided to visit the Informatics department on an open day. I was immediately drawn to the city, the campus and the fantastic facilities. In my third year, we were able to work on a project of our choice and I loved the freedom and ability to apply my learnings from my previous years.
Did you gain any real-world experiences that helped your career development?
I secured my first internship at 16 years old, working at a website development company called Fuse8, then went on to work at a financial consulting firm, Excelian. This early experience helped me gain further internships at J.P. Morgan, Goldman Sachs and Google. Taking early internships and placements at smaller outfits can unlock remarkable future opportunities, so don't pass them by.
What was your first role after graduating and how did you get into it?
I was a Programmatic Account Strategist at Google which involved technical consulting with advertising clients such as Amazon, Hilton and Intercontinental. I knew I wanted to work at Google and chose my degree based on the requirements for most roles there and at other tech companies. I then worked on getting the necessary experience to stand out during the application process.
What's your current role and how did you get there?
As Co-Founder and CTO at AudioMob, I set the technical vision for the company. I also manage the entire engineering team – though, as part of a growing start-up, I'm involved in many facets of the business. The keys to my success have been the discipline I learnt working in banking, the employee focus I experienced at Google, and having two incredible mentors.
What inspired AudioMob?
AudioMob was founded on the core principle that there is a better way to monetise games. There are 2.7 billion gamers worldwide and, with the rise of music streaming and podcasting, there's been increased audio advertising. We allow advertisers to reach their consumers through audio ads while letting game developers monetise their games without interrupting gameplay.
What skills did you develop in your degree and how are you using them in practice?
My degree helped me develop my logical reasoning skills and showed me how to apply Computer Science principles to real-world problems.
Favourite Sussex memory?
My favourite memories are of live music events at Concorde 2: from hip-hop to dancehall. It's an iconic venue for a reason and it was great to have it on my doorstep.
Internships and placements at smaller outfits can unlock remarkable future opportunities, so don't pass them by."

Wilfrid Obeng
What piece of advice would you give to yourself if you were still a student at Sussex?
Network effectively: the world is made up of people and fostering relationships will help you open doors
The worst someone can say is 'no': ask for help
There is no such thing as failure, only feedback; failure is an opportunity for improvement
Improve your soft skills: conveying your ideas succinctly and communication are key to success
Focus on building your personal brand
Do you have any top tips for budding student entrepreneurs?
Don't just start, have a plan. Conduct research on your target market and plan out the steps to complete your mission
Once you identify a market opportunity for your idea, create a basic solution and get the market to evaluate it
Constantly adjust your solution based on user feedback to ensure you're meeting your customers' needs
What are you most proud of in your work so far?
Working at Google made me realise the importance of developing a solid company culture. I witnessed how people who have a shared mission, accountability and flexibility feel empowered. I'm really proud of growing the AudioMob team from Christian and myself to over 15 people aligned to the vision of bridging audio and mobile opportunities.
Who has inspired you along your career journey?
My uncle worked on building space probes at NASA and showed me anything is possible. I also have two mentors, Joy and Atiya, who run Inemmo. They've helped me to improve my business acumen, emotional intelligence and public speaking skills.
What's the best advice you've received?
From Atiya and Joy: "As a leader, be prepared to pursue your goals alone and set the standard". Leadership requires vision and execution – a leader must clear the path and lay foundations before their vision for a road becomes clear to everyone else.
Favourite place you've travelled to?
As a child, I was fascinated with Japan after seeing the arcades, game shops and taxis with automatic closing doors in documentaries. It was a dream come true when I was able to visit in 2019.
What was the soundtrack to your time at Sussex?
Mura Masa - Love$ick (Official Video) ft. A$AP Rocky
---
You might also be interested in: