John Mason
John Mason started his journey at Sussex when, at the age of 59, he took early retirement and decided to pursue his interest in American History and enrolled on our BA course, followed by an MA and MPhil.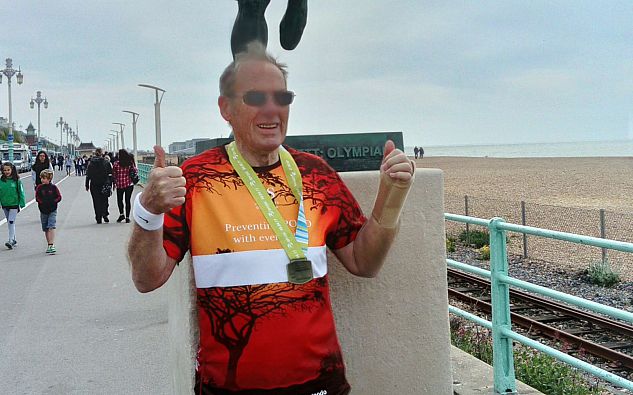 What inspired you to run the BM10K for Sussex?
When the Brighton Marathon started some years ago, I volunteered as a course marshal. When the organisers added a 10km race to the prgoramme, I felt that I could run this shorter distance.
As soon as I learned of the research that academics at Sussex were doing to help treat people with podo (podoconiosis, a form of elephantiasis), I decided to run and support this worthy cause.
Who supported you in your efforts and in what ways?
In 2017, I had passed the age of 76. But I had kept up a jogging routine, which meant that to finish the 10km race was possible. My wife, family and friends all supported me in the task that I had set myself. In particular, our daughter Julia constantly encouraged and trained with me.
My family and relatives were very supportive of the idea of assisting the podo sufferers, and were therefore generous in their financial support. Friends from Brighton and Hove Healthwalks encouraged and supported me, and, especially worth recalling, were the efforts of two young children of a running friend - Grace and Amara, who held a quiz which raised £100 for the fund.
Tell us about your experience of training and running the BM10K...
For some years prior to 2017, any training runs or races were no longer than a 5km distance. To be able to complete the longer race, I needed to gradually extend the time and distance in my training runs. Having done this, I was properly prepared for this event in my running career – but disaster struck!
Just four days before race day, I tripped while jogging on the seafront and broke my wrist! The hospital doctor banned me from running, but I was determined to fulfil the promises I had made to those who had generously sponsored the preventing podo appeal. So, with Julia and Fergie (my running buddy), we walked the exact 10km course the following weekend. Job done!
What advice do you have for anyone thinking of signing up for the Brighton Marathon/ BM10K/ Bike Ride?
For any participant in 2020, I would say that it is very important to set out an achievable training programme that will enable you to confidently run the set distance. Another vital element is to enjoy the training leading up to a memorable experience on race day. All that time and effort will have been worthwhile!
The Sussex community is coming together once again to do something amazing, this time for mental health research at Sussex.
Roughly one in four in the UK experiences a mental health problem each year, so it's no exaggeration to say that we are all facing a mental health crisis. With your help, Sussex can work to address this emergency. We have 50 places for the 2020 Brighton Marathon, 70 places for the BM10K, and 20 places for the Brighton Ride event. We need you to help us create a team from our incredible community of alumni, staff and students – all of whom will be fundraising for mental health research at Sussex.
You can find out more on how to register here.