Helen Nagle
Helen (Music 1985) has enjoyed a successful career in Human Resources after graduating from Sussex. Alongside this, Helen is a member of two bands, ReVamp and Wildhoney.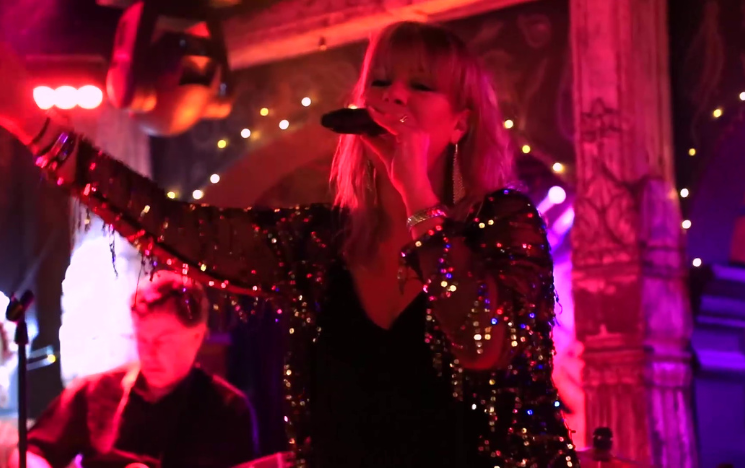 Helen's story
After working in advertising, Helen successfully navigated a career path in HR, running her own consultancy and most recently working as a Human Resources Consultant for Film London and the British Film Commission. She has always had a passion for music and recently performed with her band ReVamp at the 60th anniversary Alumni Reunion Weekend.
What made you choose Sussex?
I've always loved music and at 18 thought I wanted to teach music, so I started a teacher training course but quickly knew it wasn't for me. I realised that I wanted to study Music in much more depth. From my previous research, I knew that Sussex offered an interesting Music degree, and that the music scene in Brighton was diverse and eclectic.
Another reason for choosing Sussex was the tuition and structure of the Music degree. There was a lot of creativity and choice about what you could do. As well as the standard lectures and tutorials on classical musical, we studied Bob Dylan, Motown and Bessie Smith.
What was your biggest takeaway from Sussex?
When I went into the course, I felt that a Music degree could only prepare you to perform or teach – but you can use it in many different ways. The other thing I took away from Sussex was the sense of community and having so many opportunities to meet people from across the UK and overseas. It broadened my approach to the subject hearing students from the US, for example, talking about their experiences of studying music at Juilliard, and students from South Africa explaining how music was so important to them during apartheid.
What was the soundtrack to your time at Sussex?
Anything from 1982-85! Brighton was fabulous for live music (and still is). We went to see Duran Duran, Wham, Spandau Ballet, Echo & the Bunnymen, U2, The Jam and many more at The Brighton Centre and Top Rank Suite.
What do you love the most about performing?
I love being in a band with like-minded, passionate musicians – that sense of creativity and being part of a musical team is a bit like a drug! We all get on so well together. If you're performing a gig and everybody is having a good time that for me is the best part of being a musician.
When I went into the course, I felt that a Music degree could only prepare you to perform or teach – but you can use it in many different ways."
HELEN NAGLE
How did you find your return to campus?
I was so excited to come back and bring the band to Mandela Hall, although the last time I was in there I was taking exams, so it was also quite strange!
How did you get started in your career journey?
After graduating I started working in advertising agencies in London and then Brighton. Wanting to do something different, I started working for the local electricity company in the recruitment department and from there went into HR, working for financial companies such as Alliance and Leicester and American Express. When I had my son, I set up my own HR consultancy, to fit around his childcare, and ran that for the best part of 20 years where my client list included a number of high profile music artists and Glyndebourne Opera House.
Is there a particular spot on campus that has stuck in your memory?
Probably the accommodation: when I arrived at 21a Park Village most people were already there, as I started slightly later. We sat on the floor outside our doors and just talked the first night I arrived – it was such a lovely thing.
Do you have any standout Sussex music memories?
One of the brilliant things that Sussex offered to Music students was the opportunity to have practical lessons at the Guildhall School of Music and Drama in London. The final recital was part of our degree classification. To sit on that stage in the Gardner Arts Centre (now Attenborough Centre for the Creative Arts), in front of the beautiful Steinway piano and perform the pieces I had been learning was pretty nerve wracking. But I got through it, helped along by a lot of support from my fellow music students and friends and family who were in the audience.
What is your biggest piece of advice to students at Sussex today?
First and foremost, just enjoy it because the time goes so quickly. Also, make the most of the facilities like the Careers service. If I had spoken to somebody in Careers, I may have taken a different path and would have had more choices when I left Sussex. I'm so pleased with where I ended up, though, and wouldn't change anything – it's been a blast!
Helen is among thousands of inspiring alumni on Sussex Connect. Join now to seek mentoring and industry advice and get a head start on your career.
---
You might also be interested in: