Muhammad Mujtaba
Muhammad is working to spread awareness of mental health in his local community through his project Meraki.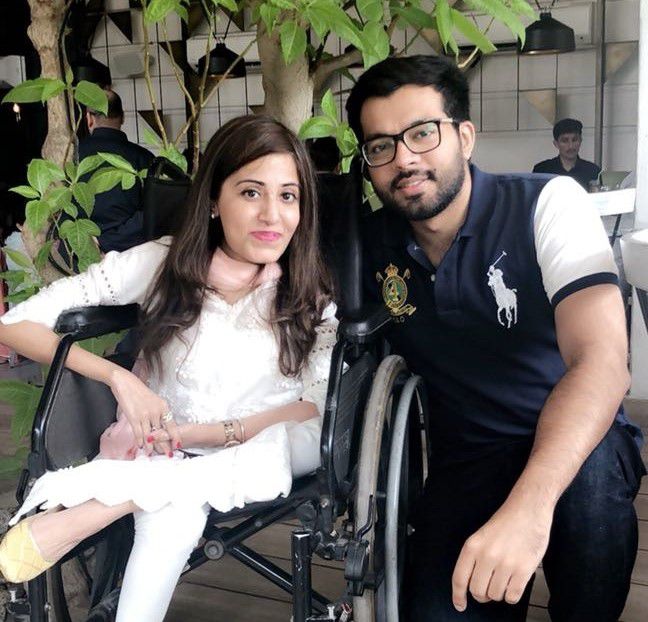 Muhammad on the right, beside his friend Amna.
Muhammad's story
Muhammad came to the University of Sussex Business School in 2016 for his Masters degree in Entrepreneurship and Innovation. Since returning to his hometown Karachi in Pakistan, he has partnered up with his friend Amna to spread awareness of mental health in his local community. Together, they have created and marketed Meraki - a self-help journal that helps start discussions about mental health and improves wellbeing.
What made you choose the University of Sussex Business School?
I always wanted to work for myself, so I chose an area of study that would help me build my own business. Entrepreneurship was a no brainer and Sussex was unique in offering Entrepreneurship alongside Innovation which really appealed to me.
What's the soundtrack to your time at Sussex?
Bryce Vine - Drew Barrymore (LU2VYK Remix).
What have you been up to since graduating?
I've been working in my family business and have tried to incorporate lessons from my degree. So far I'm off to a good start, I've been able to successfully form a team that deals in five new product types.
I strongly believe that the society has equipped me with the tools to be who I am and I feel the need to give back. That's why I've taken up a passion project like Meraki — a 30 day Self Care Journal.
I began this project with my friend Amna to raise awareness for mental health. We believe mental health is widely neglected in society but that it needs to be discussed and better understood. We hope Meraki can help with that mission!
So far our journey has been great, we've managed to secure a distribution deal with Liberty books (one of the most popular book stores in Pakistan) and recently completed our first corporate order from Procter and Gamble Pakistan (P&G).
How has your Sussex experience helped your career?
My time at Sussex was short but I was so lucky to meet people from such diverse cultural backgrounds and form meaningful friendships. I realised the importance of interpersonal relationships and networking during my time there. It got me thinking about the possibilities and opportunities that could come about from working with different people.
What inspired you to raise awareness about mental health in Pakistan?
I went through some personal issues in late 2018 for which I consulted a therapist and that's when I really started to read about mental health and its significance in leading a happy, healthy and successful life.
I noticed minimal to no importance being placed on mental health around me, and that inspired me to try to start building awareness about it.
Do you have any top tips for managing mental health?
Firstly, take everything at face value: don't overthink, don't over analyse, treat it for what it is and more often than not, you'll find yourself more relaxed, more logical and objective in decision making.
Secondly, problem identification does wonders too. Once you know where a problem stems from, half the work is done and you just need to take steps to rectify that in a healthy manner. Reiterating back to the problem to understand it always helps.
What are you currently reading?
I recently finished The Forty Rules of Love - and loved it!
Networking got me thinking about the possibilities and opportunities that could come from working together with different people."

Muhammad Mujtaba
What piece of advice would you give yourself if you were still a student at Sussex?
Volunteer more. I knew my time at Sussex was going to be limited and because of that, I prioritised leisure when instead I could have opted for activities that broadened my horizons and harnessed my business skills.
My work experience in England has helped me considerably after graduation and if I got another chance I'd probably opt for more workshops/societies/internships to further improve my existing skills. But I don't regret anything, I had an absolute blast in a year and a half!
What are you most proud of?
Supporting myself throughout my time at Sussex. I had so many different experiences that shaped me and made me the person I am today. The entire journey has been enlightening.
Do you have any advice for students wanting to set up their own campaigns or sell their own products?
Experience is the key to success. From the day you land at Sussex, start actively searching for opportunities to gain relevant experience in your area of interest. Hone your skills and elevate your business acumen.
Also, it's not all digital. Don't be shy about walking into places you idealise and asking them for opportunities. If 2 out of 100 attempts get you an opportunity, it'll all be worth it.
Who inspires you?
Sidhu Moosewala (an Indian celebrity associated with Punjabi music and cinema)!
What's the biggest change you've made in your life?
Realising that new experiences shouldn't be feared, they should rather be embraced with arms wide open. I wasn't necessarily encouraged to regularly welcome new experiences and when I stopped fearing change it led me to so many new concepts, ideas and places. These experiences ultimately changed my approach towards life itself.
What qualities do you most admire in other people?
Honesty, integrity and genuineness. Also, the ability to see past someone's exterior to really connect with their inner person.
Favourite campus/Brighton spot?
Paris Bistro, Devil's Dyke, the one spot across the beach in Hove.
---
You might also be interested in: