Carly Martin-Gammon and Carolina Doriti
Carly Martin-Gammon (Media Studies 1997) is an artist manager, label director and music consultant and Carolina Doriti (Media Studies 1997) is a cookbook author and expert on Greek cuisine. Their joint passion for food brought them together to work on Carolina's first book.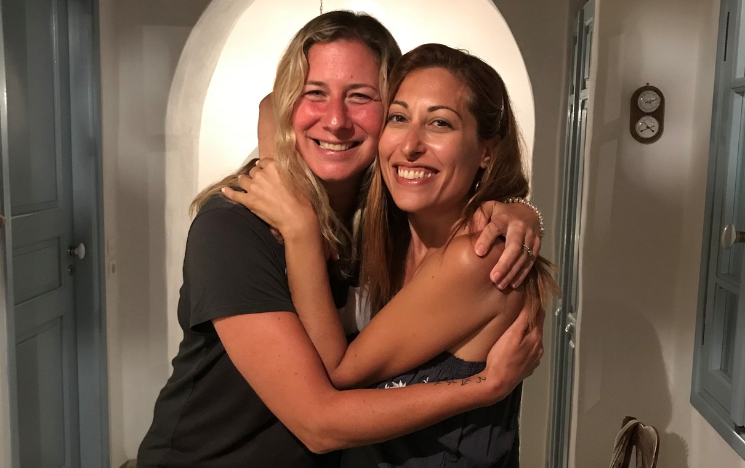 Carly and Carolina's story
Carly and Carolina first met at Sussex in the late 1990's and stayed in touch as friends. After leaving Sussex, Carly started working in the music industry, eventually launching her own company 12 years ago. After realising her passion lies in food, Carolina has worked as a chef, restaurant consultant and food stylist. She is also the Culinary Producer for My Greek Table, a cooking travel series, Food Editor for OW, an online publication that focuses on wellness and Athens Bureau Chief for Culinary Backstreets, a website that offers food-based city guides across the globe. Despite Carly's background not being in publishing, Carolina knew it was her that she wanted to approach to help her to publish her first cookbook.
What led you both to Sussex? Do you remember the first time you met?
Carolina Doriti: Sussex was my first choice. I loved the description of the course and the campus. And I loved the fact that it was in Brighton, which is such a fun place to be, especially as an undergraduate student.
Carly Martin-Gammon: I was looking for a diverse course, as I was not really sure what I wanted to do. So, Media Studies with the extra opportunity to add on other courses appealed to me, as did living in Brighton.
Carolina, what led you to a career in cooking? Did you always know that is what you wanted to do?
Carolina: I hadn't thought about becoming a professional cook until around 2004. I very much enjoy both cooking and eating; my whole life revolves around it! Several members of my family were involved professionally in the food industry one way or another as well, so gastronomy has been a big part of my life since childhood.
How did you end up working together on Salt of the Earth: Secrets and Stories From a Greek Kitchen?
Carolina: I really wanted to do this with Carly. I totally trust her in every way, and she adores food and can understand it. I just had a very strong feeling we should do this together!
Carly: I work in the music industry and had never dealt with the book publishing world before, but Carolina was very insistent. We worked together to find a title and structure for the book that Carolina felt represented her style of cooking and food knowledge and that I felt would appeal to the UK and other markets outside of Greece.
We are both huge foodies and my passion for food is as great as my passion for music. I believe so much in what Carolina is capable of and what she has to share with the world regarding her amazing food knowledge that I was like a dog with a bone. I didn't stop until we found her a deal – and fortunately we were offered a deal with one of the best international cookbook publishers out there.
Carolina, what made you to want to write your own cookbook?
Carolina: I started collecting and handwriting my recipes on a large notebook when I was 12. Writing about food became a part of my job over a decade ago and I have collected over the years a lot of material. I have for a long time wanted to put it all down and make a book that focuses on the history of the cuisine and the products as well as the regional recipes.
What's different about your book?
Carolina: The book gives a historic overview of Greek cuisine and the country's produce. I aim to explain the regional diversity of the cuisine and the wise simplicity of a Mediterranean diet, pointing out its sustainable nature as well.
Carly, how did you get started in the music industry and artist management? How did your career lead you to where you are now?
Carly: During my university years, I spent a few weeks each summer doing work experience, including stints with TV and advertising production companies, record labels, and live agencies. It gave me a slightly better idea of what areas of the industry I preferred to others. After graduation I took what was meant to be a 'temporary' job helping out the manager of Gabrielle, with the plan being to save to go travelling. However, I unintentionally became part of the company, and they allowed me to start working with developing new artists and talent (which was my real passion). After 12 plus years, I decided to start my own company and am now running things myself, which I love despite being crazy busy all the time.
Don't wait for things to happen to you, just give it a go. Ultimately you are the only one in control of where your life leads."
CARLY MARTIN-GAMMON
Carly, what are some of the projects that you are you currently working on?
Carly: I manage bands and artists and also run an independent record label. I am touring the world a lot post pandemic, as live music is back with a vengeance! But I did use my newfound connections and knowledge about the book publishing world to secure another publishing deal recently for another friend of mine. It's a craft book called A Handmade Cottage which will be published and released via Murdoch books next year.
Carolina, if you had to pick one recipe from Salt of the Earth, which one would you choose?
Carolina: I would pick the Moussaka because it's a classic dish that most people have heard of and this recipe is really good! Other options are the Pumpkin Fritters or the Stuffed Onions that I know Carly loves and the Galatopita (milk pie).
Can you give us some top tips on what makes a good recipe?
Carolina: I believe a good recipe needs good ingredients. I like to cook seasonally so I only source what's in season and I prefer to spend on high quality ingredients, such as organic vegetables and eggs. Fresh herbs are also crucial for successful recipes. I like simplicity in cooking to emphasise the natural flavours of the fresh produce that I use.
Love is an essential ingredient; it's all about the energy you put into the things you make that makes them even more tasty and nutritious!
What part of the Sussex experience has helped you later in life?
Carolina: I think every experience we have in life helps us in our further development. Spending the important formative years in a liberal academic environment like Sussex was vital to the ways my perspectives were shaped. Plus, the relationships with the people I met there – Carly being the most important one!
Carly: Developing independence as a young adult, gaining confidence around other people and connecting with people from totally different backgrounds to me. Sussex is great for bringing people from all over the world together and it's amazing to see how we become so close despite coming from such different worlds.
Carly, do you have any top tips for anyone looking to get started in the music industry?
Carly: Go to networking events, be in touch with people and companies of interest and offer to help out for free. If you prove your worth and show genuine skill and passion for what you are doing, you will get recognised and rewarded for it eventually.
What's the best advice you've ever had?
Carly: Don't wait for things to happen to you, just give it a go. Ultimately you are the only one in control of where your life leads.
There are thousands of inspiring alumni on Sussex Connect. Join now to seek mentoring and industry advice and get a head start on your career.
---
You might also be interested in: