Dean Atta
Dean Atta (English and Philosophy 2003) was named one of the most influential LGBT+ people in the UK by The Independent on Sunday, was shortlisted for the Polari First Book Prize for his debut poetry collection, I am Nobody's Nigger, and has just seen his debut novel The Black Flamingo published by Hachette Children's Group.
Since leaving Sussex, Dean has been busy making his mark on the poetry, literary and drag scene. His poems have been anthologised by Bad Betty Press, Emma Press, Stripes Publishing, and have appeared on BBC One, BBC Radio 4, and Channel 4.

We were absolutely thrilled to catch up with Dean last month and find out more about what he's been up to since his days at Falmer.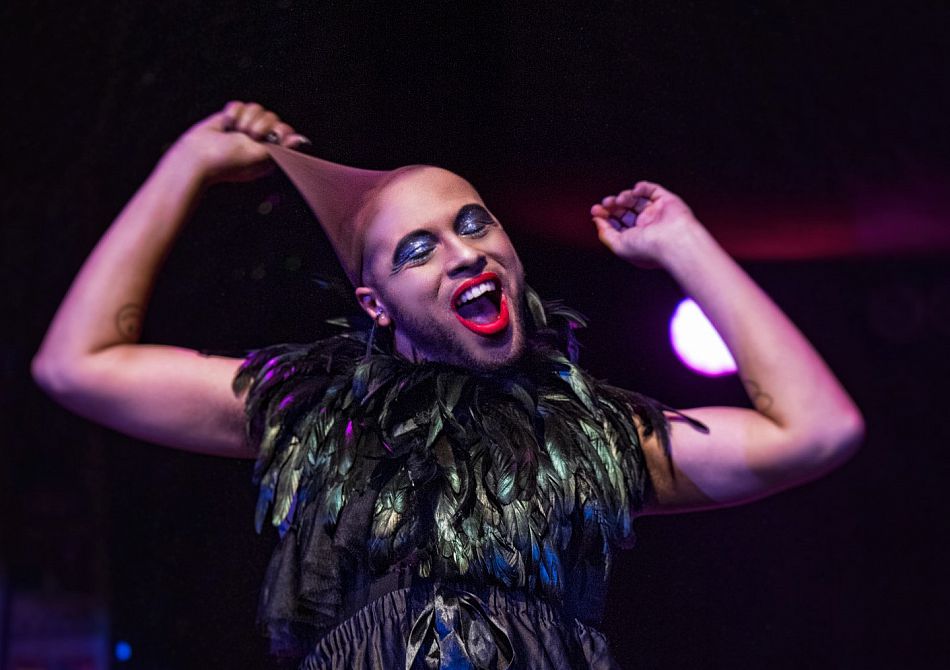 Dean Atta. Photo by: Simon J Webb at Jack the Lad Magazine
What made you choose Sussex?
When I came to visit the campus for a tour I could immediately imagine myself living and studying there. It was like a village with everything I could imagine needing. During the tour, two really friendly black girls came up to me asked, "Are you gonna come here? We think you should." I don't know what their motivation was but it made a really positive impression on me.
What part of the Sussex experience has helped you most in later life?
Becoming president of the African Caribbean and Asian Society helped me a lot, in terms of making friends with other people of colour, some of whom I am still very close friends with 16 years later. It was quite challenging trying to lead a society that was trying to represent so many cultures. I know a few years later it became the African Caribbean Society, and there was a separate Asian Society. This experience helped me realise that I couldn't presume to know or speak on the experiences of other people of colour, or even other black people. I can only speak for myself from my own experiences.
Any stand out Sussex memories?
One night in my first year it snowed heavily and we took to East Slope with makeshift sleighs, some people on tea trays and others on random bits of wood from who-knows-where. People were making snowmen and snow angels, and there were snowball fights and so much joy and laughter. I remember thinking how young we all seemed, like a bunch of primary school children left unsupervised.
Favourite spot on campus?
East Slope was one of my favourite spots. I lived there in my first year and again in my third year as a Residential Advisor. I think there was a sense of camaraderie amongst East Slope residents. I believe it was the cheapest accommodation on campus and there was a working class spirit to the place. No frills, but a lot of fun. People would leave their doors open and we were often in each others flats. You never needed an invite to a party on East Slope, you could just turn up, as long as you brought your own booze.
Congratulations on the upcoming publication of your book The Black Flamingo, what did you find most challenging about writing the book?
I found telling a longer story the most challenging. In my poetry I am usually describing a single moment or few moments and it's quite contained. In this book I am telling a story of a character called Michael from age of six to 19, his childhood, his coming out as gay at 15 years old, and discovering a passion for drag at university. It was difficult to decide which moments to focus on, how much detail to give and when to move on. My editor was really helpful with this in terms of helping me move the story forward at a pace that would keep the reader engaged.
Dean Atta's tender coming of age novel casts a fresh and enriching perspective on what it means to be seen as different at the level of race, culture, identity, heritage and gender... an important book for young people."

Malika Booker
Last year you read extracts from your work to students at Sussex, did any of the student questions and feedback contribute to The Black Flamingo?
The best feedback I got was to make sure I utilised the university setting and didn't just have university as a backdrop for the story — to write about things that are specific to the university experience. The Black Flamingo is a coming of age story but it's specifically a university story because at university you are rapidly confronted with so many ideas and so many people from different walks of life who challenge your world view in a way that family or childhood friends may not if they are all from a very similar background to you.
What do you think can done to improve LGBT+ visibility in your industry?
The obvious and perhaps easiest thing to do is publish more books by LGBT+ authors. What's also needed is for there to be more LGBT+ people working in the industry in roles such as Commissioning Editor, so when they take on LGBT+ authors and books they know what to do with them. There is a great organisation called Pride in Publishing, which supports LGBT+ people who work in publishing.
What advice would you give to aspiring LGBT+ writers?
Read widely and write authentically. Tell the story that you want to tell regardless if it's been written by someone else before. Don't think of yourself in competition with other LGBT+ writers, think of how your voice adds another opportunity for LGBT+ readers to see themselves represented in a book.
What's the best advice you've had?
"Eyebrows are sisters, not twins." It was when I was first learning to do my own make up when I started doing drag. I'd get so upset when I didn't look flawless, until I realised it was not about perfection, it was about liberation from anyone else's expectations of you.
What's the skill you'd most like to have?
I'd really like to be fluent in Greek. My mother's family are Greek-Cypriot and I've felt like my connection to them and to Cyprus has been impeded by my lack of language.
What can't you live without?
I can't live without connection, however sometimes I find it overwhelming how connected we are these days. I have my family, partner and a select group of friends with whom I feel I have meaningful and mutually supportive relationships. I try to focus my energy on those connections and not get too caught up in the more superficial interactions on social media.
Who or what inspires you most?
My nieces, Arianna and Andia, who are three and one years old. Spending time with them is such a joy. It fills me with awe to see the world through their eyes, how so much is new and exciting to them.
What do you do to relax?
Yoga and mediation, as well as going for walks.
And finally, Sussex is once again supporting Brighton Pride, have you ever celebrated Pride here or elsewhere, and if so do you have any standout memories?
I've had great times at Brighton & Hove Pride, Trans Pride Brighton & Hove, and Pride in London. I have also attended Pride in Amsterdam, Birmingham, Madrid and Manchester. However, I think the most special Pride for me is UK Black Pride, which takes place in London and is a celebration for LGBT+ people of African, Asian, Caribbean, Middle Eastern and Latin American descent. Being both black and gay, I sometimes feel like I'm expected to pick one or the other of those identities but at an event like UK Black Pride I can bring my whole self.