Prashant Kumar
Prashant Kumar (Global Political Economy 2016) is a Public Policy specialist and strategic advisor. As the Director of Public Policy for ANI Technologies (Ola Cabs), he builds strategic relationships to ensure Ola is regarded as an integral stakeholder in any policy formulations that may have an impact on their business.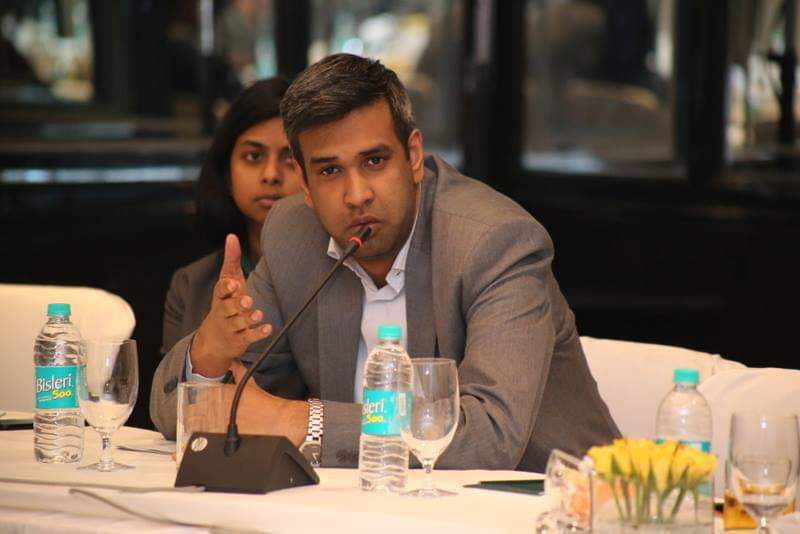 Prashant is a former Director Financial Services and Head, Mumbai for the US India Strategic Partnership Forum, prior to which he was an Associate Fellow with Observer Research Foundation.
Prashant's career has also included flying Airbus 320s as First Officer. He is the proud recipient of a NIKKEI Young Asian Research Scholarship and an alumni of the Asian Forum for Global Governance.
What first attracted you to studying for a Masters in Global Political Economy at Sussex?
The unique blend of Global Politics, Economics and International Relations. I believed it would provide a holistic and robust understanding of current events from a public policy perspective. It was a perfect continuation to the areas of research I had been involved in – and its duration of a year would bring me back to the workforce as quickly as possible.
Had you lived the UK before coming to Sussex? If not, how did you settle in and what – if anything – surprised you?
No, but settling in wasn't tough. I suppose having lived in various countries around the world, I had a slight advantage in knowing how to adapt to a new a situation. What surprised me was how helpful everyone was: from my first night, getting my accommodation, to setting up a bank account or getting a phone line, everyone I met or asked for help from, went out of their way to assist.
As the third largest ride-hailing app in the world, will Ola be encouraged to contribute towards national and / or international sustainability targets? And if so, how?
As a global player in the mobility sector, Ola is mindful of the impact it has and can have on the entire ecosystem. Our initiatives in Shared Mobility, Integrated Public Transportation and Skill Development for example are a testament to the concept that while Ola is a private Indian company, it is hugely vested in contributing towards both national and international sustainability targets.
If you could take a cab to anywhere in world, where would you go and why?
If a cab could take me to a location that does not disturb the habitat, or breach any 'contact' protocols, I would go to the North Sentinal Island and take the opportunity to study the culture, society and people of the Sentinelese tribe who are disconnected completely from technology, government and the system.
You studied at Clark University, in Massachusetts, as well as at Sussex – what were the highlights of each University for you?
Clark University gave me the freedom to try out new things and, by process of elimination, hone in on one general area that I could see myself passionate about in the future.
Sussex gave me purpose. It sharpened my skills and abilities in a subject that I had been deeply involved in: I was able to specialise and focus myself as a public policy professional.
What's been the biggest challenge in your career so far and how did you overcome it?
The biggest challenge so far has been to find a specialisation. In my previous roles, in think tanks and consultancies, I was involved in a range of research activities but I could never deep dive into a specific area. That generalisation, though a great tool for someone beginning their career, after a point also becomes a barrier to future growth, which it had for me. How did I overcome it? I studied Global Political Economy at Sussex!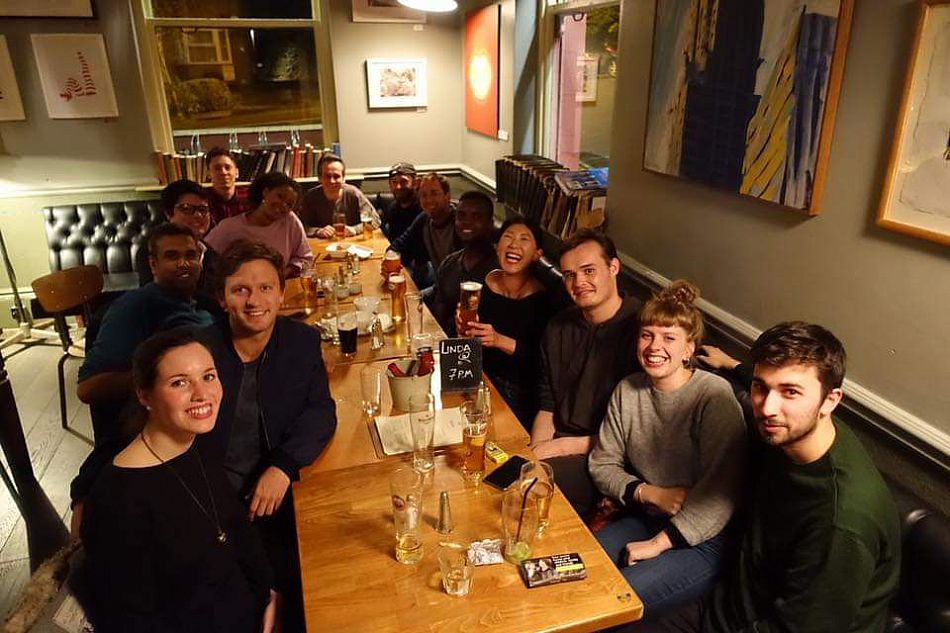 Prashant with fellow students at an introductory meet up for the Global Political Economy cohort
What comes to mind when someone says Brighton?
Crazy, vibrant, eclectic city, with an interesting beach and year-round freezing water! Every day can be different in Brighton and even after a year, there will be something new to discover, despite the weather.
What advice would you give to current MA students on using what they've learnt at university to help their careers?
The MA at Sussex teaches you to be aware of what is happening around you in the world and use what you have learned to decipher it. A large part of my work and that of peers in this industry is to know what is happening in current affairs and how you break it down to understand the core of what is going on.
What's the most interesting thing that you've encountered so far in your industry?
There is a misconception of what a public policy professional does. Many think of us as fixers or lobbyists. The role requires a lot of creativity in trying to unlock what will be a point of concern for your specific industry, not today or tomorrow, but five years down the line.
In the ride-hailing industry, the most interesting thing I've encountered is the need to be continuously innovative in how we design our app, our strategies, our work plans. If we're not, it is very easy for an entity like us to get left behind quickly.
What do you do to unwind?
When I'm stressed, I cook. A simple pasta or a complicated lamb curry, and while I may not even eat what I make, the process of cooking is my greatest de-stress.
Who inspires you most and why?
My parents.Their ability to balance all aspects of their lives, whether it be to cope with new situations, changing times, providing every luxury for their two kids while maintaining a healthy marriage and reaching the very top of their professional careers.
Favourite sport?
Squash and Badminton. In fact, I played squash for the Sussex University Team for a short while before the knee gave up.
Favourite book? / film? / album?
The General by Patrick Davis; The Usual Suspects, Hanz Zimmer's greatest soundtracks (not an album but a great compilation)
Favourite quote or motto?
"Try not to become a man of success. Rather become a man of value" – Albert Einstein.
Prashant is a current member of Sussex Connect, willing to help and mentor others on the platform
---
You might also be interested in: