Steve Donohoe and Elaine Bousfield
Steve Donohoe (Chemistry 1982) and Elaine Bousfield (Social Policy and Administration 1982) met at a first-year party at East Slope and, as they say, the rest is history!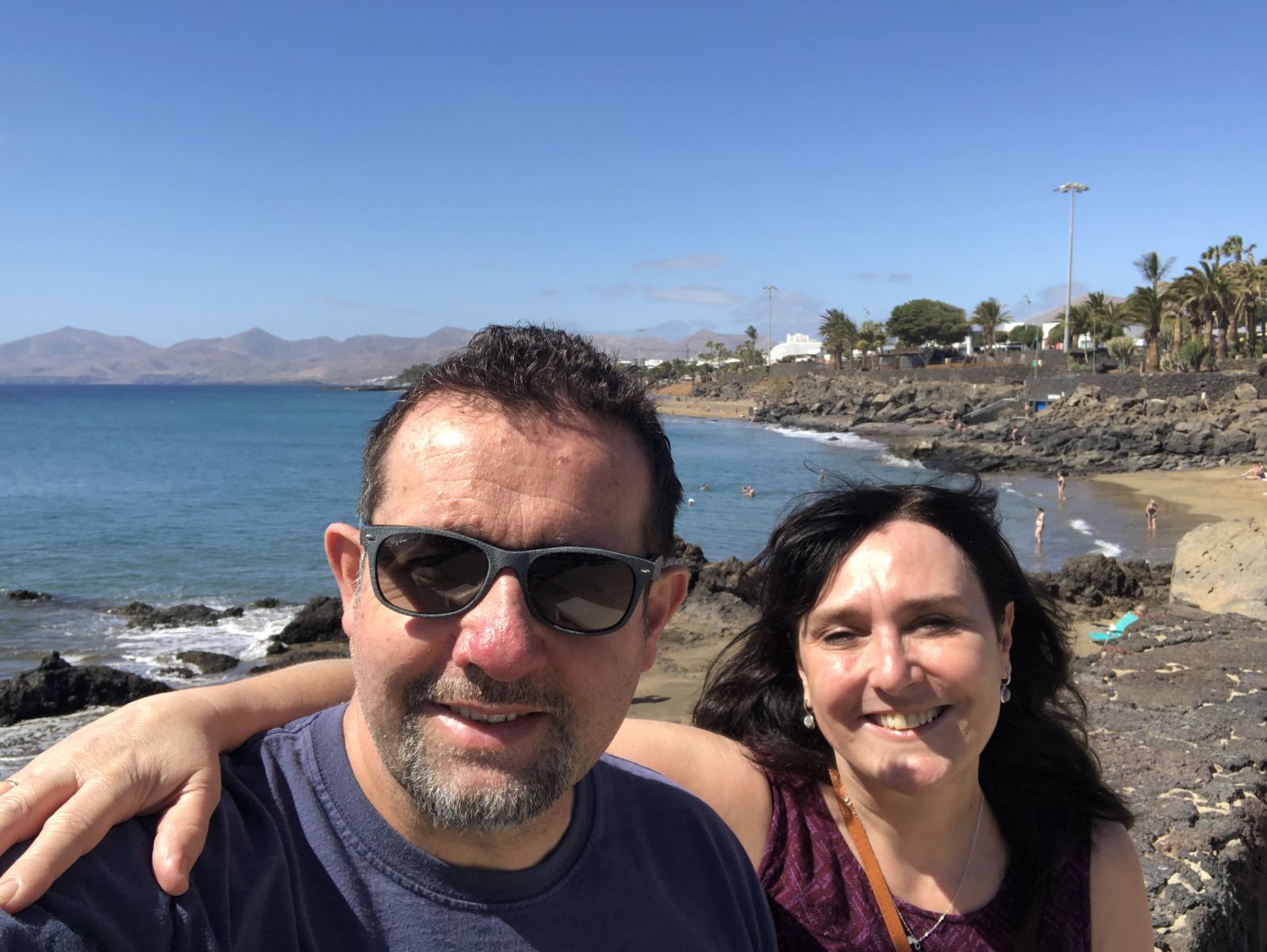 Steve and Elaine's story
Together ever since that East Slope party, they founded the online mental health provider XenZone and more recently, Elaine's company Zuntold published Steve's book Interviews with Beekeepers. We caught up with them to hear their thoughts on their time at Sussex, the Covid-19 pandemic and more.
How did you first meet? Did you become romantically involved during your time at Sussex or did that come after?
Steve: We met at a party on East Slope in our first year. I'm not a big party goer but luckily I went to this one and met Elaine.
Elaine: I was getting over a big breakup with a boy from home and had read Germaine Greer's The Female Eunuch and decided that I wasn't going to have a relationship for a long time. Then my friend Anna dragged me to this party on East Slope where I saw a tall, curly-headed young man. My heart did a flip (I had hormones back then). I swore at the time that I would only go out with him for a week. Longest week ever.
What was your favourite place on campus?
Steve: Apart from the bars? I think the Library. I should have spent longer in there.
Elaine: I liked the park and the Library. Especially the Library café where we drank crappy coffee and put the world to rights.
What's your favourite memory of your time at Sussex?
Steve: Spending time with my friends. We had a lot of laughs.
Elaine: The soirees – friends coming around to eat and drink and talk about the world. All that lovely exploring of minds. Also sat on the floor of my room just reading.
What's your favourite thing about each other?
Steve: Elaine is very loving and supportive of me and our family
Elaine: Steve is very funny. He has a dry sense of humour and I feel very grounded around him.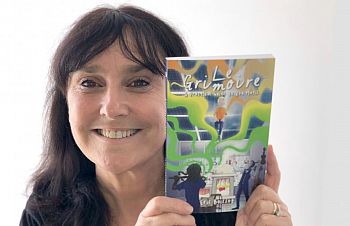 Steve you studied Chemistry and Elaine you studied Social policy and administration. After leaving Sussex, did you go where you thought your degrees might take you?
Steve: Absolutely not. I didn't have much of a clue about what I wanted to do or what I was best suited to. I ended up starting a career training to be an accountant, which I hated. Over the years I found my niche in the worlds of finance, data and IT, but I had to wait until my early thirties for that.
Elaine: Steve and I are opposites in so many ways. I knew exactly where I wanted my degree to take me. I knew I wanted a career in working with people around social change. So, I worked in homelessness projects for years as a project worker, then in solidarity work for El Salvador and then as a community worker before training to be a counsellor and therapist.
Together, you founded the online mental health provider XenZone. We are currently experiencing a global pandemic. What would be your best advice for maintaining good mental health at this time?

Steve: Personally, I find that if I try to keep things in balance and retain an attitude of gratitude for what I have then I'm in the right place. It's good to be kind to yourself and other people and to exercise the mind and body regularly, even if that's just doing some reading and walking the dog.
Elaine: Human beings need to connect; I think using video connections, the phone, and also going out for a walk to be close to trees and nature are crucially important. I suspect we're going to see some very traumatised individuals once this lockdown has lifted, especially young people whose homes are not the safest or healthiest environments. There will be a need to repair and recover and for institutions that support children to ensure that they are trauma-informed.
My inspiration is around wanting to develop literature and stories to support people's emotional wellbeing and mental health."
You both work in the literary scene now but what were your favourite books during your time at Sussex and have they since changed?

Steve: When I started at Sussex I was into music and liked to keep up-to-date with that and I didn't really bother too much with fiction. Now I read about honey bees, business/economics books (especially Ray Dalio) and lots of Sci-Fi and fantasy stuff. Best bee book is Honey Farming by R.O.B Manley and my favourite sci-fi author was Iain M Banks, although I do like Richard Morgan.
Elaine: I should have studied English Literature but thought social administration would equip me to be a probation officer (then my dream career). I work in mental health as well as the literary scene so I'm interested in how literature can support therapy and recovery. I read as much Young Adult fiction as I can get my hands on and I love fantasy, but I also love psychotherapy and mental health books. One of the most impactful books on my thinking about the role of fiction as a device in working therapeutically with people's stories is Keith Oatley's Such Stuff as Dreams. The Psychology of Fiction
Elaine, you are the founder and managing director of Zuntold, who have recently published Steve's new book Interviews with Beekeepers. What inspired you to set up a publishing company?
Publishing is not a growth industry. The secret is to innovate: find a niche and do things differently. My inspiration is around wanting to develop literature and stories to support people's emotional wellbeing and mental health and, of course, to develop my craft as a writer and editor.
Steve, how did you come to start keeping bees, and what do you enjoy most about it?
I had always been curious about beekeeping and when I met a farmer at a house party who said I could have bees on his land, I decided to go for it. I love raising queen bees and enjoy having plenty of delicious honey. Beekeeping has given me a wonderful reason to be outside amongst nature and I have traveled and met many friends because of it.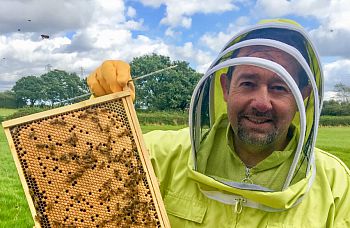 What are the challenges and rewards of working for yourself and how do you keep motivated when you are self-employed?

Steve: I find that being a business owner is stressful and tends to take over one's life, but it's preferable to being an employee stuck in a job you don't like. It helps to be working towards a clear goal and to feel pride in what you and the company are doing.
Elaine: Learning to switch off and managing my anxiety. I find I am most motivated when I am working for myself or for my own business, it's managing the overwhelm and the anxiety of 'what if it all goes wrong' that is the most challenging.
What do you love most about your jobs?

Steve: I enjoy being connected to nature and watching the seasons roll by.
Elaine: I love the start-up phase although its stressful too. In ZunTold I love working with authors and editing their work with them. I love reading new manuscripts and I love seeing book covers come to life and getting reviews from bloggers and journalists. And I am absolutely loving designing and working with our team on building our new publishing platform
What single piece of advice would you like to give to current students?

Steve: Try not to get too anxious about your future: it's a marathon, not a sprint. Be honest, work hard, have integrity and try to conquer your fears and say what you think. If you keep learning and accept that mistakes are how we learn then you'll figure things out. Try to have fun; life is very dull without a sense of humour!
Elaine: Don't be scared. Believe in your dreams and if you don't have a dream then read as much as you can about the world and how different people think. Do that even if you do have a dream!
---
You might also be interested in: