Corinne Furman
Corinne is an up-and-coming actress who recently starred in the Fisherman's Friends sequel, Fisherman's Friends: One and All. She portrays Paige in the film, a reality star who has just signed a record deal.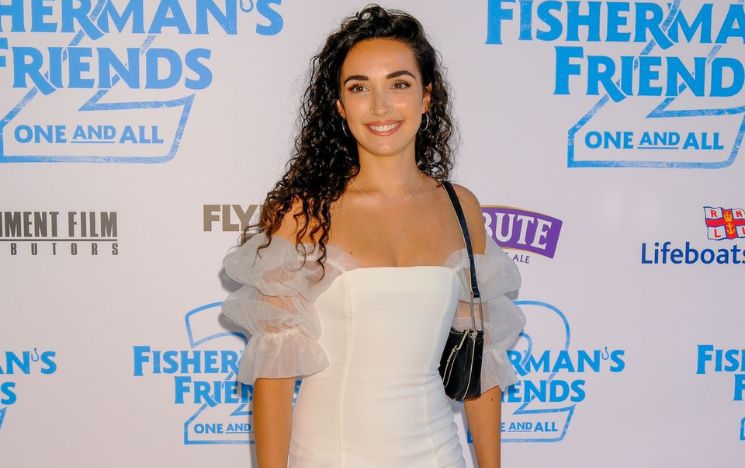 Corinne's story
Corinne graduated with a 2:1 in Drama: Theatre and Performance in 2020 and since then has continued to act and appear in films. While studying at Sussex, Corinne performed across the country as part of the Sussex Dance society and volunteered at First Base Day Centre, a day centre for people who are homeless or vulnerably housed in Brighton. She discusses her Sussex experience and the hard work and determination needed to get where she wants to be.
Your first job after graduating was starring in Fisherman's Friends: One and All. What was the experience like?
I am truly grateful for it. I had never expected my first acting job after university to be such a big opportunity; you dream of it but never really believe it will happen to you.
My scenes were filmed right at the end of the filming schedule, and everyone had spent weeks filming together. Many of the cast had filmed the first film together too, so arriving as a latecomer was super nerve-wracking. The cast and crew were so welcoming and made me feel incredibly comfortable. I instantly felt part of their little family.
Do you have any top tips for people who are looking to get into the industry?
Be prepared to work VERY hard, be proactive, and don't give up. There are going to be times where you feel like your work is unnoticed and you're not getting anywhere. Being on set is the most amazing feeling in the world and you must remind yourself that that's what you're working towards.
Every audition is an opportunity to learn, and to practice your art, even if the answer is 'no'. Every audition I imagine myself in that role – I picture how amazing it would be, but I also know 9 times out of 10, I will not get the role.
Learn to not take the rejection personally; there are so many factors that go into casting someone that are out of your control, no matter your skill level.
Always continue to work on your art by going to class – you can always learn more.
Believe in yourself. If it's what you want to do and what you dream about, then go for it and keep fighting until you get there. Everyone has their own important stories to tell and there's no one else like you out there.
Tell us a little bit more about what current projects you have coming up.
I have two exciting projects coming out in the next few months. A feature film, The Hunting of the Snark, based on the Lewis Caroll poem, and directed by Simon Davison. I play the leading role of Hope, alongside the amazing Ramon Tikaram (best known for Game of Thrones, Eastenders and Pennyworth) who I starred opposite in Fisherman's Friends: One and All.
I have also just completed filming in Bristol for the short film, Four Walls of Us, directed by Rhys Freeman, where I play the leading role of Joyce.
I think acting is a lot about your life experiences as well as the art and Sussex helped me grow and mature..."
CORINNE FURMAN
Are there any experiences from your time at Sussex that have helped in your career so far?
I think acting is a lot about your life experiences as well as the art and Sussex helped me grow and mature, learn to become independent, and to push through when I felt like giving up. My tutors, especially Lisa and Arabella, were an absolute inspiration and helped me gain confidence in myself and my art.
What made you choose Sussex?
I've always loved Brighton because of the diversity, the sense of freedom it has, and the accepting nature of everyone that lives there. When I visited Sussex, it had the same feel and I knew straight away it was the place for me.
What did you enjoy most about your degree?
I absolutely loved my three years at Sussex. One highlight was getting the opportunity to go into First Base. My wonderful course leader, Lisa Peck, gave me the opportunity to put on workshops for their clients (ranging from acting workshops and music lessons to art and cooking classes). It was one of the best things I've ever done - I met some of the most inspiring people.
Homelessness is an issue that is looked over by many and there are huge stereotypes. Getting the opportunity to hear everyone's stories and really connect with them has changed me as a person.
Favourite spot-on campus?
The Attenborough Centre for Creative Arts (ACCA) - it is such a beautiful space for the arts but also has the best little café. I have amazing memories there of drama performances, dance competitions, and endless hours spent rehearsing there during my degree.
Which societies did you get involved in?
Sussex Dance – I was part of the Jazz competition team and the Street competition team. Dance has always been a huge passion of mine throughout my life, alongside acting, and I didn't want to give it up while I was at university. I made such amazing friends, especially in my street troupe.
Being part of Sussex Dance and continuing my dance training throughout university allowed me to partake in various dance jobs in TV and Film alongside my acting work, including an HBO series and a music video.
You've talked openly online about being diagnosed as dyslexic. Why do you think it is important to talk about?
I remember my first day at Sussex. I had my first seminar and immediately afterwards remember phoning my mum and expressing to her how I did not feel clever enough to be at university. My Mum urged me to stick with it for a while.
My next day at Sussex, I had my first workshop with my tutor, Arabella, and I knew instantly after that workshop that I was in the right place. I realised that everyone there had different strengths and weaknesses.
Since graduating and starting my career, just knowing I am dyslexic and having the confidence to talk about it has really helped me a lot. I achieved a 2:1 in my degree at Sussex, which I am very proud, of and I hope that in some way this could encourage other dyslexics to apply for a university place.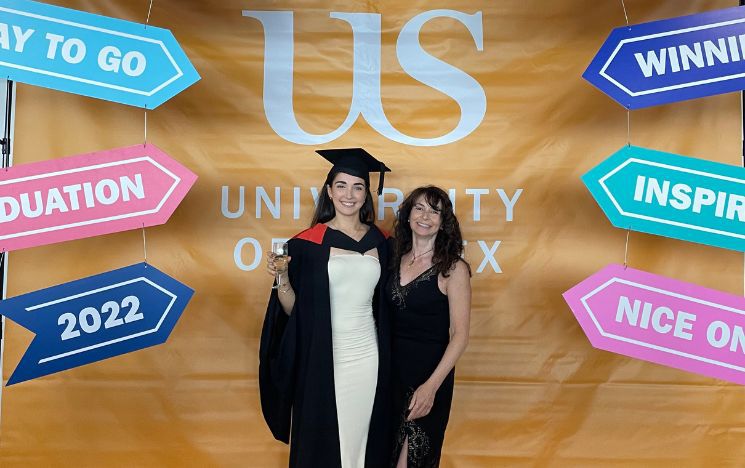 Corinne with with her mother on her graduation day
What advice would you give to yourself if you could go back and start University again?
My advice would be, don't worry, because you will have the best time of your life!
Corinne is among thousands of inspiring alumni on Sussex Connect. Join now to seek mentoring and industry advice and get a head start on your career.
---
You might also be interested in: