Rhodri Good
Rhodri Good (Business & Management 2011) is a Project Manager at the luxury British car manufacturer, Rolls-Royce Motor Cars.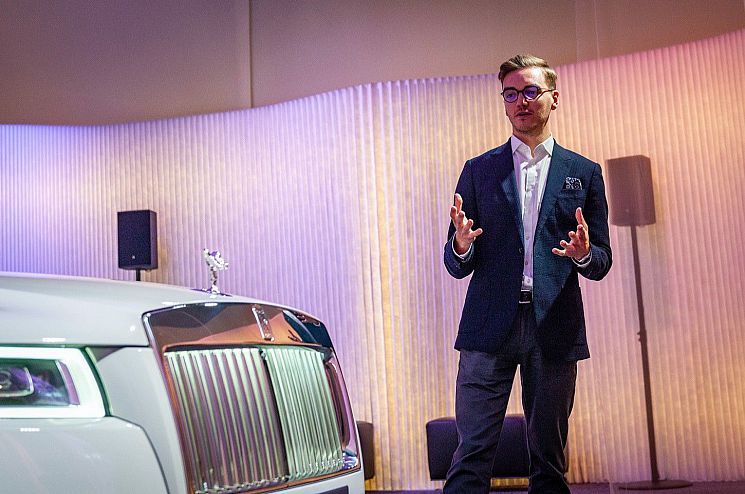 Rhodri's story
After completing his placement year, graduate scheme and then securing the position as a Product Specialist at Rolls Royce Motor Cars, Rhodri now manages their project team working towards the development of the electrification strategy, with a focus on the client experience.
How did you get started at Rolls Royce?
When I joined Sussex, I started thinking about my career path. Rolls Royce Motor Cars are world-renowned and close to where I live, so I speculatively sent in my CV during my first year at Sussex. Luckily, it landed on the desk of the Head of Sales who had someone leaving the graduate scheme early and needed someone to fill a 3-month gap. Sometimes that first step is the hardest one, so it's really important to put yourself out there and look for those opportunities.
How did your time at Sussex prepare you for the work environment and how did you manage the transition from University to work?
I had the opportunity to do a placement year and experience working life before finishing my degree and officially stepping into the working world. That really helped prepare me for work, just having a year of work experience under my belt. When I first joined Rolls-Royce Motor Cars, I lived with other grads, so we were all in the same boat starting our careers. And then, for me, being on a grad scheme eased the experience.
What's been the biggest challenge and the biggest achievement in your career so far?
My biggest challenge was finishing the grad scheme and finding a role. With many graduate schemes, when it comes to an end you really have to put yourself out there and find a role for yourself.
My biggest achievement was when we launched our first SUV 'Cullinan'. The press launch was a big step for me as I was just off the graduate scheme and I had to present the car to all of the global media, the CEO of the company, and our Head of Communications. It was the first time I was on a stage like that, with people watching and expecting me to perform.
What tips would you give a current student looking to move into a career in business?
Apply to roles in an industry that you are interested in and focus on quality rather than quantity of applications.
The application process can be long and detailed, if you feel the application process is excruciating, maybe the role isn't the one for you and your efforts would be better placed elsewhere.
Get experience – I didn't have experience in the automotive industry but I had part-time jobs which built the skills up to show that I could work with people, a team, clients etc
Do relevant things in your social life to complement your interest, such as a club or society.
It is so important to have a network of people that you can engage with and go to. However, I don't agree with 'it's who you know, not what you know' – I think it's both.
Sometimes that first step is the hardest one, so it's really important to put yourself out there and look for those opportunities."

Rhodri good
How has internal networking benefitted you?
I was offered my current job as I had demonstrated my skillset elsewhere and that was recognised by the management team. So internal networking directly resulted in me being approached about a new role. My advice on networking within a company is if you don't need to send an email, then don't. Call people instead or, even better, talk to colleagues in person at their desk or ask to meet for a coffee. Get to know people and build a relationship with them.
Hobbies and interests in your spare time?
I try to travel as much as possible but when at home I make the most of living close to the coast. I also try and ski at least one week a year.
What was your favourite thing about University and your student life?
The Campus and the community – the people that I met and shared the journey of university with, particularly in the final year when everybody had had a taste of the real world and was making the most of one last year of student life.….and Coalition!
---
Rhodri appeared as a guest speaker at our Careers in Business, Finance & Marketing event, which was part of the Make it Happen...Careers with Sussex Alumni 2021 series. Rhodri joined the panel and post-event networking, giving encouraging tips and sharing his insights into the business world.
---
You might also be interested in: