Adam Simmonds
Adam Simmonds (Economics and Finance 2016) is an Investment Research Analyst at GovGrant, an innovation consultancy specialising in research, development and intellectual property.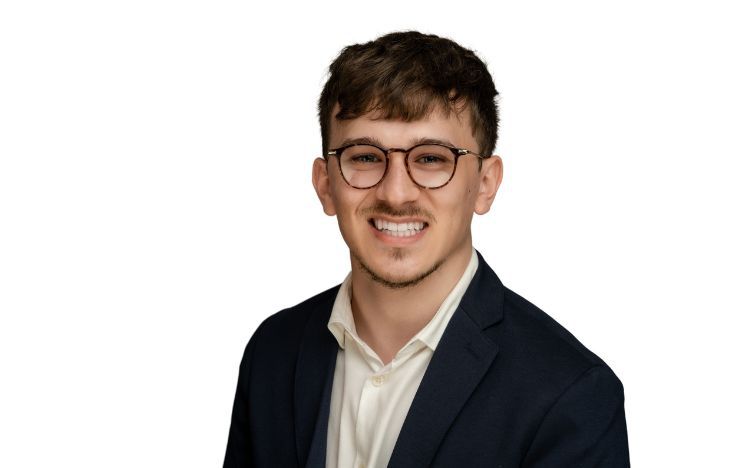 Adam's story
Adam graduated in 2020 from the University of Sussex Business School, with a First in BSc Economics and Finance. While studying at Sussex, Adam was offered a scholarship to complete his Chartered Financial Analyst (CFA) Level 1 qualification and was a member of the Economics Society. He values the networking and professional skills these experiences gave him for his transition into his role at GovGrant.
What inspired you to study at Sussex? Why did you choose BSc Economics and Finance at the Business School?
Sussex was the first university I applied to – it is a reputable university and the course ranked highly, so it was ideal from an academic perspective. I just loved the campus and being located just outside Brighton meant I had the entertainment, the culture, the food, as well as freedom of expression. I care a lot about the environment, so Sussex was also a good place for that.
The Business School was a relatively new building with such a great atmosphere of knowledgeable, genuinely nice people. The Economic and Finance degree seemed like a great fit for me:apart from being good with numbers, I had a genuine interest in financial markets, investments and economics.
What type of support did you receive at Sussex?
The University were incredibly supportive. They helped me pursue industry-recognised qualifications such as the Chartered Institute of Securities and Investments, which was embedded in my course.
In my final year, I was offered a scholarship to complete my CFA Level 1. The financial and time commitment is massive, so I can almost guarantee that I wouldn't have completed that without the University's support until much further down the line in my career.
You are an Investment Research Analyst, what do you actually do?
We work with a lot of stakeholders in the investment community and a lot of my time is spent researching investment trends and their impacts. Previously, I was working on the University Spinout Report, which received great coverage from university bodies.
More recently, I worked on Innovate UK: The Impact Report, which explores where Innovate UK investments are made and where these investments have had the greatest impact. This had great traction and recently featured in The Times.
Over the past 2 years my role has moved more towards research as both a personal choice and my team recognising that I thrive here.
The most important thing is to not let the pressure take over. It is okay if you initially have no idea what you want to do after graduating."
ADAM SIMMONDS
Did you join any societies at Sussex?
I was a member of the Ultimate Frisbee Society during my whole time at University. I was also on the Economics Society committee where I helped to coordinate guest speakers, which gave me an opportunity to boost my CV and something to talk about in interviews.
Being able to connect with likeminded people on similar courses was very valuable, and there was also the opportunity to network with professionals in the industry.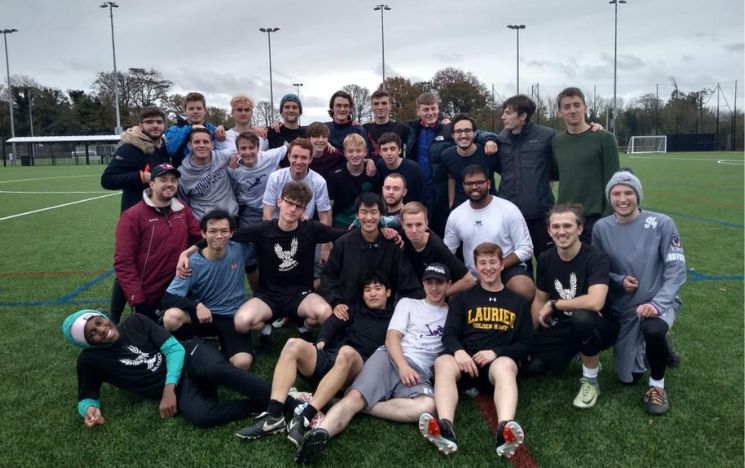 Adam and friends after a match with the ultimate frisbee society

How did you find graduating in 2020 and jobhunting during lockdown?
The massive shift in economic climate and working arrangements meant that it wasn't the typical job search experience. 2020 was a traumatic year to say the least, but it built character. I didn't have a job lined up and would have if I had known what was coming.
What advice would you give recent graduates looking for a job?
Use any network you have. The hardest step is asking for a chat because naturally you don't want to inconvenience someone, but most people are so happy to help. It really is a case of 'if you don't ask, you don't get'. However, LinkedIn is your best friend and I'd definitely recommend signing up to job websites and careers fair events.
It can feel really daunting, but don't settle – and know your worth. Make sure the place you are applying to work for is actually a good fit for you, not just that you're a good fit for them. Your employer should genuinely care about your development because you're just starting your career; you should be supported in building yourself personally and professionally.
My advice would be to make sure your personality comes through in interviews, ask questions, show you're engaged so that you stand out – ultimately you should want the interviewers to want to work with you.
The most important thing to remember is to not let the pressure take over. It is okay if you initially have absolutely no idea what you want to do after graduating.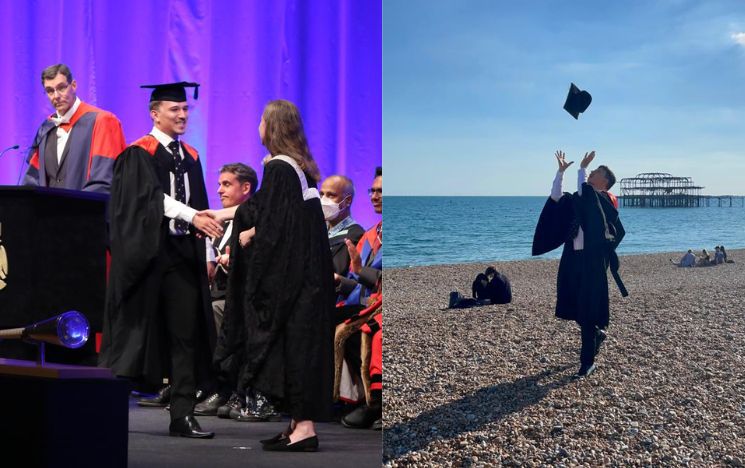 Adam on his graduation day
What's next in your career?
I like working at GovGrant. It's a great place for me as they really care about my development. However, the industry is so broad and there are many things you can specialise in. For my next role, I'd still like to be making an impact and doing things that I genuinely feel proud of – that's what's important to me.
Adam is among thousands of inspiring alumni on Sussex Connect. Join now to seek mentoring and industry advice and get a head start on your career.
Read more of Adam's work on CleanTech and AgriTech. Students and recent graduates can access support from the Careers and Entrepreneurship, including information about events, careers fairs and workshops.
---
You might also be interested in: