Clive Myrie
Clive was born in Bolton, Lancashire and studied Law at Sussex before gaining a place on the BBC's prestigious journalism trainee scheme in 1988. He is a multi-award winning journalist, one of the BBC's most experienced foreign correspondents and became a presenter for the BBC News Channel in 2009.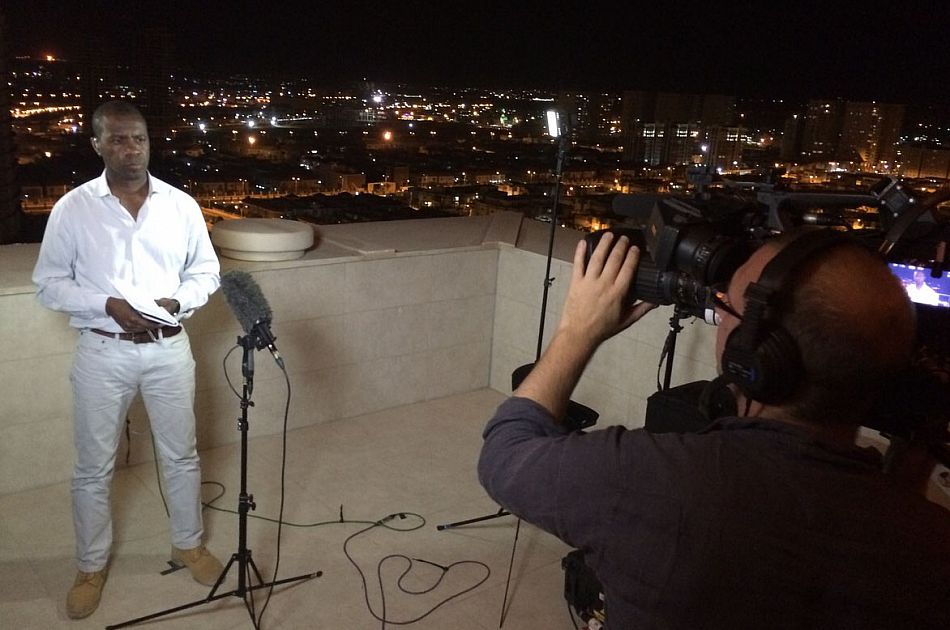 Clive's story
Clive's career has seen him report from more than 80 countries, including covering wars in Croatia, Kosovo, Afghanistan and Iraq, and the rise and fall of the Taliban. Clive has a particular interest in US politics and has covered four Presidential races, including Barack Obama's victory in 2008 and his inauguration the following year. In 2013 he co-anchored coverage of Nelson Mandela's funeral from South Africa.
What was your first job?
My first job was in a supermarket, aged 15.
Who's influenced your life most (and why)?
My wife Catherine, by giving me the courage and space to pursue my dreams.
What's the best piece of advice you could give someone?
Never be mean to anyone on the way up; you may need them on the way down.
What's the skill you'd most like to have?
I'd like to be able to skim a large wall properly.
What's your favourite holiday destination?
The Amalfi Coast, Italy.
What are you passionate about?
Great journalism.
Who's your hero/heroine?
Sir Trevor McDonald.
Do any particular moments stick out from your experience of reporting from war zones?
An angry Taliban commander in Kabul in 1996 returning from the front to find there was no food left during Ramadan after sunset, threatening to kill everyone inside the café (including me) if he didn't get a fried egg! That sticks in my mind...
What's your favourite quote or motto?
'Do unto others as you would have them do unto you'.
What's the worst piece of advice you've been given?

I couldn't do both, so my year tutor at school said I'd be better off taking Physics O Level, and not French. BIG mistake!
What's your favourite pastime/relaxation activity?
Rummaging around antique shops.
What can't you live without?
Fruit juice.
Name one person you'd like to have dinner with (and why?)

Barack Obama. I'd ask him if he thought all the grief was worth being President (I'm not sure he thinks it is).

Do you believe Obama's presidency has lived up to expectations?
His Presidency hasn't lived up to expectations, but could any Presidency have survived that kind of hype?
What was your worst job?
Remember that first job at the supermarket? I also had a job in a bakery. Back-breaking stuff.
What was your worst mistake (and what did you learn)?
Not asking for more money when I was appointed Washington Correspondent in 2003. I learned that you only get if you ask!
Tell us about a turning point in your life
Going to Sussex.
What attracted you to studying at Sussex and did you have a goal already in mind when you arrived on campus?
I'd always wanted to be a journalist, but law was a great profession to fall back on. Brighton was close enough to London, but without the hassle.
What are your favourite memories of Sussex?
The nightlife, the beautiful campus, Equity Law.
What are your thoughts on the future of Public Service Broadcasting?
Even more vital in this multimedia age. But can it survive, because of this multimedia age? Watch this space.
You've said in the past that: "you've only got to look at the TV screens to see there's not the kind of representation of black Britons on the screen as one would like". Do you think this is still the case?
Yes, absolutely. It's not just a colour problem, it's a class problem, too. There are not too many white working class people on the telly either, but interestingly, many more Asian Britons these days. I think that's a reflection of how some in that community have moved up the socio-economic ladder.
You have reported extensively both on location and from the studio. What are the biggest challenges involved in both?
The biggest challenge of reporting on location is hoping the equipment works; in the studio it's hoping the robotic cameras don't go whizzing off without you!!
You have lived and travelled all over the world. Do you have a favourite place?
I loved the 'unreal reality' of Los Angeles; the sense that you were at the centre of the world in Washington; the travel, as Asia correspondent; and the fresh bread in Paris.
Which leader/s in history do you most admire and why?
Mandela, hands down: the number one. After years of the persecution of his people, he reached out to his enemies. Mohammed Morsi in Egypt or Nouri Al Maliki in Iraq, to name but two, could have done with a bit of that backbone.
What qualities do you most admire in other people?
Humility, kindness, generosity, good cooking skills.
Favourite book? / film? / album?
Favourite film - The Belly of an Architect; favourite book - Huckleberry Finn; favourite album - Bach's Cello Suites played by Paul Tortelier.
What do you consider to be your biggest achievement?
Surviving the shark-infested waters of the BBC for 24 years.

What is the most important lesson life has taught you?
That when it's all over, it's just over. No afterlife, no heaven or hell, just over.
Describe your perfect day…
A sunny day waking up to Radio 3 with some Bach on, a lovely breakfast with my wife, then a bit of antique rummaging.
---
You might also be interested in: