Alumni Library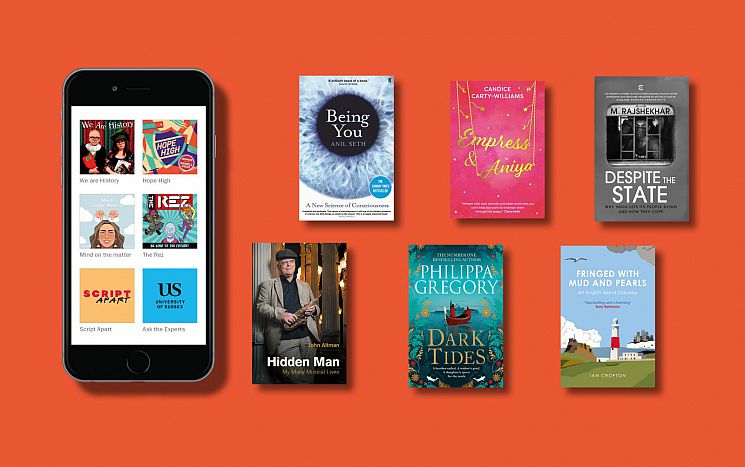 Podcasts
ANGELA BARNES (LINGUISTICS 1996), We Are History. The podcast for those who want to hear about history but laugh at the same time. Angela and co-presenter John O'Farrell discuss interesting and quirky chapters of history.
ANNABEL DEAS (ENGLISH 2002), Hope High. Annabel's award-winning podcast on the real-life story of a year spent with a community in Huddersfield fighting county lines drug gangs' exploitation of children and violence.
TOOBA KHAN (NEUROSCIENCE 2014), Mind on the Matter. Medical student Tooba interviews healthcare professionals and people who have had experiences of mental illness to discuss the mental health issues that we all encounter in life.
AL HORNER (FILM STUDIES 2007), Script Apart. Al speaks to the screenwriters behind iconic films to hear about their initial screenplays and explore the adjustments made en route to the silver screen.
Ask the Experts. This University podcast series offers a chance to hear leading Sussex experts discuss topics ranging from Covid-19 to Quantum Physics, in a series of live events.
The Rez. An exciting sci-fi podcast adventure co-created by Professor Martin Spinelli and designed to help young people's emotional health.
The Spark. The mini podcast series, led by Louisa Searle (ENGLISH 2006), focuses on the moments that sparked social conscience in its four guests, and how this has shaped the lives they lead today as well as the choices they have made along the way. One of those guests was fellow Sussex alum and TikTok creator, Benjy Kusi (ENGLISH AND PHILOSOPHY 2013). Known on social media as Benjy Lookbook, he shares educational inclusion and wellbeing tips on the platform and was named one of TikTok UK's 'voices for change' of 2021 and a LGBTQIA+ trailblazer for Pride Month.
Books
JOHN ALTMAN (ENGLISH 1968), Hidden Man, Equinox Publishing. In this compelling memoir John reflects on his half a century in the world of popular music. Named the 'Hidden Man' by Monty Python's Terry Gilliam, most people will be familiar with music that John has composed, with scores in films such as Monty Python's Life of Brian, Goldeneye and Titanic, though it's likely many people will not know the composer.
ANIL SETH (INFORMATICS 1995), Being You, Faber & Faber. After over 20 years of researching the brain, neuroscientist Anil Seth discusses a revolutionary new theory of consciousness and what it means to 'be you'. Being You will challenge your understanding of perception and reality!
CANDICE CARTY-WILLIAMS (MEDIA STUDIES 2007), Empress & Aniya, Knights of Media. Empress & Aniya is the first Young Adult novel from the bestselling author of Queenie. It's the story of two teenage girls who accidentally cast a spell on their sixteenth birthday and end up switching bodies. In this novel, Candice investigates the importance of real friendship and the ups and downs of being a teenager.
IAN CROFTON (ENGLISH 1975), Fringed With Mud & Pearls, Birlinn. Embarking on a personal odyssey to the islands encircling England, Ian explores how some are places of refuge or holiness, while others have been turned into personal fiefdoms by their owners or locations for prisons, rubbish dumps and military installations. He also looks at the varied ways in which England's islands have been formed and how they are constantly changing.
RAJSHEKHAR MADDIPATLA (ENVIRONMENT DEVELOPMENT AND POLICY 2006), Despite the State, Context. Reporting from six states over 33 months, award-winning investigative journalist Rajshekhar looks at democratic policy in India and how it is affecting its states. In doing so he highlights what he argues is a crisis that has largely gone unexamined, which impacts India's schools, companies, citizens' rights and access to water.
PHILIPPA GREGORY CBE (HISTORY 1975), Dark Tides, Simon & Schuster. In this gripping sequel to Tidelands, Dark Tides tracks the story of a fictional family in London, Venice and New England over 21 years. Opening in the poverty and glamour of 1670 Restoration London, where after years of civil war the monarchy has been restored and Charles II is on the throne, the novel explores the themes of greed and desire: for love, for wealth, for a child and for home.
---
You might also be interested in: