All in the Library upstairs
Between you, me and these four walls...alumni and staff reflect on the best-kept secrets of the University of Sussex Library.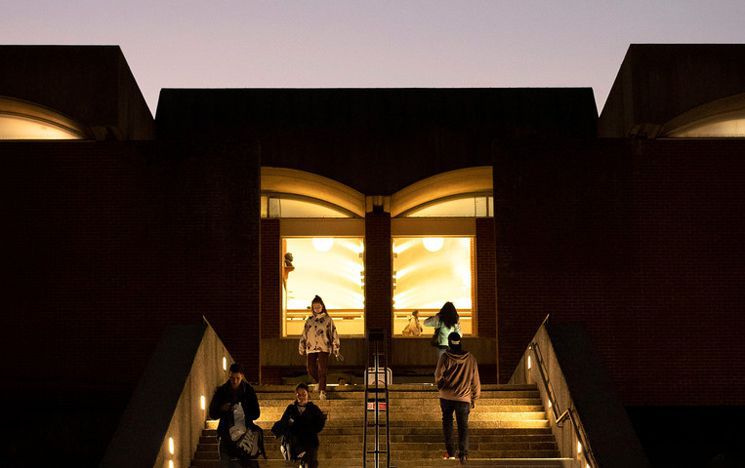 Grand Designs
Designed by Sir Basil Spence to resemble the open pages of a book, the University of Sussex Library was opened in 1964 by Her Majesty The Queen. Its dominant presence in the centre of campus has overseen numerous protests in the square below, housed students all night (even before 24-hour opening), and undergone four phases of expansion.
The man-made hill upon which the building sits introduced the need for the iconic Library steps, but it has also caused its share of problems: getting power in, accessibility and space to name a few. The Library has now been through four phases of expansion. Today, when passing through, you can see signs of adjustments: a concrete line up the wall; a change in columns from brick to concrete; and even an original window – now indoors!
Ask a Librarian
Of all the secrets that the Library's four walls hold, some are more eyebrow-raising than others. We caught up with Library colleagues, including Sean Goddard (now the Library's longest-serving member of staff) and Maria Smith, to hear about the most unforgettable moments in the building's history.
One of Sean's earliest memories was from 2001. Many North American students were already on campus when news of the September 11 terrorist attacks broke. To keep those on campus updated on the evolving situation, Sean and his colleagues set up a screen on the top floor of the Library to stream news all day, guiding students upstairs to keep abreast of the situation.
Other stand out memories include supervising the entire rugby team while they moved boxes in the basement after being caught streaking through the upper floors. Though we are sure the team enjoyed their naked post-match celebration, they were reportedly very apologetic and keen to make amends by helping with the work.
Before 24-hour opening, the Library was often the location of sit-ins and work-ins during protests and student disputes, with students arriving just before closing and refusing to leave overnight. The main thing staff remember is how polite and cordial the student protesters were – often agreeing to remain on one floor to help staff to look after the students' safety and wellbeing.
The Library has been there to support students through thick and thin, but for Sean the Library plays another significant role: it's the place he met his wife.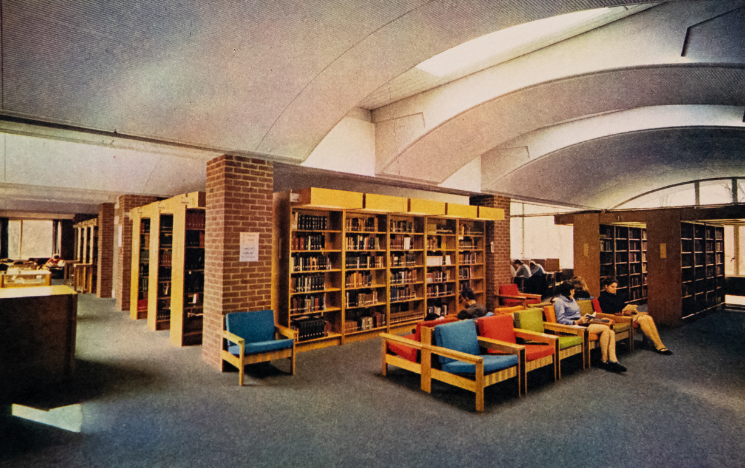 Alumni Memories
The building's combination of a highly efficient central heating system with bright autumn or winter sunshine streaming through the windows often had a deleterious effect on concentration. The poem below relates to this; written in the autumn term of 1969, its subject is now a famous actor!

UNIVERSITY LIBRARY
Amidst the silent buzz
of studious industry
I saw one
surrounded by books
in the afternoon sun
notes round arrayed
on tables and chairs
gently neglecting his
workaday cares
with a scarce moving chest
and a smile on his face,
snoozing his way through
Dickens and Mayhew.
IAN GILES (ENGLISH 1968)
I remember summer Students' Union meetings on the slope outside. We passed some great resolutions, including support for Nelson Mandela and the Nicaraguan Sandinistas, and protests against Thatcher!
GARETH NEVITT (ENGLISH LITERATURE 1979)
I was taken on as one of a team of four to apply a barcode to every single book in the Library. This was a ground-breaking computerisation project initiated by the Deputy Librarian Peter Stone, and one of the team was Kitty Inglis who eventually became University Librarian! Just completing her year's SCONUL traineeship at the same time was my fiancée Jill Gray who became my wife the following July in the Meeting House chapel.
ROGER WALKINTON (FRENCH STUDIES 1977)
Nadia Ponts (Life Sciences 1999) and I organised a treasure hunt across campus for Anna Perrenoud and Arnaud S. Weatherbeaten's birthday in 2000, which included some clues hidden in very old books in the Library. They might still be there!
ANNE-SOPHIE MARSH (MEDIA STUDIES 1999)
I well-remember architect Sir Basil Spence addressing the opening of the new Library, recollecting how he mused on a great tongue slurping-up students as they strolled past. I also recall The Queen during the same ceremony stopped and asked me as she passed, 'Are you working – or just pretending to?...'
BILL COWIE (AMERICAN STUDIES 1964)
When I returned as a lecturer in 1985, most of the Library was unrecognisable inside, but the toilets looked just the same, complete with graffiti. My original flatmates Teresa Madden (Sociology 1966) and Stephanie Lang (Anthropology 1966) and I returned for a visit in 2016, 50 years after we had started, and asked a current student to take a photo of us by the Library steps.
VIVIENNE GRIFFITHS (ENGLISH 1966)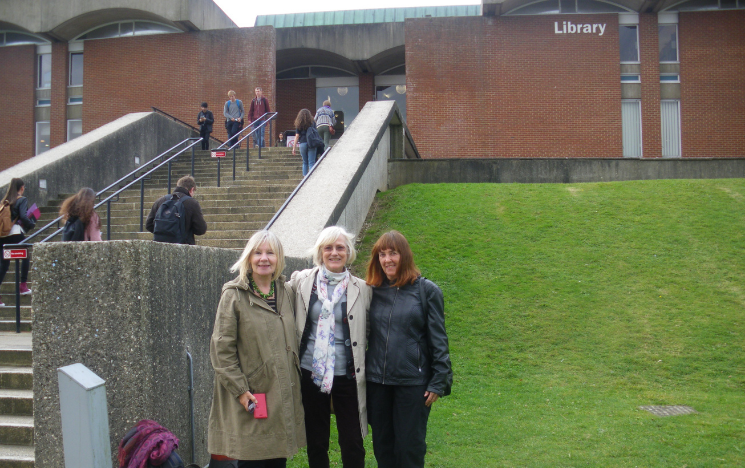 Above: Vivienne, Teresa and Stephanie revisit the Library in 2016.
---
Send us your memories
Add your memories and photos at www.sussex.ac.uk/alumni/news-events/sendusyournews or email them to us at alumni@sussex.ac.uk.
---
You might also be interested in: