Flights of historic fancy
After years of fundraising and construction, the Gardner Arts Centre opened with a concert by the London Mozart Players on 12 November, 1969. 50 years on, we share some of the highlights and a selection of alumni memories.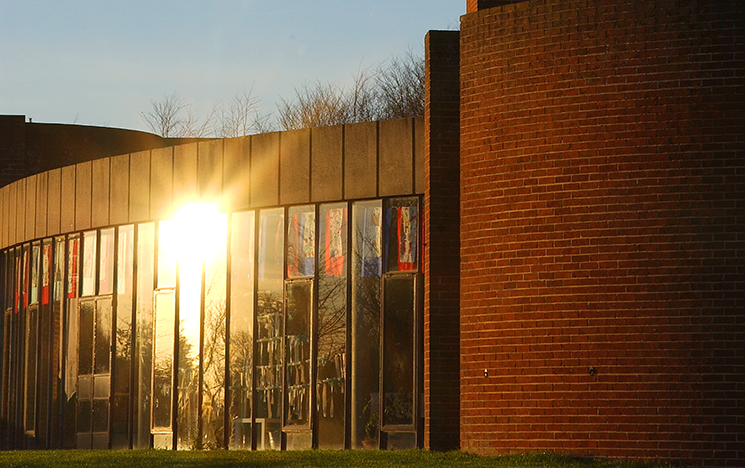 ---
Marking 50 years
Curated by Laura McDermott, Creative Director at Attenborough Centre for the Creative Arts, the autumn 2019 season included To the Moon, a virtual reality piece created by Laurie Anderson and Hsin-Chien Huang that responded to the 50th anniversary of the moon landing in 1969; a concert and film screening on World Kindness Day by New Note Orchestra (a local addiction recovery orchestra) organised by Professor Robin Banerjee; and a 48-hour film challenge for University of Sussex students, organised by Dr Joanna Callaghan in collaboration with the CINECITY film festival.
Return visits by seminal performance companies who have performed in the building over the years included Forced Entertainment and Stan's Café, who brought a special 1969-2019 version of their legendary performance installation Of All The People In All The World.
---
The sounds of Sussex
In October 2019, a new music recording studio opened at Attenborough Centre for the Creative Arts for use by students, researchers, visiting artists and eventually the local community. It was named the Jonathan Harvey Electronic Music Studio after Jonathan Harvey (pictured, working in his office), who was Professor of Music at University of Sussex from 1977 to 1993. Jonathan Harvey was a pioneer in the field of electronic music, and it is a fitting testament to his legacy that the room he used as a studio during his tenure has been refurbished and named in his honour.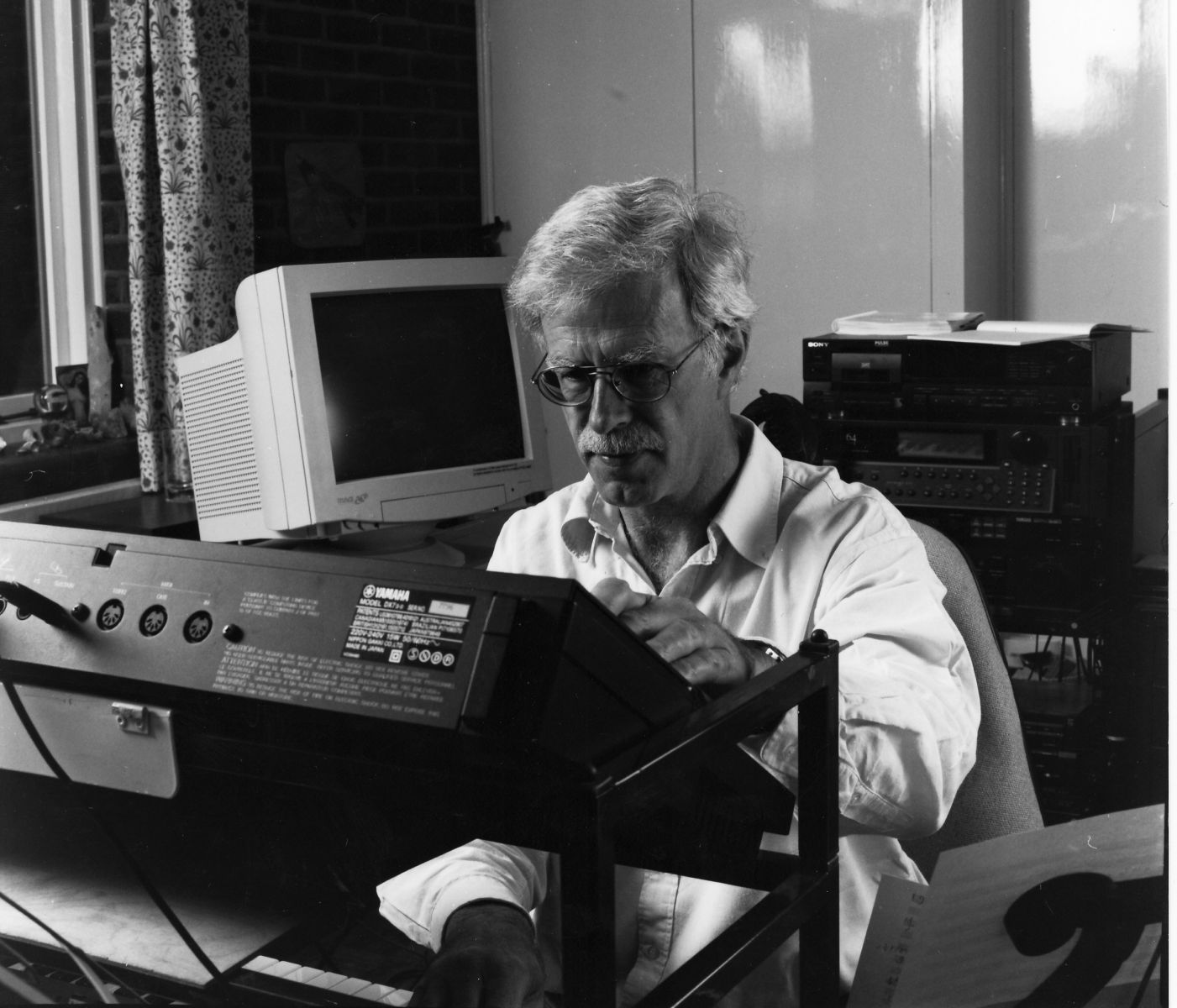 Professor Jonathan Harvey working in his office, sat at his keyboard
The launch event was organised by Dr Evelyn Ficarra (ENGAM 1982) and included sound installations, compositions, DJ sets and a concert featuring Cristian Vogel (CCS 1992) and the punk band Squid.
Squid band member Arthur Leadbetter (Music 2013) said, "I'm so happy this building is in its best action ever, and that the music department here is flourishing. Long live Sussex."
---
Orchestral finale
The 50th anniversary season concluded with a special performance by the University of Sussex Symphony Orchestra, conducted by Professor Ed Hughes and featuring Shin Suzuma (Music Informatics 2008) playing the piano. The orchestra recreated the repertoire of a concert given by the University of Sussex orchestra in 1969: Brahms' Academic Festival Overture, Beethoven's Piano Concerto No 3 and Stravinsky's Symphony in C. The programme notes for the original concert were written by the author Ian McEwan CBE (English 1967), when he was an undergraduate student. Ian joined us for the evening and read some of his work aloud – also sharing anecdotes from his memory of the concert 50 years previously where, dramatically, a timpani drum unbalanced and bounced across the stage.
---
Alumni memories
A wonderful place. Apart from attending various productions over the years, it was here that I had my first photographic exhibition. As a young undergraduate, the support I received from the team there was invaluable in kick-starting my passion.
-David Biddlecombe (ENGG 1978)
In my first two years at Sussex, the Arts Centre was based in a series of temporary 'terrapin' buildings on the site of the current Sports Centre. Despite the constraints of space, there was considerable creative activity, with artists in residence in the huts and drama events taking place all over campus. The inaugural Arts Centre performance, in February 1967, was Gogol's 'The Diary of a Madman' which must have been in the Chemistry Lecture Theatre before the Gardner Centre opened in 1968.
-Prof Vivienne Griffiths (ENGAM 1966)
The first entirely student production was Sergeant Musgrave's Dance by John Arden. Michael Attenborough and Jim Carter were amongst the leading lights. Jim was the model for the poster I produced which, sort of flatteringly, disappeared from quite a lot of sites before the performances even started
-Fritz Curzon (EURO 1966)
[I remember] a Macbeth in 1977/78. All the characters wore identical tracksuits with a little embroidered crown logo depending who was king. It was my first Macbeth and I was so confused!
-Jessica Norrie (EURO 1977)
I performed here as a visiting third year student in 1971/72. A wonderful production written by Amit Sen called Coral/West… Very avant-garde to say the least! Does anyone remember Ubu Roi performed in the courtyard, where we sailed off in a boat in the moat? The most fun!
-Robin Krieger (ENGAM 1971)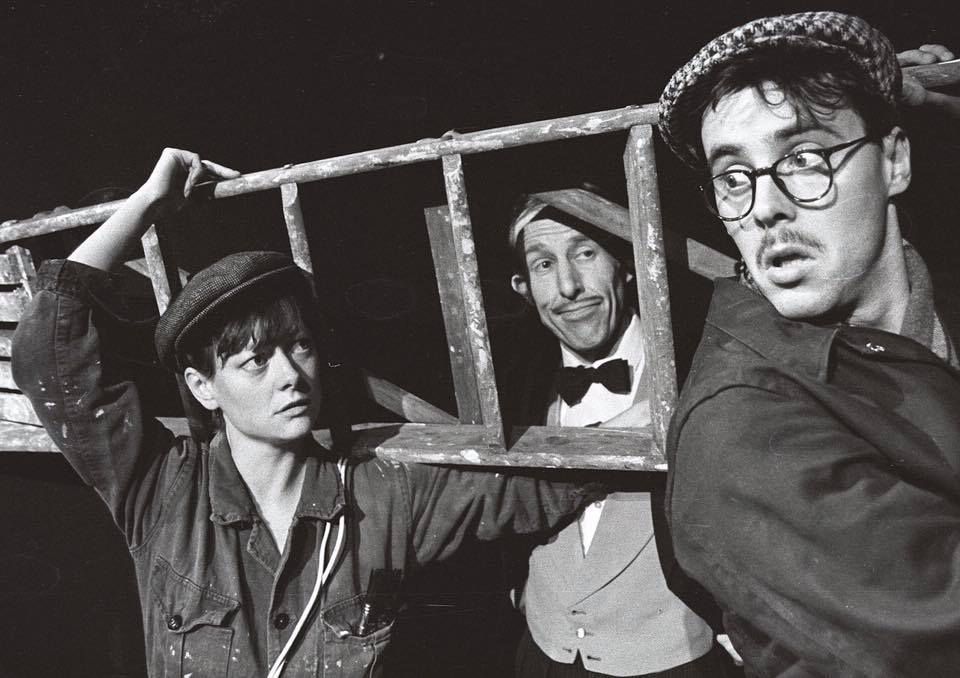 Local theatre group performing at the ACCA.
---
Our Brighton Festival partnership
Looking to the future, we will continue our partnership with Brighton Festival – University of Sussex is a major sponsor of the festival – alongside many other festivals and organisations in the city. Artists featured in past editions of Brighton Festival include Doris Lessing who appeared in the literature programme in 2004 and Jaamil Olawale Kosoko, who performed in Séancers in 2019. Presented in association with The Marlborough Pub & Theatre as part of a project called Black Joy, Séancers was conceived, convened by and centred Black artists in a series of performances, workshops, residencies and a three-day gathering held at Attenborough Centre for the Creative Arts.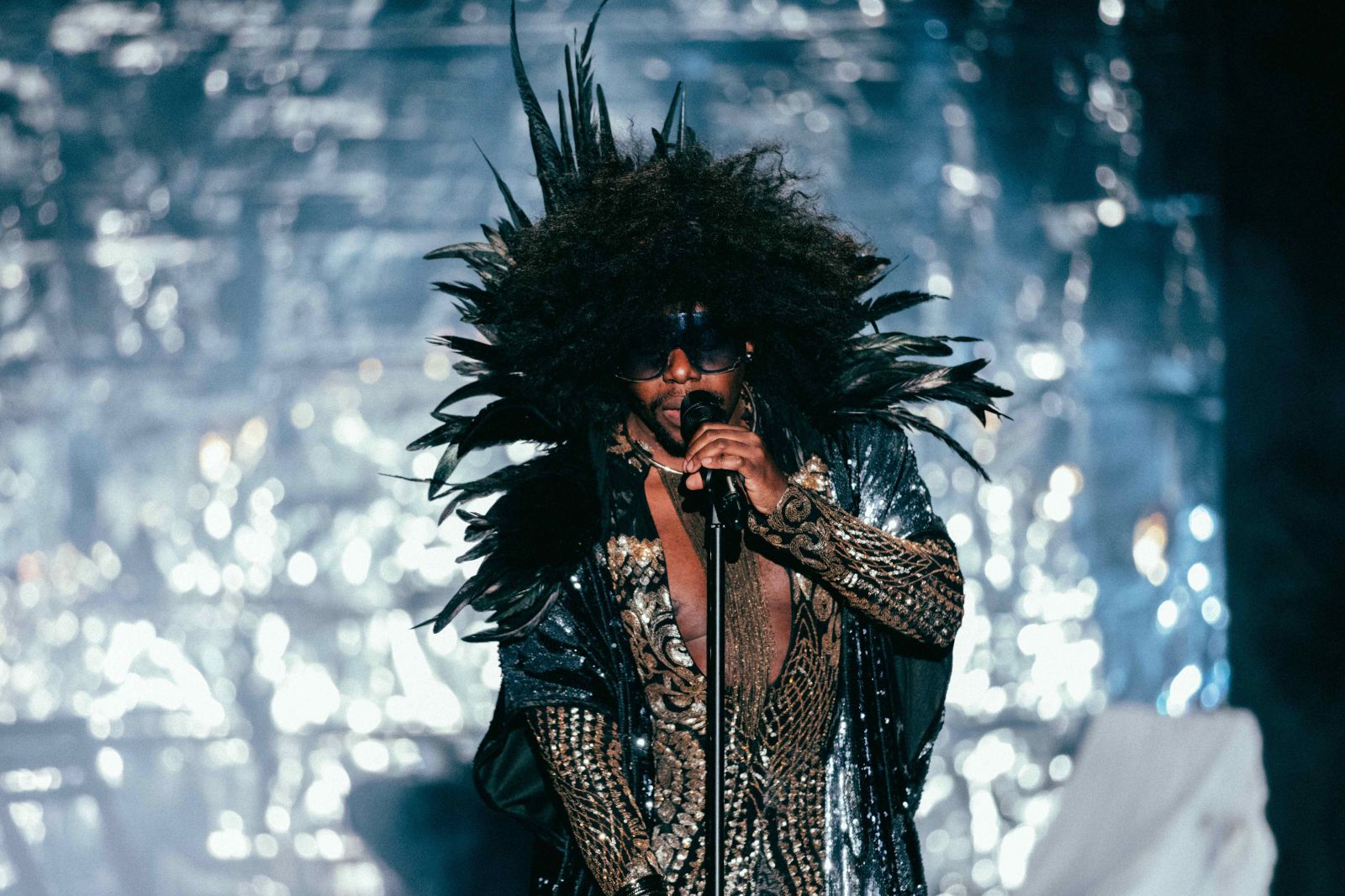 Jaamil Olawale Kosoko performing in Séancers in 2019.
---
Send us your memories
View the online 'archival advent calendar' of 50 snapshots online by searching #ACCAGARDNER50 and add your memories at www.sussex.ac.uk/falmer and send your memories of your time at Sussex to alumni@sussex.ac.uk.
---
You might also be interested in: