Alice's story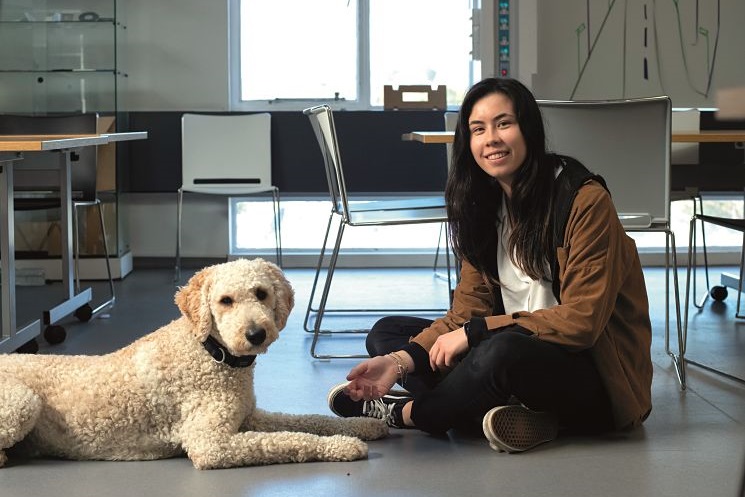 If I hadn't done the JRA, my life would be so different. One opportunity led to so many others."

Alice Torjussen


Animal-Computer Interaction PhD
Former Junior Research Associate
'I was in my second year in Computer Science and Artificial Intelligence when I went for a Junior Research Associate scholarship. I'd heard that one of the opportunities being offered was to do with animals and technology, and I love animals. During my holidays I worked at Woburn Safari Park. So I contacted Dr Charlotte Robinson, a lecturer in ergonomics, human factors and design, who gave me a summer project that looked at how assistance dogs interacted with technology.
'I helped to design the study, which involved testing a load of buttons designed for disabled people (such as for light switches and to open doors) on assistance dogs. We were looking at what kind of feedback they needed to understand how the button worked. As humans, we know if we hear it click, or it goes up and down, that we have correctly pressed a button, but dogs don't necessarily understand that.
'Charlotte asked if I'd like to help her write a paper. My JRA time had already gone and I wasn't being paid for it anymore, but I spent the week before term started staying up until 3am to write a literature review. The paper was presented at the Animal-Computer Interaction conference in 2018 in Atlanta, and because by then I was on track to start a PhD, the University sent me to Atlanta with Charlotte. It was crazy, and so much fun. It was so cool to meet people I'd referenced in the paper and to speak to people who were doing what I was doing.
'Up until that point, I would have been the last person in my entire extended family to ever do anything academic like a PhD. If I hadn't done the JRA, my life would be so different. One opportunity led to so many others. I am so grateful to everyone who has helped and encouraged me.'
You might also be interested in: