Ntsiki's story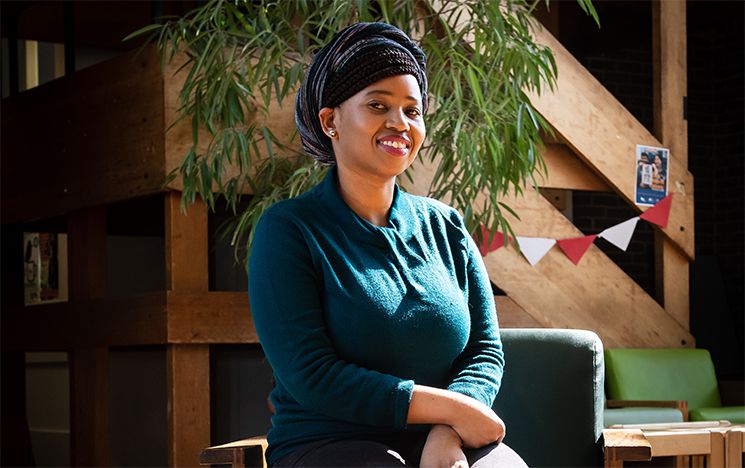 If you have something to offer to your community, country and the world, Sussex is the place for you."

ntsiki mgxabayi


International Education and Development MA
Mandela Scholar
'While I was growing up, I was exposed to a very small pool of opinions and views. So when I realised that I wanted to be effective in bringing positive change to others, I knew that I needed to add to my skill set, and to achieve that in a different environment. My mother encouraged me, saying 'I wanted to study and I couldn't. I want you to study, to be able to stand on your own two feet and use those opportunities.'
The Mandela Scholarship has enabled me to realise that dream. It means that I have access to the knowledge I need. It has given me the opportunity to open my mind to the challenges and the possibilities of our time, to step out and see the world, and to live beyond myself.
I came to Sussex because I needed a place where I would find it easy to relate to others. From my research I knew that it would be a welcoming place. I also knew that its diversity would provide me with the opportunity to learn from others. And happily, I wasn't wrong!
My professors are one of the best things about my time here. Their research, the places they've worked and the people they've worked with have provided so much depth. They know exactly how to steer things so that we get the most out of our reading. Their internationalism and expertise – and that of the other students – has been really valuable. It means we have multiple perspectives on any particular issue.
Because of my studies I have had the opportunity to work with other students, supporting them in their academic journey. The support I provide is something I have learned from my own professors. Through their mentoring and care, they've helped me to fall in love with research.
If you have something to offer to your community, country and the world, Sussex is the place for you. It will help you to become more effective in your contribution to others. It has given me just the experience I was looking for.'
You might also be interested in: