Alice's story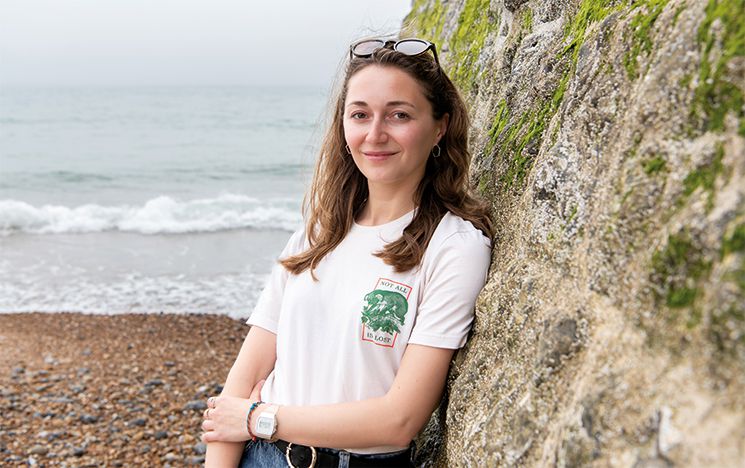 I really like how the University's research on biodiversity and sustainability feeds into how the campus is managed, including having areas that are dedicated to encouraging wildlife."

alice clark


Biology PhD
'I did my Masters in Evolutionary Biology at Sussex and, after taking a couple of years out of studying, I realised that field-based biodiversity research was what I was really interested in doing. I'd done a bit during my undergraduate degree and Masters – notably I went on a trip to Ecuador, where I was involved in a project monitoring birds. I'd also volunteered for an NGO in Tenerife, counting and identifying populations of dolphins and whales.
My PhD project at Sussex involves monitoring the recovery of biodiversity along the Sussex coast since nearshore trawling was banned in 2021. Trawling destroys kelp forests. They are dense areas of seaweed that are a nursery for fish, and play a role in reducing harmful effects of storms and removing carbon dioxide from the atmosphere.
We're using baited remote underwater videos (BRUV) and environmental DNA (eDNA) – DNA shed in the environment through fish scales, algae and mucus – to monitor the recovery of biodiversity since the trawling ban. Already, we're seeing slight changes. There's more seaweed growth, which is really encouraging, and the fish community is starting to change.
It's great that we're doing a project that involves the Sussex coastline. I've learned to scuba dive and have been diving locally. While it's not as colourful as a coral reef, there's still a lot to see – rays, cuttlefish, conger eels and small-spotted catsharks. And there are areas with wrecks that are fun too.
I really like how the University's research on biodiversity and sustainability feeds into how the campus is managed, including having areas that are dedicated to encouraging wildlife. We also work with external organisations (Sussex Wildlife Trust and Blue Marine Foundation) and do outreach (Soapbox Science)
After my PhD, I may continue in academic research, but I'm also considering working with NGOs, or possibly with companies working on biodiversity projects.
One thing I have particularly loved about coming back to Brighton is the summer here. The beach is just a 10-minute walk from where I live. When I get back from work and go down to the sea, I feel like I'm on holiday. There's an escapism that you don't get in other cities and there's always something to do, even in winter. I also love the fact that – although it's a city – you can walk everywhere and make spontaneous plans to meet up with friends in 20 minutes.'
You might also be interested in: