Ziyanda's story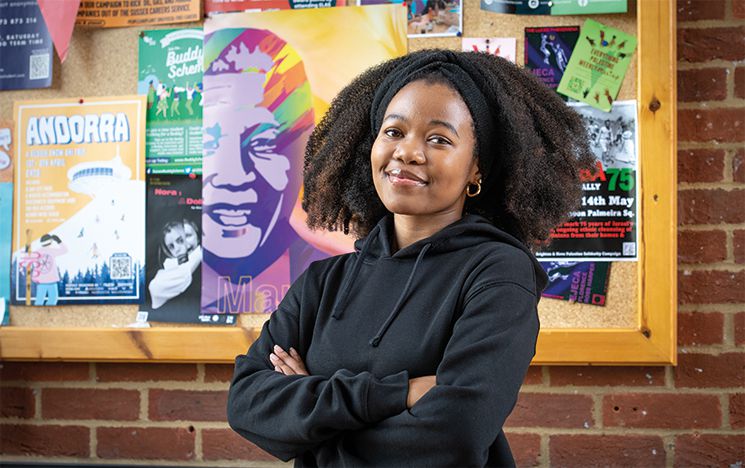 I'm really proud to be the University's Mandela Scholar in the 50th year since the scheme started."

ziyanda dludla


Geopolitics and International Affairs MA
Mandela Scholar
'I'm really proud to be the University's Mandela Scholar in the 50th year since the scheme started. Here I am, a Black woman from South Africa, studying in the UK! This wouldn't have been possible without the sacrifices made by our leaders – like Nelson Mandela – to make sure that we enjoy the privileges that we have today. He is my inspiration and I'd love to resemble him in any way.
I applied for the scholarship after working as an intern at the United Nations in South Africa. I'd studied politics and international relations as an undergraduate. I'm passionate about African politics and can see myself working for the African Union or in embassies in the EU, so my supervisor at the UN encouraged me to pursue a Masters and she put me in touch with a Sussex graduate.
Initially, I couldn't see myself studying abroad. I'm from a small, rural town (Ulundi) and most of the people I grew up with hadn't gone on to university – the girls tend to get pregnant and stay at home to raise their kids. Although I knew education was the way out for me, I knew that I couldn't afford to study abroad. When I heard about the Mandela Scholarship, and spoke to the previous recipient, I realised I should apply.
I now see the advantage in studying in the UK for my Masters. When you're studying in South Africa, you're reading academic papers from our perspective – the Global South. But now I'm learning about other perspectives from the Global North, which has helped in looking at the world in a multifaceted manner.
Although I found the first few months in the UK very cold, I now love it here. I took up playing football again – I hadn't played since high school but challenged myself to start playing again when I got to Sussex. This led to becoming goalkeeper for the University's team, and I'm now training to be a part-time referee. It really opened up my social life and has made my inner child happy!
I'm also in touch with other Mandela scholars who have studied at Sussex – including the first ever scholar, Mr John Gaetsewe Jnr. It's a supportive, tightknit alumni community and it's wonderful to hear about the many great things they go on to achieve.'
You might also be interested in: