International Relations
Choose from a range of International Relations degrees including undergraduate, Masters and PhD courses.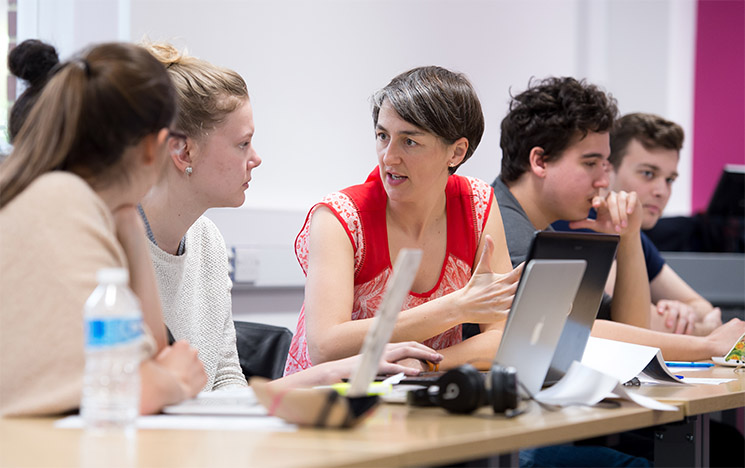 How is humanity organised at the world level, and where does power lie? What are the key ideas people use to try and understand issues such as war and peace, and wealth and poverty? And how can we use these ideas to address the urgent challenges facing the world today? At Sussex, we pioneer new critical approaches to these questions.
We are one of the largest dedicated International Relations departments in the world with a wide range of expertise. And you have plenty of choice in how you shape your degree.
Explore International Relations at Sussex
Meet Tamima
Tamima Chowdhury, International Relations and Development BA, says one of her favourite things about Sussex is that studying here teaches you to think independently and to form your own opinions.
The undergraduate view
Video transcript

Hi, my name is Claire, and I studied International Relations with Arabic at Sussex.

[ON SCREEN TEXT] CHOOSING SUSSEX

So why I chose Sussex.

Well, International Relations, as well as International Development, are ranked number one in the world as a subject.

So that made it quite easy.

[ON SCREEN TEXT] STARTING UNI

So how it was for me to start university, well, I came from abroad, so I'm originally from Luxembourg, where English is our fourth language, so I wasn't quite comfortable speaking English, so that was a major part coming to the UK and settling in at university.

But through societies and sports clubs, I made a lot of friends and I broadened my network and it made it quite easy for me to settle in straight away.

[ON SCREEN TEXT] FAVOURITE THINGS

So my favourite thing at university, which probably goes into my growth as well from where I started university to where I am now, is my placement year.

I was lucky enough to secure a ten month placement in the field, which I split up in two parts.

So I started off with an internship at the U.N. for three months where I was based in Vienna, Austria.

And then I moved on for seven months to Lima, Peru, where I volunteered did an internship, with a women's rights group in the field.

So that's an option you have with your course, is to either do a placement year or a study abroad year, where between your second and third year, you go out there into another country in the field and gain that experience.

Be it in terms of culture, language or professional skills that you develop.

So that's a great opportunity, and I think that's what has definitely enhanced my experience at university.

[ON SCREEN TEXT] WHAT'S NEXT?

I finished my degree of International Relations with Arabic at Sussex, and I have now moved on to do a Masters in International Human Rights Law.

So an LLM, which is a Law Masters and I stayed at Sussex as well.

And the way I did that decision was based on my placement year.

So the experience I gained in the field working with women on women's rights made me want to go and do the Masters in Human Rights Law.

So, yeah, now I'm now doing a Masters and I'm still at Sussex.

[ON SCREEN TEXT] MY ADVICE

And then lastly, my word of advice, so I think just be open to meet new people, try new things, especially coming to Sussex, there's so many opportunities on campus through societies, sports clubs, but also off campus in Brighton that you can get involved in in terms of volunteering or just doing part time jobs.

So there's lots and lots of opportunities and then just generally an advice if you consider going to university.

I would say the uni is there support you in every single way.

So if you are not sure about what to study or you think you made the wrong choice the uni is there to support you whatever path you choose, if you want to change your subject.

Generally, if you want to meet people, there's lots of events organised by the University.

So I just say, just do it.
More about life at Sussex
Virtual tour
Could there be a better place to be a student than our beautiful campus? Nestled in the South Downs National Park, we're just nine minutes from one of the UK's most iconic cities.
To get a picture of life on our campus and the excitement of being in the city of Brighton, take our virtual tour.
Explore more subjects at Sussex: