Geography
Choose from a range of Geography degrees including undergraduate, Masters and PhD courses.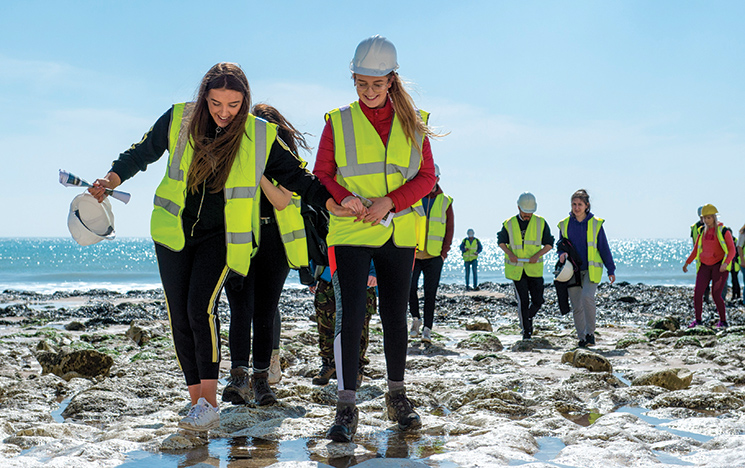 You'll cover a global range of issues – from migration and development to landform processes and climate change adaptation. We'll guide you as you develop your own interests and expertise.
We have an excellent choice of undergraduate field-trip destinations. Our location in Brighton and the South Downs National Park means you'll learn both inside and outside the classroom.
Alongside your studies, you can get involved with the prize-winning student-led Geography Society.
Explore Geography at Sussex
The undergraduate view
Video transcript

Hello, my name is Lewis, I'm a current 1st year Geography BSc student here at the University of Sussex, and I'm here to talk about why you should be studying Geography at the University of Sussex too.

[ON SCREEN TEXT] CHOOSING SUSSEX

So I chose Sussex because I really liked the sound of the course.

It's BSc, which means there's also some field work and lab work, which is just good to get you out
of the lecture theatre sometimes.

All the modules so far I've found exceedingly interesting and I look forward to the ones in the next term in the next year.

The campus is also lovely.

It's one of very few campuses within a national park, so there's lots of green spaces just to sit, relax and go for a walk.

And it's also really close to Brighton, which is such a lively city.

It's lovely.

[ON SCREEN TEXT] STARTING UNI

So when I started my course, I was introduced to my academic adviser who is there to make sure that we're accessing Sussex's many portals and resources that we which will help you in the degree, such as the library, the Skills Hub, the special services that the university pays for to make sure that we can get the most out of our degree.

I find them very helpful for little things, just sort of such as if I wasn't sure whether to include a reference or what the essay was on, I could go and ask them, which is really good.

Really helped in the first bit to get you settled into uni.

[ON SCREEN TEXT] FAVOURITE THINGS

So one of my favourite things about studying a degree in Geography at Sussex is that stuff that I've learned at GCSE and A-level, which I found a bit boring.

Not very interesting.

The lecturer explains it so well that I actually really enjoy writing 2000 word essays and doing extra reading about the subject.

It's really interesting.

So I'd say that was my favourite thing about studying at Sussex is that you'll discover what interests you and how you would apply this in a degree.

[ON SCREEN TEXT] HOW I'VE CHANGED

So university has been such a time of personal growth for me, just stuff like living independently, doing my own cooking, washing up, budgeting, going to the shop, making sure I've got enough food, doing my laundry and it's really helped me develop my independence.

And also doing the degree is also improved transferable skills, which I can take from Sussex into the workplace, which is also good, such as my speaking, my writing, my listening.

[ON SCREEN TEXT] WHAT'S NEXT?

So what's next?

Well, I'm not going anywhere, anytime soon.

I've signed my contract to stay in the house for next year, so I'll be around.

I'm looking forward to just the new modules, meeting some new people, learning new things.

All the placement and study abroad opportunities at Sussex will offer in the next couple of years, so I'm really looking forward to it.

[ON SCREEN TEXT] MY ADVICE

And my parting words of advice to anyone thinking of studying Geography at Sussex, do it, it is an amazing course.

It is an amazing campus.

You'll have an amazing time, I promise you that.
More about life at Sussex
Virtual tour
Could there be a better place to be a student than our beautiful campus? Nestled in the South Downs National Park, we're just nine minutes from one of the UK's most iconic cities.
To get a picture of life on our campus and the excitement of being in the city of Brighton, take our virtual tour.
Explore more subjects at Sussex: