Development
Discover our undergraduate courses, Masters and PhD degrees in Development.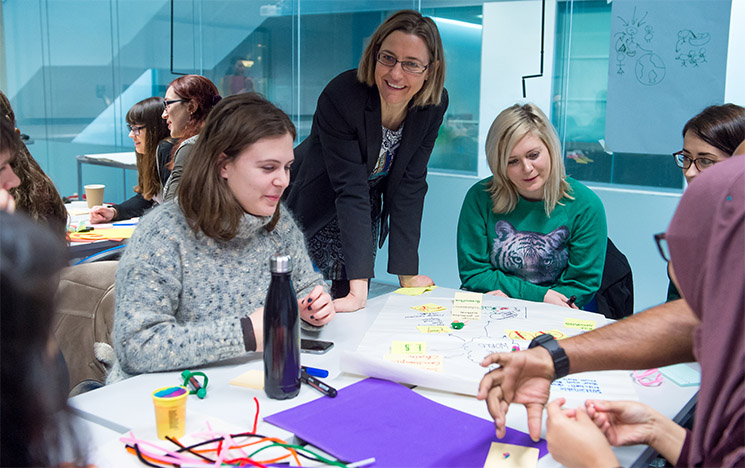 Our research has real-world impact. Our experts are making a difference across the world in areas ranging from human rights to the environment.
You'll join a thriving community at Sussex. There are lots of ways to get involved – you can expand your knowledge through the Sussex International Development Society, student-organised seminars and film series, the Sussex Development Lectures and volunteering.
We are delighted to be ranked number one in the world for Development Studies for the sixth year running (QS World University Rankings by Subject 2023).
What is Development Studies?
Development Studies is a field with multiple focuses, aiming to understand global challenges and work toward novel solutions. It seeks to understand current global landscapes from cultural, economical, geographical, and socioeconomic perspectives.
Covering areas of focus from inequality and poverty to climate and environmental change, the practices of Development Studies are challenging, exciting and evolving. Studying development is understanding the now, and making plans for a better future.
Why Sussex is a great place to study International Development
Video transcript

I've always been passionate about understanding the world we live in and seeing how the world is connected.

It's like the whole world is a domino game, and I love seeing how if you push one domino, what happens at the other end?

That is basically what drew me to Development Studies, when I realised that is what it is.

I am very passionate about everything that's related to how sustainability is being used in financial markets.

I love seeing the conflict that is searching for profit, which is what most big corporations do, and the ultimate goal of Development Studies which is improving and... usually not being profitable, because it's about the bigger picture and trying to find a compromise.

And I'm still yet to decide if there is one, but I'm... I'm hopeful. [laughs]

I was able to get a summer internship through the Sussex Careers Centre as a corporate social responsibility intern, at a big multinational law firm.

Everything that I've read and seen in my seminars, I was able to apply in a workspace. And that was incredibly exciting.

I came there with a critical mindset. I saw things in their approach which I was able to identify, and in the end I was actually able to change a few things, which is a pretty cool feeling.

[On screen text - 1st in the world for Development Studies (QS World University Rankings by Subject 2023)]

Being in the room where it happens... [laughs] and having the opportunity to be in the room where it happens is the way I experience the fact that we're best in the world.

Our professors and our lecturers are the ones writing the papers that are eventually going to be read wildly across the world.

They are the ones who are engaging in this debate, and they're also the ones teaching you.

But also just being at Sussex in general, it's an environment which lives and breathes Development Studies. Development is everywhere in every department.

That also speaks to the nature of Development Studies, that it's applicable to everything.

While I feel more confused and insecure in the world than I have ever been, I also feel more confident in myself and my own abilities, and being able to mark my place and say that this is where I am and this is what I think, and this is where I want to go.

Wow, that was the final drop. I'm going! I'm going! [laughs]
Explore Development at Sussex
Meet Rebecca
Rebecca Melody Lin decided during her A-levels that International Development encapsulated everything she was interested in. Since joining the International Development BA at Sussex, Rebecca has been pleased to find that Sussex is very action based and plans to study abroad year at one of Sussex's international partner universities in Taiwan.
The undergraduate view
Video transcript

Hi, I'm Sophie, and I'm a first-year student currently studying Geography and International Development at Sussex.

I'm interested in global development, the environment and how the current political climate will affect our future.

In this video, I will talk about why I chose my course and my experiences at Sussex so far.

[ON SCREEN TEXT] CHOOSING SUSSEX

The most important factor for me was choosing something that I was interested in.

International Development, although not being something that I'd actually studied before, automatically grabbed my interest as many of the modules were focused on subjects I was passionate about, such as human rights and migration.

Another reason why I chose to study International Development at Sussex was because it is currently first in the world for Development Studies.

And because of this, I knew that I'd really be able to excel academically.

[ON SCREEN TEXT] STARTING UNI

I started university in September of 2021, and I've thoroughly enjoyed my time here so far.

In Freshers week, we had introduction talks for our different modules, and this gave me a chance to meet people on my course and see an overview of what my time at university would be like.

I found university really different to being in school or college as a lot of the work we do is really independent.

But once I got used this new found independence and actually started a routine, I found that the work and day to day tasks that I have to do are so much easier to complete.

There was also plenty of time to to spend time with friends and to explore the social life in Brighton.

[ON SCREEN TEXT] FAVOURITE THINGS

There are many things I've loved about my course so far.

I found the modules incredibly interesting which has kept me motivated and made the assessments so much easier to complete.

Having an academic advisor has been really useful as well as if I'm ever struggling I know that there is someone there that I can go to for support.

I've made some great friends on my course and we spent a lot of time together and helping each other with assessments, which has been really helpful in my first term at uni.

[ON SCREEN TEXT] HOW I'VE CHANGED

(I've) definitely changed as a person since starting university, I've become more independent and learnt how to juggle my academic and social life better.

In terms of thinking about my future, studying at Sussex has helped me to focus on my particular interests and how they could potentially turn into a future career that I will actually enjoy.

[ON SCREEN TEXT] WHAT'S NEXT?

I'm really looking forward to choosing my own modules in the future and really just growing my interest and knowledge of international development even more.

I'm also really excited for all the opportunities that I will be able to take in the next few years, such as studying abroad or taking a placement year, and really just making the most of my time here at Sussex.

[ON SCREEN TEXT] MY ADVICE

A piece of advice that I would give to someone looking at universities right now is to choose somewhere that you know you're going to like living in as you'll be there for three years and to also choose a course you're interested in, as opposed to one based off a set career.

You can always look at career options while you're studying, and it's more important to actually enjoy your time at university.
More about life at Sussex
Virtual tour
Could there be a better place to be a student than our beautiful campus? Nestled in the South Downs National Park, we're just nine minutes from one of the UK's most iconic cities.
To get a picture of life on our campus and the excitement of being in the city of Brighton, take our virtual tour.
Explore more subjects at Sussex: