Economics
Explore our undergraduate courses, Masters and PhD degrees in Economics.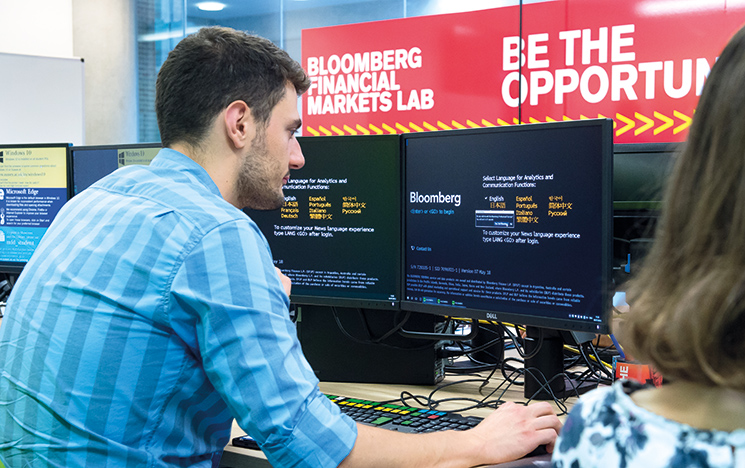 We address economics in a way that will improve people's lives. Our research is bringing about change in legislation and directing policy debate, particularly in the areas of development, energy, poverty, labour and trade.
At the University of Sussex Business School, you'll join a thriving Economics community. We help you gain the confidence to communicate economic ideas and concepts to a wide audience. You'll analyse real-world issues and gain practical skills for your career. You'll have the opportunity to access real-time data in the Bloomberg Lab, and to broaden your skills by joining the Economics Society.
You can combine Economics with subjects ranging from including Development, Business, Finance to International Relations and Politics.
Explore Economics at Sussex
Meet Joshua
Joshua Aiyenuro, Economics BSc, has been working as a Student Connector to help promote the Spirit of Sussex Award. The experience has given him confidence in working with people and solving problems.
The undergraduate view
Video transcript

Hi everyone.

My name is Hana and I am currently in third year, studying Economics in the Business School and I'm from Malaysia.

In this video I'm going to speak about my experience as a student here in Sussex.

[ON SCREEN TEXT] CHOOSING SUSSEX

I came to Sussex through Clearing and I had no idea what Sussex was.

I had no idea what Brighton was and the reason why I chose Sussex was because they were the earliest university that got in touch with me after I got rejected by my top two universities in UCAS at that time.

The recruitment officers were really, really helpful in helping me to secure a place in the Business School and the whole process was really, really smooth and easy.

And I had a positive feeling about that.

And I followed my heart, even though I did not know what Brighton and what Sussex was.

At that moment, the only thing I wanted was to go abroad.

And now here I am living my best life in Brighton.

I could say that choosing Sussex is one of the best decisions I've ever made in my whole life.

[ON SCREEN TEXT] CHOOSING SUSSEX

Starting life in Sussex was quite memorable for me.

It was my first time being abroad.

I had a long flight.

It was a 14 hour flight, it was my first time in the UK as well, and I did not know what to expect in terms of the place, you know, the people and even the culture, it was just exploring life, exploring the city and exploring adulthood with a group of strangers who now are my best mates in uni.

Despite all of the craziness and confusion that I had back in first year in trying to settle down in Sussex, I would not trade that experience for anything else because that made me who I am today.

And I really, really enjoyed that experience.

[ON SCREEN TEXT] CHOOSING SUSSEX

Everything about Sussex screams vibrant.

From the people, the food, the culture, it's just so diverse and I never feel like I'm out of place here in Sussex.

You get to meet people from different walks of life, from different countries, and that's my favourite thing about Sussex, the diversity.

You have the space to develop your own identity and explore yourself, and it's celebrated here, and I find that really beautiful.

[ON SCREEN TEXT] CHOOSING SUSSEX

I used to be a shy person back in first year, but I have grown so much as an individual
from the endless support that I received from the Business School, from staff and lecturers, from my friends who are always there to motivate me to do my absolute best.

Working as a Student Ambassador and a Student Connector has definitely improved my communication, people skills, and I am grateful for the opportunities given to me by the Business School working alongside my lecturers in running events, running Open Days and Applicant Visit Days, and speaking to prospective students about my experiences here in Sussex.

It has improved my confidence in speaking and I am really thankful for this opportunity.

[ON SCREEN TEXT] CHOOSING SUSSEX

At the moment my goal is to complete my 6000 word Economics dissertation paper and hopefully get a client based consulting job in economics that involves a lot of traveling and meeting people.

Adulting is a scary thought, but nonetheless I am excited and actually looking forward to it.

[ON SCREEN TEXT] CHOOSING SUSSEX

Choosing your university is a big decision and I do understand how nerve wracking it must be because I was once there in your place.

My advice would be to follow your dreams, make the most of your life, be happy and just live.

The sky has no limit so why put one on yourself?

My dream was to study abroad.

And even though I came to Sussex through Clearing and it was not my first choice, I'm still living my dream.
More about life at Sussex
Virtual tour
Could there be a better place to be a student than our beautiful campus? Nestled in the South Downs National Park, we're just nine minutes from one of the UK's most iconic cities.
To get a picture of life on our campus and the excitement of being in the city of Brighton, take our virtual tour.
Explore more subjects at Sussex: