Accounting, Banking and Finance
Choose from undergraduate courses, Masters and PhD degrees in Accounting, Banking and Finance.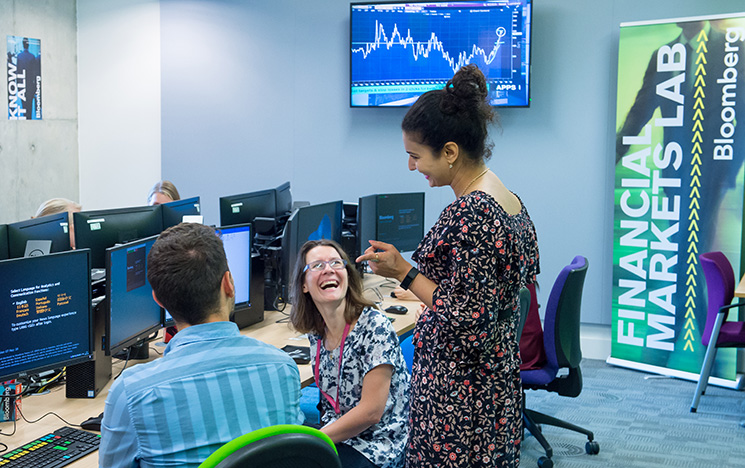 Get the skills and knowledge you need to succeed in the fast-paced world of finance, banking and accounting. Be ready for the digitally advanced workplace.
You'll gain industry insights and learn from academic staff who are globally renowned. As a student joining the University of Sussex Business School, you can access the Bloomberg Financial Markets Lab, and take part in real-time financial and trading simulation. Our accredited courses and teaching help you achieve professional status faster.
You can take advantage of our strong links with the City of London, and develop your skills further by joining the FinTech, Trading and Blockchain Societies.
Explore Accounting, Banking and Finance at Sussex
The undergraduate view
Video transcript

I'm Selim Kazem, I'm Nigerian, and I'm in my final year at the University of Sussex, where I'm currently studying Accounting and Finance, and I'm set to graduate with a first class grade this summer.

So in this video, I'll be giving you a brief overview about my decision to come to Sussex, my transition to uni life, my course, and some parting words of advice towards a successful academic career.

[ON SCREEN TEXT] CHOOSING SUSSEX

So I attended a college that was about a 13 minutes drive from the main campus.

Since Sussex had a very high ranking on the university league tables, and I also heard really nice reviews from my college tutors, I saw that as an opportunity to go on to a university with a high academic standard that was also an hour away from London.

[ON SCREEN TEXT] STARTING UNI

My university transition was quite rapid despite missing freshers week due to visa issues.

There were loads of student connectors, student ambassadors and residential advisers who were stationed at every part of the school [to look after] freshers for the first few weeks.

But in my academic transition, I know university can be quite different from college in terms of lecture delivery and the large lecture halls can be very intimidating.

But don't worry, every lecture will be followed by a seminar or workshop where you'll be broken down into smaller groups and you will feel more confident to participate.

[ON SCREEN TEXT] FAVOURITE THINGS

In the BSc Accounting andf Finance course, you should know that the lecturers are very welcoming.

They are accessible and they can be very considerate.

So feel free to ask questions during and after the lectures, or just go visit them in their office [if] you have any questions and they'll be willing to sit down and provide explanations for you.

You should also know that at various points of your course, guest lecturers from financial institutions like investment banks and consulting firms such as PWC and Rothschild will be invited where they will provide detailed insights regarding the consulting industry and also give advice on these competitive financial institutions.

[ON SCREEN TEXT] WHAT'S NEXT?

The next step for me will be starting a professional career in investment banking.

With the knowledge and practical skills, as well as connections I've gained at Sussex, I should be able to create value in the corporate world and for humanity.

[ON SCREEN TEXT] MY ADVICE

University [isn't just about] going to classes every day.

It's also about making lifelong friendships and connections.
More about life at Sussex
Virtual tour
Could there be a better place to be a student than our beautiful campus? Nestled in the South Downs National Park, we're just nine minutes from one of the UK's most iconic cities.
To get a picture of life on our campus and the excitement of being in the city of Brighton, take our virtual tour.
Explore more subjects at Sussex: