Bloomberg Financial Markets Lab
The Bloomberg Financial Markets Lab is a state-of-the-art facility at the University of Sussex.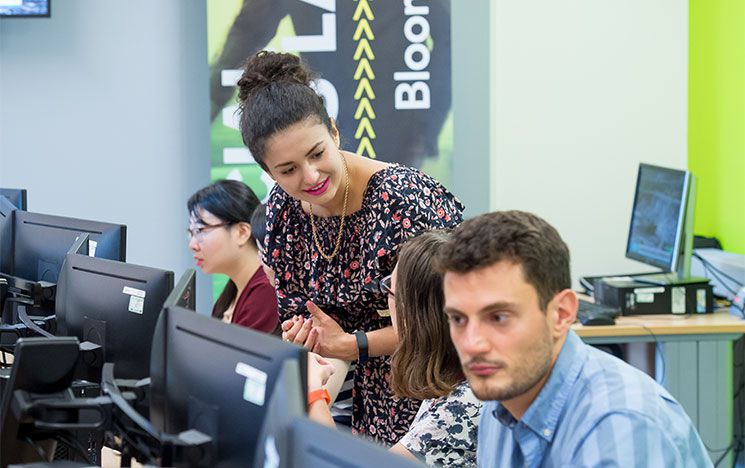 Real-world data, news and analytics
If you want to study stocks and shares, our Bloomberg Financial Markets Lab offers access to the same Bloomberg trading platform used by the world's leading banks, corporations and government agencies.
As well as allowing you to simulate real-world trading conditions, each Bloomberg terminal brings together data, news and analytics to give an in-depth understanding of companies, industries and markets that could boost your career after Sussex.
Find out about Bloomberg and sustainability.
What you can do with the Bloomberg Lab
Monitor and compare real-time price and volume data for the world's equity shares.
Monitor and chart sovereign bond yields, spreads, and historical performance on one screen, along with current yields, spreads and current rates' statistical deviation from averages.
Capture real-time news updates from a multitude of websites, tickers and wires.
Have access to real-time rates for dozens of currencies, which makes the platform the ideal tool for FX.
Gain an interactive introduction to the financial market.
And much more.
Why we have the Bloomberg Lab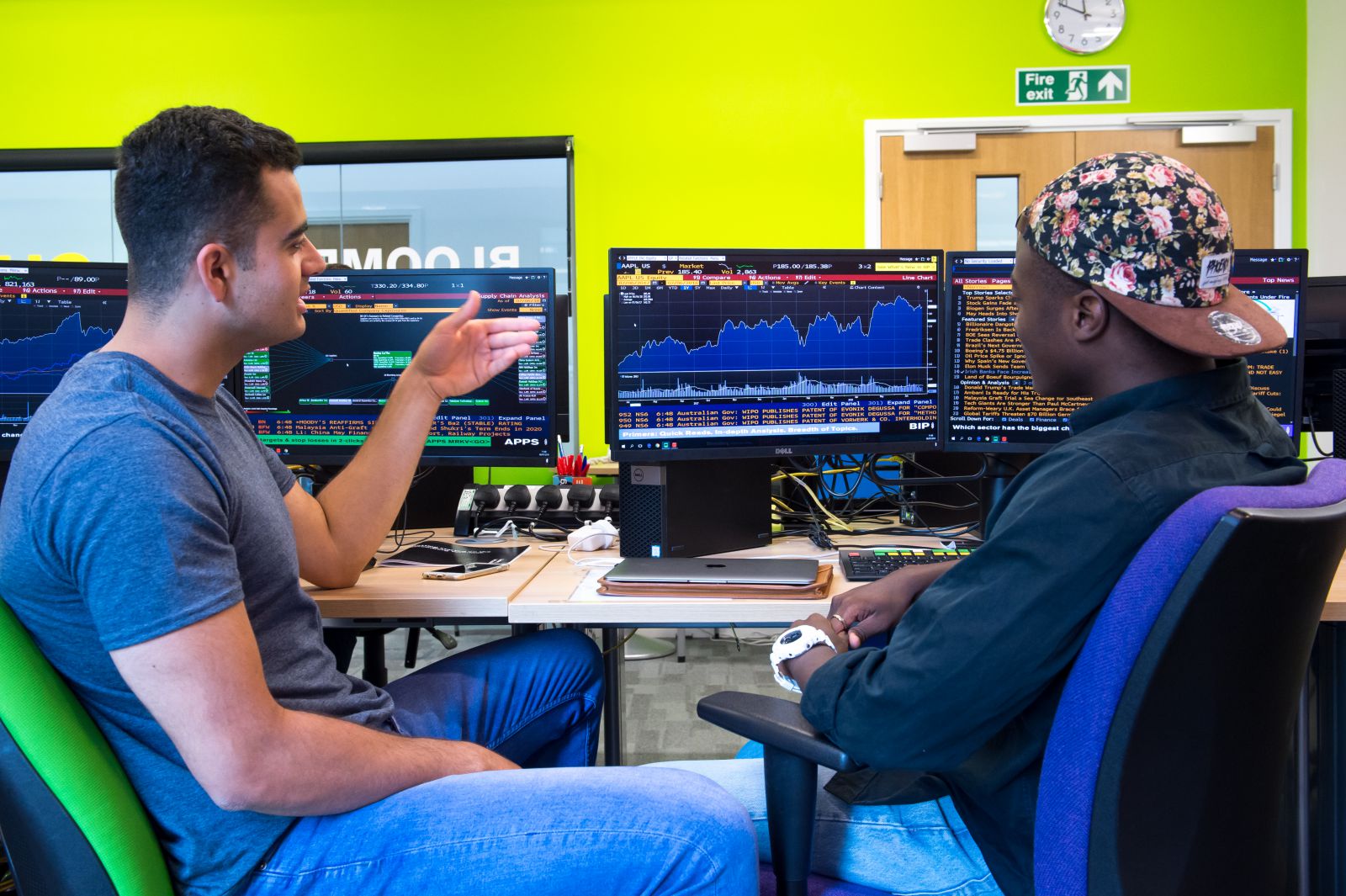 Since its launch in 1981, long before PCs and the internet became ubiquitous, the Bloomberg Terminal brought transparency to financial markets. It connected market participants to a ground-breaking data, analytics and information-delivery service – and revolutionised an industry.
The Bloomberg Terminal has been used for more than three decades by bankers, investors, traders and their advisors. It remains at the cutting-edge of innovation, delivering fast access to indispensable news, data, and trading tools.
Given how widely the terminal is used across the finance industry it is beneficial for you to become familiar with its functions and capabilities and develop a key practical skill that is often expected by employers in the world of finance.
Find out how the Bloomberg Terminal is crucial to people in finance (Financial Times, log-in required).
---
Bloomberg and sustainability
Bloomberg Philanthropies works to improve the lives of millions of people in 510 cities and 129 countries by focusing on five key areas:
In 2019, Bloomberg Philanthropies distributed $3.3 billion to various charitable causes. Find out more about their projects and activities in their annual report.
Mike Bloomberg, a major shareholder of Bloomberg L.P., the global financial technology, data, and media company that he founded in 1981, supports the work of Bloomberg Philanthropies. Over his lifetime, Mike has so far given more than $8 billion to philanthropy.
Mike Bloomberg on Bloomberg Philanthropies
Video transcript

Nearly all profits from Bloomberg L.P. go to Bloomberg Philanthropies, which is dedicated to saving and improving lives around the world. Every Bloomberg employee, in every one of our offices, makes that work possible.

What other company gives you the chance to do so much good for the world? Most of our profits don't go to shareholders - they go to reducing disease and injuries, cleaning our air and water, giving students a better education, supporting the arts and artists, investing in the communities where our teams live and work, and helping cities solve their toughest challenges.

Scale is critical, measurability is critical, and results are paramount. Bloomberg and Bloomberg Philanthropies are two sides of the same coin, so when you work for or with Bloomberg, you're doing a whole lot of good. Get involved through BOB, and learn more about our good work at Bloomberg.org
The work of Bloomberg Philanthropies
These are some of the results of Bloomberg Philanthropies.
Ice Watch
Ice Watch was created by artists Olafur Eliasson and geologist Minik Rosing to advance the arts in London and to raise more awareness about climate change. The blocks of ice were harvested from Greenland that had been melting into the ocean. Viewers saw the effects of climate change firsthand as the ice melted away. This installation was similar to an artwork, also by Eliasson and Rosing, installed in Paris in 2015 during the Paris climate talks.
Beyond Carbon
Beyond Carbon is the largest-ever coordinated campaign against climate change in the United States. Beyond Carbon is working with advocates around the country to build on the leadership and climate progress underway in our states, cities, and communities to maximize the progress on climate change.
Beyond Coal
Since 2011, Beyond Coal, a Bloomberg Philanthropies-backed campaign led by the Sierra Club, has helped close more than 289 out of 530 coal-fired power plants in the U.S., helping to reduce premature deaths due to coal pollution from 13,000 per year to 3,000. As part of this effort, Bloomberg Philanthropies has supported groups around the country advocating for clean energy state by state.
Women's Economic Development
Committed to the core belief that women are central to economic growth, the Women's Economic Development program works with government, nonprofits, and private-sector partners to provide women in Sub-Saharan Africa and beyond with access to training and the skills they need to increase their economic opportunities. Started as a pilot program in 2008 to train 3,000 women in agriculture, the program has now enrolled over 360,000 women in training programs to strengthen their marketable skills. By supporting women with job training and personal development resources, the program has directly benefited families and communities totalling more than 1.7 million people.
Contact
The Bloomberg Financial Markets Lab is based in room 136 in the Jubilee Building on campus.
For more information, contact the Director of the Bloomberg Financial Markets Laboratory at the University of Sussex Business School.
---
You might also be interested in: