Business and Management
Choose from undergraduate courses, Masters and PhD degrees in Business and Management.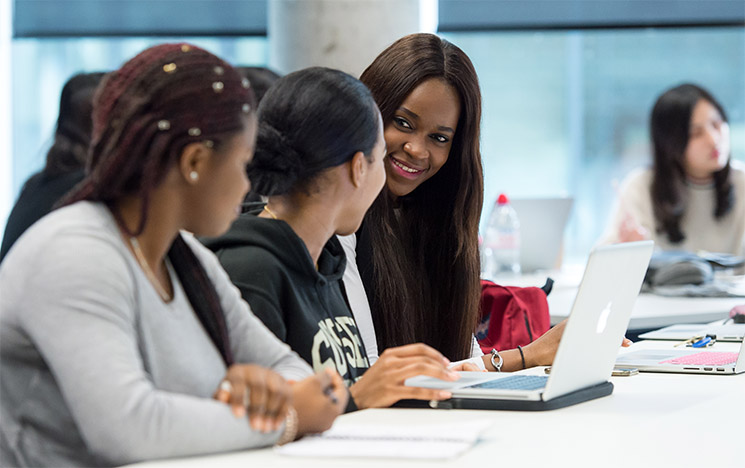 Today's business environment needs smart, confident and analytical managers. Our degrees will help you innovate in business, manage change and develop strategy – abilities highly valued by employers.
Social responsibility and sustainability are important to us. We're fully committed to the Principles of Responsible Management Education.
In the EQUIS and AMBA-accredited University of Sussex Business School, you'll learn from experienced practitioners and professionals in industry and public-policy organisations. You'll also enjoy career support, including employer mentoring, networking and guest lectures.
Explore Business and Management at Sussex
Meet Ellie-Louise
In her placement year, Marketing and Management student Ellie-Louise gained real-world experience in a strategic brand agency in Brighton. She says it was a rewarding experience, especially going into her final year.
The undergraduate view
Video transcript

Hi guys, my name is Jamila.

I am a final-year student studying International Business with a professional placement, and I'm here to tell you a little bit about my time at Sussex.

[ON SCREEN TEXT] CHOOSING SUSSEX

I chose Sussex because... honestly, the vibes were right.

I looked at a lot of other unis, like coastal ones and Sussex was just the one that spoke to me the most.

Especially the fact that it's (just) one campus as well was a really big factor.

[ON SCREEN TEXT] STARTING UNI

Starting at Sussex was... just a crazy experience. [laughs]

I feel especially because it's just more than likely the first time that you've moved out and lived by yourself and you really have to... kind of create your own path when it comes to designing all your schedules and... getting your food shopping, getting your laundry (done) - all of that good stuff!

And I think it's kind of scary as well, because normally you don't know anyone.

But, I met so many amazing people and went to some brilliant parties, and it was just so much fun.

I really think of that time of my life so fondly.

[ON SCREEN TEXT] FAVOURITE THINGS

Honestly, my favourite thing about Sussex is the people.

They are just so willing to help at any point whether that be to do with your course like the Business School were absolutely amazing.

They have been invaluable to me whilst I've been doing my degree.

But even with Student Experience, when I was looking for a placement, the Careers and Employability Centre were amazing, the Student Centre... like, there were just so many resources and people that want to help you and I really, really appreciate that about Sussex.

[ON SCREEN TEXT] WHAT'S NEXT?

I am most looking forward to finishing my dissertation because the stress will be gone.

But I also know I will feel really accomplished.

I'm also looking forward to my graduation so much.

I'm so ready to wear that cap and gown.

And yeah, I'm just ready for what's coming next.

I don't have a plan, but, I'm OK with that.

[ON SCREEN TEXT] MY ADVICE

Honestly, in all aspects of life, just go with your gut.

Really just think... if I had to make a decision right this second, if someone said you need to make a decision right now, where would you choose?

What would you do?

And genuinely, that is normally the way to go, because that's kind of what I did.

And... I've literally had the best time of my life at Sussex.