Ecology, Conservation and Environment
Discover our undergraduate courses, Masters and PhD degrees in Ecology, Conservation and Environment.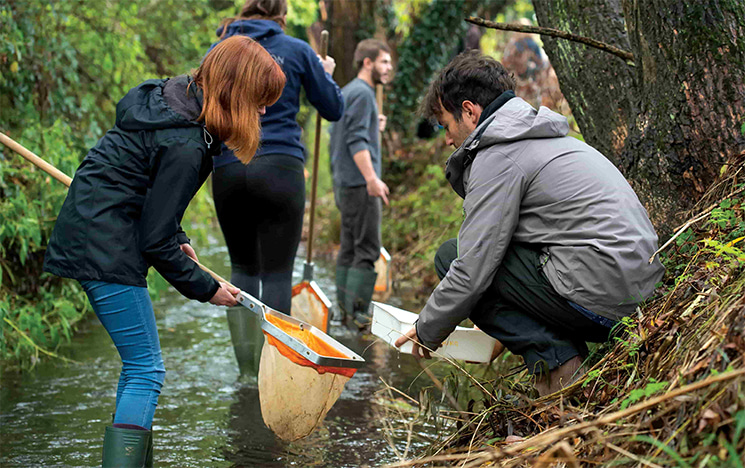 Our courses will help you understand the science behind, and work towards finding the solutions to the world's most serious environmental and ecological challenges.
You'll learn from experts influencing global debates on topics including:
conservation of endangered species
ecology of organisms
sustainable development
animal behaviour.
Outside of your lectures and seminars, you'll explore the South Downs National Park on local field trips. You'll also have the opportunity to go on field courses to destinations including Ecuador and the Red Sea, as well as within the UK.
Explore Ecology, Conservation and Environment at Sussex
Meet Kieran
Kieran O'Malley, Ecology, Conservation and Environment PhD, has been developing a citizen science project to place bat-detecting acoustic technology in woodland. This will help conservation groups to improve the landscape for bats - the most diverse mammal group in the world.
Welcome to the School of Life Sciences
Video transcript

[Music starts – light pop – no vocals]

On screen text

Want to help shape a better world through science?

Want to tackle real world problems?

And create world-changing impact?

It all starts at the University of Sussex.

Our research focussed courses span the whole of Life Sciences:

Chemistry

Biochemistry

Neuroscience

Biology

Zoology

Ecology and Conservation

Biomedical Science

Genetics

Using the latest in cutting-edge advances.

Guided by world-leading experts.

Gain hands-on experience, in both our teaching labs and out in the field.

Influence important policies on things such as the pesticides that kill our wildlife, and policies that protect endangered species.

Work towards unlocking the secrets of the brain and ending the despair of cancer and Alzheimer's.

Join a community of leading scientists and like-minded students striving to make the world a better place for all.

And follow in the footsteps of our 3 Nobel-prize winning alumni.

We're here today, to train the scientists of tomorrow.

And you could be one of them.

Find out more about the School of Life Sciences at sussex.ac.uk

[Music ends]
The undergraduate view
Video transcript

Hi. My name is Tara.

I study Ecology, Conservation and Environment at the University of Sussex.

In my spare time, I like to meet up with my friends and go over assignments in and out of university.

I'll be telling you about what it's like to study a unique course on a beautiful campus in an amazing city.

[ON SCREEN TEXT] CHOOSING SUSSEX

On my Open Days, I went in and I really liked the Life Sciences area.

I got to meet the professors who were all really experienced in both environmental science and in conservation.

The thing that really stood out for me for Sussex's course is the fact that there's a lot of field experience, and a lot of conservation work hands on, which isn't the case with some of the other universities I looked at.

[ON SCREEN TEXT] STARTING UNI

So starting at the University of Sussex, the Life Sciences department did organise a lot of meetings for Life Sciences students, which is really fun and a really chilled environment.

There's also a whole load of different societies on campus, so you can go back to something that you know, go and introduce yourself to something new.

There's a whole range that appeals to everyone.

[ON SCREEN TEXT] FAVOURITE THINGS

My favourite thing so far has been studying loads of different species of animals and plants, which I haven't had the opportunity to study before.

There's a lot of practical hands on experience, which is great for the future.

(I've) also been undergoing my dissertation project last semester, which is where I went to schools and underwent the Science Outreach Project.

I conducted my own study, I took my own data and did all my statistics which is really fun.

Next month I'm also going to Zambia and doing fieldwork in the National Park, which I'm super excited for!

[ON SCREEN TEXT] WHAT'S NEXT?

Next semester I hope to undergo a Postgraduate Certificate of Education so in the future I can teach environmental sciences.

However, before I go permanently into teaching, I hope to become an education officer at a wildlife park or at a zoo.

[ON SCREEN TEXT] MY ADVICE

To anyone considering going to the University of Sussex, I'd say go for it.

The University has proven to support it's students throughout the coronavirus pandemic, and the Students Union is really involved in the student welfare and improvement of their teaching.
More about life at Sussex
Virtual tour
Could there be a better place to be a student than our beautiful campus? Nestled in the South Downs National Park, we're just nine minutes from one of the UK's most iconic cities.
To get a picture of life on our campus and the excitement of being in the city of Brighton, take our virtual tour.
Explore more subjects at Sussex: