Zoology and Animal Studies
Study a Zoology undergraduate degree or take a Masters in Animal Behaviour studies. We also offer related PhD courses in Biology and Psychology.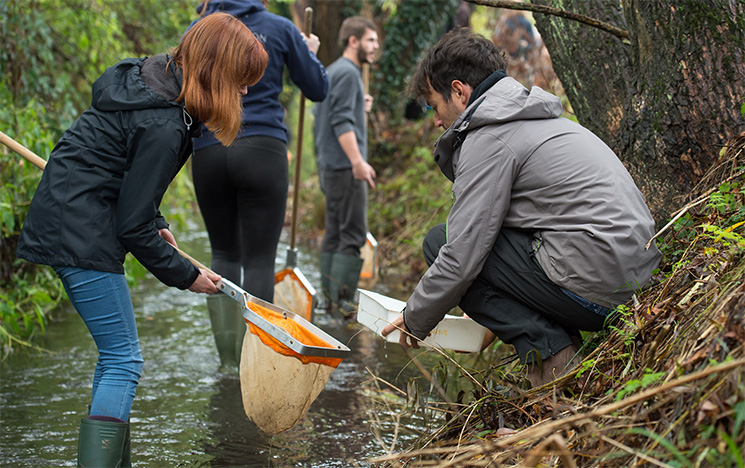 Our faculty are experts in the behaviour, conservation and evolution of animals. They will inspire your passion for the subject, with insights into their research specialisms including:
white sharks
spider monkeys
ants
cuttlefish.
On our taught courses, you have the opportunity to gain practical skills and experience zoology first-hand by going on field trips to UK and international destinations.
We have links with many organisations involved in conservation and environmental management to help you prepare for careers in these sectors.
Explore Zoology and Animal Studies at Sussex
Meet Mika
Dr Mika Peck, Senior Lecturer in Biology, is showing how saving the brown-headed spider monkey from extinction can also benefit countless other species.
Welcome to the School of Life Sciences
Video transcript

[Music starts – light pop – no vocals]

On screen text

Want to help shape a better world through science?

Want to tackle real world problems?

And create world-changing impact?

It all starts at the University of Sussex.

Our research focussed courses span the whole of Life Sciences:

Chemistry

Biochemistry

Neuroscience

Biology

Zoology

Ecology and Conservation

Biomedical Science

Genetics

Using the latest in cutting-edge advances.

Guided by world-leading experts.

Gain hands-on experience, in both our teaching labs and out in the field.

Influence important policies on things such as the pesticides that kill our wildlife, and policies that protect endangered species.

Work towards unlocking the secrets of the brain and ending the despair of cancer and Alzheimer's.

Join a community of leading scientists and like-minded students striving to make the world a better place for all.

And follow in the footsteps of our 3 Nobel-prize winning alumni.

We're here today, to train the scientists of tomorrow.

And you could be one of them.

Find out more about the School of Life Sciences at sussex.ac.uk

[Music ends]
More about life at Sussex
Virtual tour
Could there be a better place to be a student than our beautiful campus? Nestled in the South Downs National Park, we're just nine minutes from one of the UK's most iconic cities.
To get a picture of life on our campus and the excitement of being in the city of Brighton, take our virtual tour.
Explore more subjects at Sussex: