Biology
Explore our undergraduate courses, Masters and PhD degrees in Biology.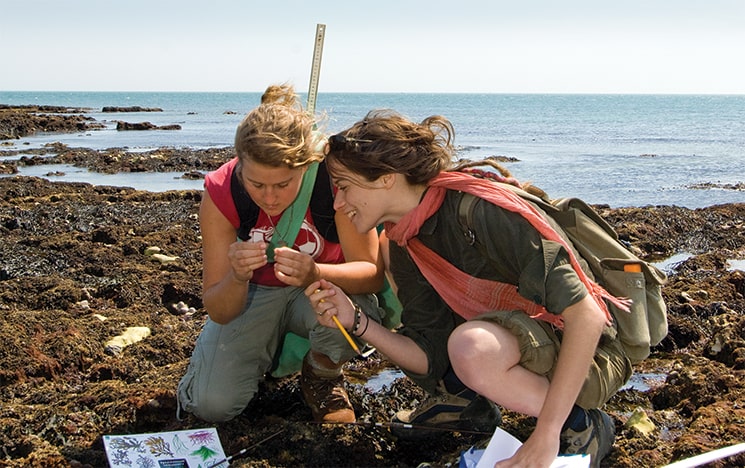 We tackle some of society's biggest issues with our research. Our researchers have expertise in:
molecular biology
animal behaviour
evolutionary biology
conservation and the environment.
You'll learn from this latest research and focus on the topics that inspire you most.
Outside of the laboratory, you can apply your practical skills through fieldwork. Sussex is the perfect place to study British wildlife. We are based in the UNESCO Brighton & Lewes Downs Biosphere Reserve and South Downs National Park.
As part of our undergraduate degrees we also offer amazing field trips. All this gives you real-world research experience before you graduate.
Explore Biology at Sussex
Meet Mika
Dr Mika Peck, Senior Lecturer in Biology, is looking at social injustice brought about by environmental change, and empowering people to engage with policy-makers.
Welcome to the School of Life Sciences
Video transcript

[Music starts – light pop – no vocals]

On screen text

Want to help shape a better world through science?

Want to tackle real world problems?

And create world-changing impact?

It all starts at the University of Sussex.

Our research focussed courses span the whole of Life Sciences:

Chemistry

Biochemistry

Neuroscience

Biology

Zoology

Ecology and Conservation

Biomedical Science

Genetics

Using the latest in cutting-edge advances.

Guided by world-leading experts.

Gain hands-on experience, in both our teaching labs and out in the field.

Influence important policies on things such as the pesticides that kill our wildlife, and policies that protect endangered species.

Work towards unlocking the secrets of the brain and ending the despair of cancer and Alzheimer's.

Join a community of leading scientists and like-minded students striving to make the world a better place for all.

And follow in the footsteps of our 3 Nobel-prize winning alumni.

We're here today, to train the scientists of tomorrow.

And you could be one of them.

Find out more about the School of Life Sciences at sussex.ac.uk

[Music ends]
The undergraduate view
Video transcript

Hi, my name is Izzie and I'm currently in my final year at University of Sussex, studying Biology.

In this talk, I'll be talking about my personal experiences as a Life Sciences student at the University of Sussex.

[ON SCREEN TEXT] CHOOSING SUSSEX

So for me, the reason I chose the University of Sussex as one of my top options for uni was because of the wide range of modules that are available during first year.

So, for example, you can go on to look at human and physical biology during your first year and some of these modules may include evolution, conservation, but then also looking at how the body works and the molecular part of biology.

This was really attractive to me as I was able to find what I really clicked with, modules that I enjoyed and what I could go on to specialise in.

This led me into second year where I found I clicked more with the human side of biology, so more looking at the molecular side and how the body works.

And this really, I felt was important for me as I was able to properly specialise in it during second year and wasn't doing any modules that I didn't really enjoy.

I then went on to third year where you can really specialise in modules that you really enjoy and I found that I really clicked with the cell signalling part of biology.

So this looks at the cell signals that go on inside your body and how they can lead to growth and cell proliferation and how when these go wrong can lead to cancer and the development of tumour cells.

[ON SCREEN TEXT] FAVOURITE THINGS

At the University of Sussex, they have plenty of opportunities on the side as well as your lectures.

So, for example, there's loads of opportunities to do lab work, you can have external speakers come in who are scientists and they talk about their research.

You can work alongside PhD students and also the wide range of societies that are available to you to join.

[ON SCREEN TEXT] WHAT'S NEXT?

In the future, I want to stay on at the University of Sussex and stay on to do a Masters in Cancer Research.

For me, I just felt I had to stay at University of Sussex as I felt like this was a home.

I knew all of the lecturers, they knew me, and I also just loved being on the campus.

Also, when I study cancer research at the Masters, they have opportunities as well as postgraduate opportunities.

So for example, I can look at cancer research and work alongside the charity, which was for me really attractive.

[ON SCREEN TEXT] MY ADVICE

I love the student life here at University of Sussex.

I love how homely it feels.

I love all the opportunities and it allowed me to really develop my passion for biology, and I'm sure you will too.
More about life at Sussex
Virtual tour
Could there be a better place to be a student than our beautiful campus? Nestled in the South Downs National Park, we're just nine minutes from one of the UK's most iconic cities.
To get a picture of life on our campus and the excitement of being in the city of Brighton, take our virtual tour.
Explore more subjects at Sussex: