Filmmaking and Media Production
Choose from undergraduate courses, Masters and PhD degrees in Filmmaking and Media Production.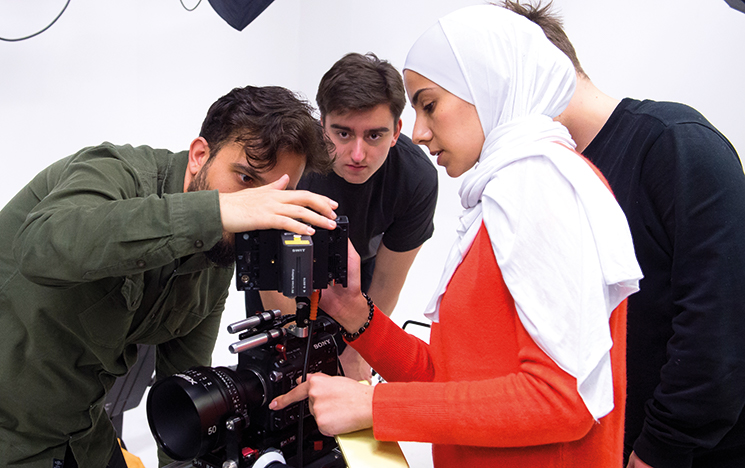 At Sussex, you'll become an accomplished media practitioner, with transferable skills that are vital in the media and creative industries.
Our specialist facilities include:
a photographic and video studio
audio production and Foley suites
pre- and post-production labs, which are available to you 24/7.
A wide range of professional equipment is also available to borrow.
Brighton is a growing hub for digital and creative media, offering you work experience and career opportunities.
Explore Filmmaking and Media Production at Sussex
Meet Jeremy
With more than 20 years' experience in the film industry as a screenwriter and producer, lecturer Jeremy Sheldon gives our students real insight into the commercial workings of the industry. He believes young writers and filmmakers can surprise you in a way more seasoned writers can't.
Image credit: Marnie Sheldon
The undergraduate view
Video transcript

Hi, I'm Amber Munt, and I study Media Production at the University of Sussex.

I've always loved all things digital and anything to do with the media industry.

As well as this, I also love reading, running and musical theatre as well.

Today I will be talking to you about why I chose Sussex as a university and how the University and Brighton as a town helped shape me in a professional and personal way.

[ON SCREEN TEXT] CHOOSING SUSSEX

I spent a lot of my childhood in Brighton because I lived quite nearby, so I'd always wanted to study my degree there.

I found that after I'd explored the facilities and visited the University's campus, that I still just wanted nothing more than to do that.

Funnily enough, on my Applicant (Visit) Day, I was actually paired up with someone else who now in my third and final year, I call my best friend so that was quite fun and we still laugh about that now.

[ON SCREEN TEXT] STARTING UNI

Being on campus with various flatmates and different course mates, I found it so easy to settle into university and there were so many general university events, but also the Media School did run their own exclusive events which was great because you got to meet more like minded people that were most likely on your course.

Not to mention there's a social space within the Silverstone Media Building, which allows you to just chat to friends, you can work there, or you can just meet new people and chat to them because you know that you have similar interests.

I really, really love that space.

[ON SCREEN TEXT] FAVOURITE THINGS

One of my personal highlights of the University is actually the wide range of modules that are available in the course.

It's really easy to personalise your own journey through your course, which I think is amazing.

For example, I was able to choose musicals as an elective, which was really great because I love musical theatre and I was able to incorporate it into my degree.

[ON SCREEN TEXT] HOW I'VE CHANGED

The University has taught me so many things.

For example, I'm so much more organised now, and I've also learnt how to take control and take the lead when necessary, which I think is a really great skill to have.

And also, the different tutors have taught me how to use specialised software, and I'm so much more confident in my own creative ability.

In terms of personal growth, I would say I am so much more independent now.

I think through meeting new people and working different part-time jobs, I've become so much more confident.

[ON SCREEN TEXT] WHAT'S NEXT?

I'm so excited to just look back and be able to see all the different work I produced and engaged with over my time at the University.

I'm really looking forward to starting a career within the industry because studying at Sussex has done nothing but strengthen my love for media.

[ON SCREEN TEXT] MY ADVICE

Brighton as a town itself, the University campus, the friends I've made, the jobs I've had, all of it has just given me the best three years of my life.

If you are looking into or thinking about applying to Sussex, I would 100% encourage you to because I have loved every single second of it.
More about life at Sussex
Virtual tour
Could there be a better place to be a student than our beautiful campus? Nestled in the South Downs National Park, we're just nine minutes from one of the UK's most iconic cities.
To get a picture of life on our campus and the excitement of being in the city of Brighton, take our virtual tour.
Explore more subjects at Sussex: