Music
Explore our Music courses including undergraduate, Masters and PhD degrees.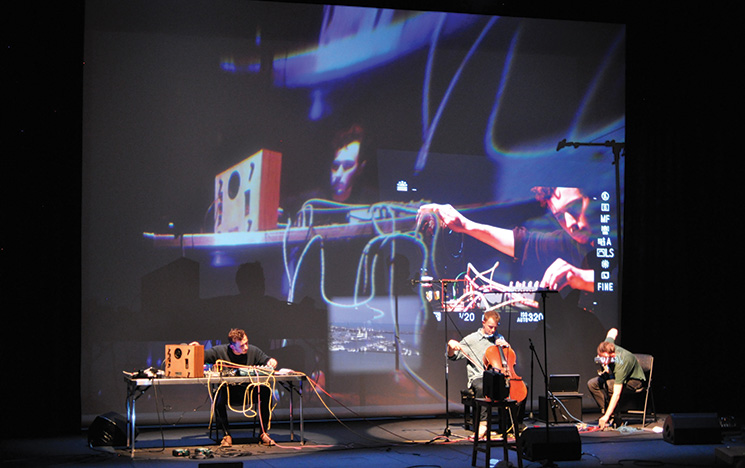 We make Music relevant for today's musicians. You'll learn how traditional and contemporary music contributes to society.
Music Technology at Sussex combines studio recording, music production and electronic music. You can also build instruments, design audiovisual performance systems or create sound for interactive games.
You'll have the opportunity to access:
With a wide range of options to choose from, you can tailor your degree to your passion. You'll develop the skills to define musical practices of the future.
Explore Music at Sussex
Meet Archie
Since starting his degree, Archie Sagers (Music Technology BA) has played gigs in Brighton, set up his own record label and is now starting to write film scores. His work on the music and innovation module is all about building a community of artists through gigs and releases.
The undergraduate view
Video transcript

Hi my name is Kai, and I'm interested in all sorts of things (like) music, film... anything creative really.

Sussex has been a great place for me to explore my interests and the things I'm passionate about.

I want to create art that's uplifting, inspiring, helps people to look up, and helps people to look forward.

Up with great values and valuable content.

[ON SCREEN TEXT] CHOOSING SUSSEX

I found this degree has been so good that I can tailor it to my interests and passions.

I didn't go down a very traditional route in music, but I was able to explore my interests and to my classical background, I was able to add sound design and music production and even things like filmmaking to some extent.

[ON SCREEN TEXT] STARTING UNI

Starting at university can be quite daunting, but I've learnt that if I stay on top of things, I won't have to be overwhelmed.

There's such good support at Sussex.

There's always an open ear, there's always an open door.

And actually that's been one of my favourite things; the approachability of the staff there to be able to just come and share some work in progress (and) share some ideas I have.

I have never felt that someone's putting me in a box.

There's always a space for you to develop what you're passionate about.

[ON SCREEN TEXT] FAVOURITE THINGS

While I'm studying music, I was able to explore filmmaking, and I've been able to hand in my assignments, but also release those online.

So actually, I've been starting to build a career since I first came to Sussex.

One of the phrases the department of Music used when we first came was 'your career starts today!'

While that can sound daunting, it is a great opportunity with such a good environment with people, equipment and everything you need to make a great start and start developing your online portfolio or your career in any way.

[ON SCREEN TEXT] WHAT'S NEXT?

During my time at Sussex, I've been able to develop a website, an online portfolio, YouTube channel and now I'm starting to connect with people in the industry.

I'm in my final year, but I've already have a connection with an orchestra that's interested in my music, a filmmaker I'm meeting up with and share ideas with.

Life doesn't end at University, but it's like a launching pad for many of us.

[ON SCREEN TEXT] MY ADVICE

So I think my advice for you would be come along, have a look, ask some questions, (and) don't be shy.

This is an opportunity for you.

Take it with both hands and make the most of it.
More about life at Sussex
Virtual tour
Could there be a better place to be a student than our beautiful campus? Nestled in the South Downs National Park, we're just nine minutes from one of the UK's most iconic cities.
To get a picture of life on our campus and the excitement of being in the city of Brighton, take our virtual tour.
Explore more subjects at Sussex: