History
Choose from a range of History degrees including undergraduate, Masters and PhD courses.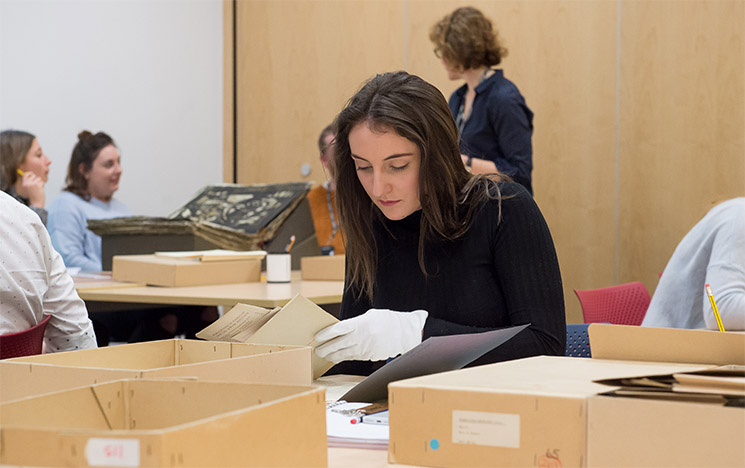 At Sussex, history matters. To understand our changing world, you'll learn how the past shapes the present.
Choice is key to our history degrees, where you study world history from the 16th century to today.
You'll get hands-on experience using historical evidence from online and archive sources. The Keep, an archive conservation building next to our campus, houses:
the Mass Observation Archive
the German Jewish Family Archives.
A Sussex history degree gives you transferable skills for today's workplace. And you'll develop the knowledge needed to become a practising historian.
Explore History at Sussex
The undergraduate view
Video transcript

Hi, my name is Jess, and I'm currently studying History at the University of Sussex.

History has always been something that I've been interested in, and I love to read historical fiction and watch historical documentaries so picking history was quite an easy choice for me to make.

[ON SCREEN TEXT] CHOOSING SUSSEX

I personally chose Sussex because I went to multiple different open days and some were online and I looked at the courses that were provided and I just found that Sussex provided courses that I found more interesting.

I also love Brighton, so it was quite nice that I got to be able to pick a university that was quite close to it.

[ON SCREEN TEXT] STARTING UNI

Coming to uni at first, was quite daunting.

It's a whole new place with loads of new people.

But once I actually got into the course and started meeting new people and made new friends it all became a lot easier.

[ON SCREEN TEXT] FAVOURITE THINGS

I've enjoyed the course, I found the topics really interesting.

I've also found that the teachers have been really helpful.

At first, I was quite worried about having to write a university essay, but when I went to student hours and emailed the teachers, they were all really helpful.

[ON SCREEN TEXT] HOW I'VE CHANGED

Since starting uni, I've definitely grown in confidence, and that's academically and personally.

I found it a lot easier now to start being able to talk in seminars and talk to others about what we've done in the reading.

I've also found it a lot easier now to speak to new people.

[ON SCREEN TEXT] WHAT'S NEXT?

In the next year at uni I'm looking forward to being able to pick my own modules and look at new parts of the world and time periods that I found interesting, and also look at new places that I've never been able to previously study before.

[ON SCREEN TEXT] MY ADVICE

Go to lots of different open days, speak to current students and look at the topics and courses that they provide because I find if it's something that you're interested in, you're going to be more motivated to actually learn it and get the work done.
More about life at Sussex
Virtual tour
Could there be a better place to be a student than our beautiful campus? Nestled in the South Downs National Park, we're just nine minutes from one of the UK's most iconic cities.
To get a picture of life on our campus and the excitement of being in the city of Brighton, take our virtual tour.
Explore more subjects at Sussex: