Art History
Discover our undergraduate courses, Masters and PhD degrees in Art History.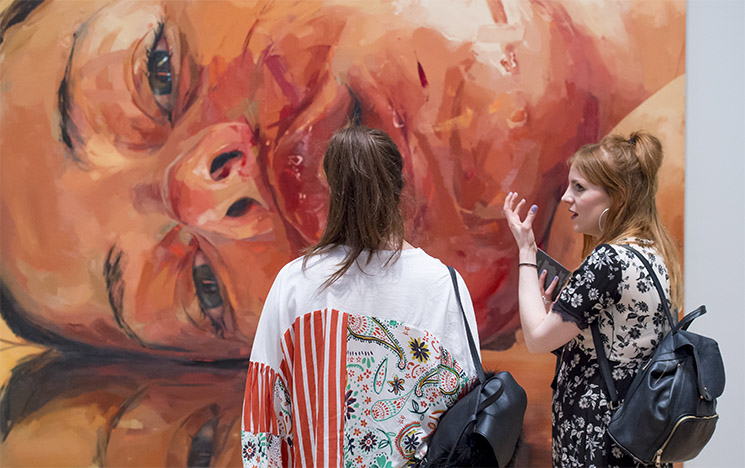 Why does art history matter in today's world? You'll explore every aspect of visual and material culture – from photography to architecture and fashion – and discover how the history of art impacts global cultures today.
You'll have the opportunity to collaborate with renowned curators and our partners within the industry. We have links with cultural institutions including Tate Modern, the V&A and The Photographers' Gallery.
You'll also benefit from:
fantastic campus facilities, including the Art History Lab, the Attenborough Centre for the Creative Arts and The Keep, an archive conservation centre
Brighton's creative arts culture
London's world-leading resources just an hour away.
Explore Art History at Sussex
Meet Cecily
Cecily Daffern, Art History BA, built her confidence throughout the course by volunteering at an independent museum. She is now considering a Masters in Art History and Museum Curating.
The undergraduate view
Video transcript

Hello, my name is Tom.

I'm studying Art History here at the University of Sussex.

Alongside my studying, I also run a record label.

[ON SCREEN TEXT] CHOOSING SUSSEX

I was born and raised in Brighton, and I love it here.

Many of my friends have gone to Sussex over the years and have all highly recommend it.

Alongside this, both my mother and my grandfather came here as mature students, and so when it came to me deciding where to go as a mature student, Sussex was the obvious choice.

[ON SCREEN TEXT] STARTING UNI

Settling into studying here at Sussex could not have gotten any better.

The staff, the lecturers, the Head of Department and the students themselves have all been unbelievably helpful.

Helping me with any questions I've had, anything to do with studying, anything to do with locations on campus have all been answered quickly, brilliantly and alongside this, all the students want to help each other out and help each other learn, help each other get on, find things to do socially as well.

It's a fantastic environment to be in.

[ON SCREEN TEXT] FAVOURITE THINGS

I've loved coming in for lectures each day and each week.

The knowledge that we get from our tutors alongside the variety of perspectives we get from within our seminars from each other - other students has been fantastic.

It's really been a joy to come in each and every day.

[ON SCREEN TEXT] WHAT'S NEXT?

I'm really looking forward to my next couple of years here at the University of Sussex and expanding my understanding of the history of art.

Alongside this, I'm really enjoying all my electives at the moment and how they complement my main studies.

And I'm looking forward to expanding upon that further over the next couple of years.

And I'm especially looking forward to our trip to Rome next year.

[ON SCREEN TEXT] MY ADVICE

I wasn't initially entirely certain that the choice to go to university as a mature student would be the right choice for me.

However, ever since making that decision, I haven't regretted it.

I've loved every minute of going to university, specifically coming to the University of Sussex.

It's a fantastic place with fantastic people, and I cannot recommend (it) enough to anyone else sitting on the fence about it to do the same!
More about life at Sussex
Virtual tour
Could there be a better place to be a student than our beautiful campus? Nestled in the South Downs National Park, we're just nine minutes from one of the UK's most iconic cities.
To get a picture of life on our campus and the excitement of being in the city of Brighton, take our virtual tour.
Explore more subjects at Sussex: