Here be dragons
Leading art historian, author and curator, Dr Alexandra Loske (Art History 2005) gives Rachael Miller an exclusive behind-the-scenes look at Brighton's iconic Royal Pavilion. From its spectacular colours to its fantastical beasts, this much-loved building never ceases to surprise and delight.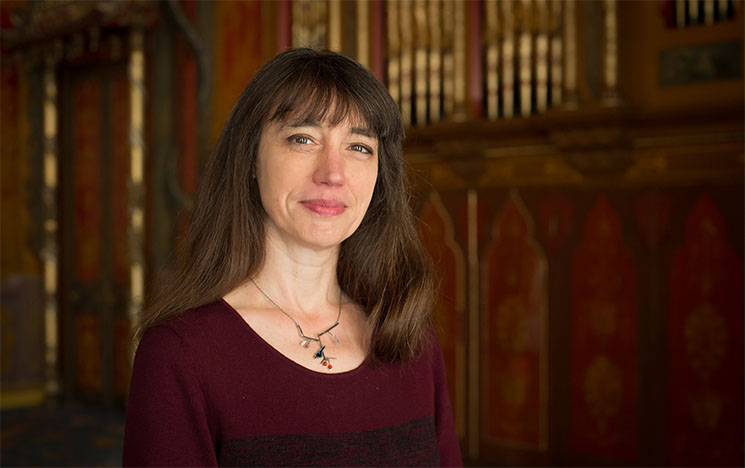 Many of our readers will have visited the Royal Pavilion at least once, but what might they have missed?
The dragons. Any visitor will be aware of the spectacular dragon chandelier in the Banqueting Room, but there are dragons everywhere – from the wallpaper and the carpets, to exquisitely carved and coloured ornamentation on lanterns; lovely little visual jokes with hidden dragons painted into woodwork.
These paintings are almost invisible during the day, but imagine being at one of George IV's parties, the worse for drink, and having one of these creatures leer out at you, caught in the candlelight!
And many of these beasts are quite wonderful and fantastical. There's a real irreverence and a humour to Chinoiserie, and you definitely see that throughout the Royal Pavilion.
Keep an eye out, too, for a hidden joke in the wallpaper of Queen Victoria's bedroom. Look carefully and you might spot where, back in the 1990s, artist Gordon Grant was recreating the Chinese wallpaper and painted a tiny pair of spectacles on one of the butterflies, to leave his mark. It's entirely in keeping with the playfulness of the place.
Once you start to look, you'll also see bells everywhere, many of them silvered and glazed. There are hundreds of them throughout the interior and they are one of the key motifs, along with phoenixes (and dragons, of course).
When we think of the colours used in the Pavilion, it's the gold and silver gilding and the vivid pigments like vermilion, carmine, blue verditer and chrome yellow that usually spring to mind. What visitors may not realise is that many paler colours are also used. The interior design scheme is really quite subtle.
As you first come in through the main entrance, the only colour used is a very pale 'peach blossom' (a term used by Goethe). Then pale green is introduced, followed by a much stronger version of peach blossom, gradually building to the crescendos of colour in areas like the Banqueting Room and the Music Room.
You'll know when you see the more muted blues and greys of Delft tiles that you're truly behind the scenes at the Pavilion – in the servants' corridors running through the entire building and beyond. But we shouldn't assume that just because the colour is more restrained here, that George skimped on the servants' quarters – there's a fine underfloor heating system, and working conditions in the kitchens were particularly good.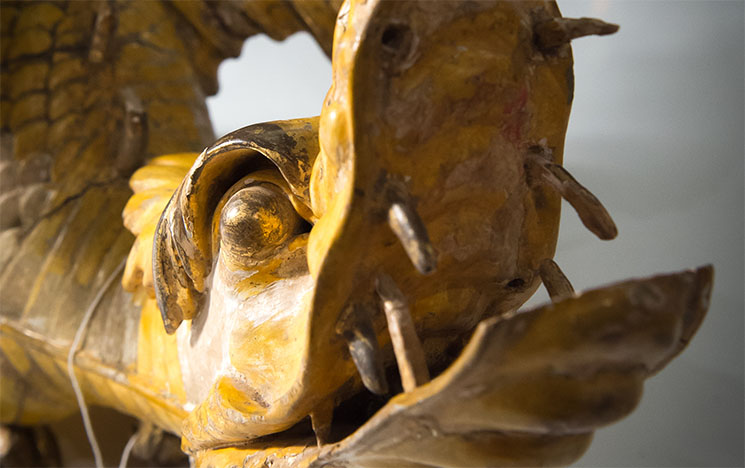 The grand Saloon has recently undergone a spectacular restoration. What are the challenges and joys of maintaining and restoring a building like the Royal Pavilion?
One of the great joys for me is that it's just such an over-the-top place. I love George IV's gung-ho attitude to interior design. It's truly a building of superlatives, from the rich layering of colours to the sheer number of individual things that need to be maintained or restored. For example, there are over 24,000 gilt plaster cockleshells in the Music Room ceiling, while the wall decoration in the Saloon has around 16,000 platinum leaf motifs, each of which had to be painstakingly applied by hand during the restoration.
It's also both a challenge and a source of joy that throughout George's years at the Pavilion nothing stood still – he was constantly changing the interiors. How do you decide which version of a room you restore? With the Saloon, we had to bear in mind that the room had at least four distinct looks between the 1780s and 1820s.
But the great thing is that there is so much left from the original interiors. And, with our combined knowledge, the conservators, curators and front of house staff can keep piecing the jigsaw together.
---
Many of these beasts are quite fantastical – nothing like a Chinese dragon, more of a Welsh dragon with added elements.

"

Dr Alexandra Loske


Art History 2005
---
Is it true that Queen Victoria and Prince Albert hated the Royal Pavilion?
When Victoria first visited she did comment that it was a 'strange, odd, Chinese-looking place, both outside and inside' and she wanted to distance herself from her uncle's extravagance and excess. But she did come for a few longer stays and had part of the upper floor adapted for her family. In fact, Prince Albert really quite liked the decorative schemes, but the building just wasn't practical for their royal household and didn't give them enough privacy and space. When Victoria sold the Pavilion to the town, almost all of the interiors were taken away to furnish the newly built East Wing of Buckingham Palace, designed by Edward Blore.
The royal connection continues today. What stood out for the Duke and Duchess of Sussex when they visited recently?
They both loved the dragon chandelier but I think Harry was quite tickled when he realised that he had grown up with the chairs in the Banqueting Room – they were literally part of the furniture in his childhood and were only returned by Her Majesty The Queen a few months ago.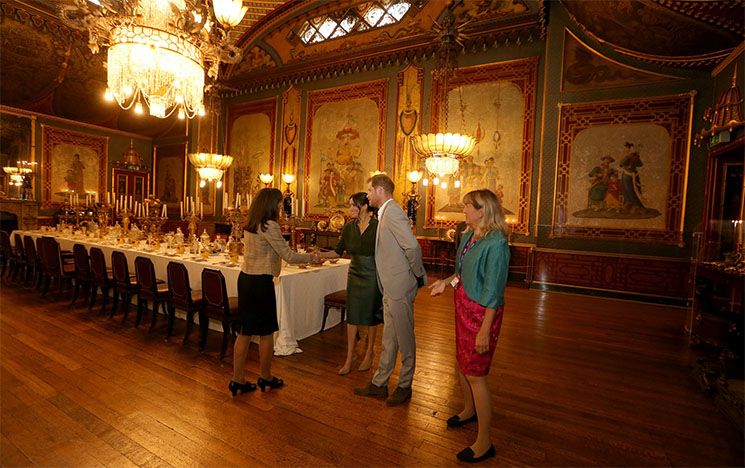 And if you were to hold a dinner in the Banqueting Room today, which Sussex alumni would you invite?
Ian McEwan, definitely. I fell in love with British culture through literature, so he'd be a must. Sara Pascoe for her humour, and Lucy Worsley for her immense knowledge of Royal Palaces and her great sense of fun. And I'd really like to add Hilary Benn and Clive Myrie into the mix.
But if I'm also allowed Sussex academics – I'd have to invite Hans Hess and Quentin Bell (the founding fathers of the Art History Department), my mentors Meaghan Clarke and Maurice Howard, and Evelyn Welch. As women in art history go, Evelyn's a real hero of mine. Without these inspirational individuals my life and career would have been very different. Sussex just feels like home to me. I owe the University so much.
---
There are dragons everywhere – from the wallpaper and the carpets, to little visual jokes with hidden dragons painted into woodwork.

"

Dr Alexandra Loske


Art History 2005
---
What's next for the Pavilion?
We're so excited. While the East Wing of Buckingham Palace is being renovated, the objects in it (many of them originally from the Pavilion) are being removed, and up to 130 exquisite pieces are coming back to the Pavilion on loan. It will add immeasurably to our understanding and enjoyment of this unique place.
Alexandra and Sussex
Alexandra Loske first came to Sussex in 1999, working in the Language Learning Centre. Twenty years on, one of her strongest early memories is of watching the eclipse with colleagues on the lawn outside Arts A.
In 2005 she embarked on her MA in Art History. Then, with the encouragement and support of her supervisor, Dr Meaghan Clarke, Senior Lecturer in Art History at Sussex, Alexandra won an Arts and Humanities Research Council collaborative scholarship to study for her PhD in colour theory with the Royal Pavilion. It was the start of a career-defining relationship with the Pavilion and a rich partnership for the University.
Falling in love with the glorious colours and architecture of the Meeting House when her marriage blessing took place there, Sir Basil Spence's iconic building remains Alexandra's favourite place on campus. Featuring prominently both in her book 111 Places in Brighton and Lewes You Shouldn't Miss and in her newly published work Colour: A Visual History, the Meeting House continues to play a treasured role in her life, with her daughter, Flora, christened there.
As well as her roles as art historian, writer and curator (and occasional colour-consultant to the fashion industry), Alexandra feeds her expert knowledge into teaching at Sussex. She plans to take a student from the Art History and Museum Curating MA on a work placement at the Pavilion in the coming year.
---
You might also be interested in: