How science photography changed art
Dr Ben Burbridge's research into science photography's influence on the visual arts has brought about new understandings and alternative dialogues.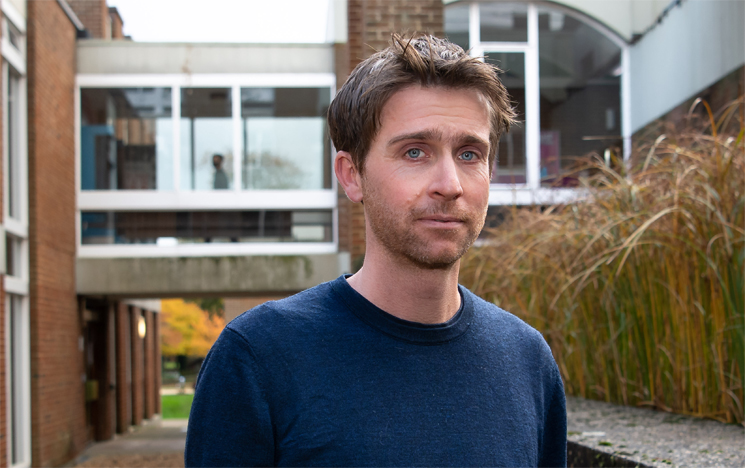 The invention of photography in the 19th century created a sense of wonderment. For the first time, aspects of the physical world could be captured and exposed in detail - including things invisible to the naked eye.
Over time these early images have not just given us scientific insights, they have led to new forms of photographic art that can illuminate our aesthetic and cultural relationship with technology.
"You realise that all sorts of things happen when reality is translated into a photograph," says Dr Ben Burbridge, a Senior Lecturer in Art History at the University of Sussex, who has been fascinated by how early science photography has influenced art. "It raises complex, philosophical questions about how we use technology to prove that something exists."
These questions inspired a ground-breaking exhibition co-curated by Burbridge for the Science Museum in London and the National Media Museum in Bradford. Entitled 'Revelations: Experiments in Photography', the show spanned three centuries of photographic imagery – from Eadweard Muybridge's 1887 sequence capturing the stages of a man doing a standing jump, to Ori Gersht's 2009 exploding floral display 'Blow Up' - and attracted around 30,000 visitors during its run in 2015-2016.
The exhibition's accompanying book, edited by Burbridge, has also achieved wide acclaim, particularly among educators, curators and artists for demonstrating the profound connection between scientific endeavour and artistic practice. It has inspired GCSE photography teachers to incorporate its material into their lessons.
Burbridge, who studied Art History as an undergraduate at Sussex in 2000-2003, originally worked with another Sussex alum, Charlotte Cotton, in devising the exhibition. At the time he was carrying out research on science photography and art.
"Charlotte was interested in putting together an exhibition about photography's capacity to lend form and shape to things that move too quickly, or are too small or too far away, or exist beyond what we can see with the naked eye," he recollects. "I was initially invited to edit the book because of the ideas I had started to explore in my PhD research. Then over time, as I developed a new body of research shared with the curatorial team at various meetings, I was invited to become co-curator of the exhibition."
Ultimately, it was his research and ideas that provided the spine, the structure and the underpinning thesis for the whole project. Rather than being a broad exploration of what photography can do in a technical sense, the exhibition became a more focused and novel examination of the relationship between 19th century scientific photography and subsequent photographic art across 20th and 21st centuries.
The chronology drew attention to the fact that the meanings of those scientific images have shifted over time as audiences have become more familiar with photography and what it is capable of revealing.
As Burbridge points out: "It's almost impossible for us to conceive what these photographs would have meant to a 19th century audience. A lot of photography at the time adopted conventions familiar from Renaissance painting – using a single-point perspective and rectangular framing of the world to produce a naturalistic representation.
"But the scientific photographs of that period break from that model. It is often difficult to tell exactly what it is they represent. The world looks so different in these images. That's why they are so amazing and open up such extraordinary possibilities for artists. They would have instilled this sense of wonder, in part because they felt so new."
He references A M Worthington's 1901 photograph of a ball bearing hitting a liquid surface, an image that would have been "mindblowing" at the time. It inspired the stroboscopic and stop-motion photographs of Harold Edgerton and a technique that has subsequently been exploited endlessly in advertising campaigns.
The connection between photography and the progress of other technological innovations over the centuries is another key strand to Burbridge's research.
As he explains: "This is a technology being used for scientific investigation to explore the minutiae of motion, or the constellations, or the inside of the human body. They were scientific images produced using scientific apparatus that became reframed in the contexts of art."
But as technology has progressed, often with harmful and damaging consequences, artists are now viewing it with more scepticism.
"Lots of the photos in the last section of the exhibition dealt with violence on some level," says Burbridge. "We started with this enthusiastic hope that technology was going to transform the world. It was celebrated as something potentially emancipatory. But that hope doesn't really survive – it brings about the Second World War, rapid automation, digital surveillance, and the continued use of technology in warfare."
He points out how this scepticism is amplified in Sarah Pickering's photograph, Celestial Objects, which looks like the sky in a romantic painting but was actually produced by firing a revolver in a darkened room and capturing the flash of the shot to make the photographic exposure. "The title encourages a misreading, a misinterpretation. What we are seeing is that interplay between beauty and violence."
The legacy of Burbridge's work has been in creating new understandings of how early science photography has led to alternative ways of thinking and viewing the world - and not just for artists. Visitor reviews of the exhibition frequently extolled it as 'magical', 'wondrous' and 'haunting'.
Burbridge says: "I hope the exhibition created a space where people thought seriously about the meanings of science and technology, and about changing perceptions of photography as a medium with the potential to confound and amaze us."
---